MICHELIN Guide Singapore Launches First-Ever Gastrobar Pop-ups Featuring Culinary Cocktails and Snacks
In partnership with the Singapore Tourism Board under the SingapoRediscovers campaign, MICHELIN Guide Singapore launches the MICHELIN Guide Gastrobar Pop-ups, a new month-long exploration of cocktails and bites/snacks

Four bars and four MICHELIN-recommended restaurants have been carefully selected to showcase the variety and international diversity of Singapore's F&B scene, while highlighting local ingredients in innovative ways. Each pop-up will be held over two days, where the collaborators will present 5 handcrafted cocktails paired with bites or snacks. To make it even more interesting, at least one of those cocktails will be locally inspired. A total of four pop-up events will be held, at the premises of the partnering bar.
Italian: Buona Terra (1-MICHELIN Star) x Tess Bar & Kitchen
Works of art appear on the plate at Buona Terra, a sophisticated Italian restaurant headed by Lombardy-born chef Denis Lucchi. With the whole of Italy as his larder, he crafts contemporary dishes with a sensitive palate for reinvention. Tess Bar & Kitchen, helmed by head bartender Christyne Lee, exudes industrial chic and a modern drink centric, food centred outlook.
For this collaboration: The team will re-explore some classic Italian highlights, showcasing a modern take on classic Italian dishes with a local twist. Expect creative cocktails which will each incorporate an Italian spirit or liquor.
Pop-Up Dates & Sessions: 2nd & 3rd March, 6pm – 8pm & 8.30pm – 10.30pm.
Menu Price (per pax): S$140++ (includes 5 drinks and 5 food pairings).
Address: Tess Bar & Kitchen @ 38 Seah Street, Singapore 188394
Latin American: OLA Cocina del Mar (MICHELIN Plate 2019) x Junior The Pocket Bar
Peruvian-born chef Daniel Chavez has worked at world-famous kitchens before landing in Singapore to serve the best of seafood and Spanish cuisine in a relaxed urban setting, together with Mexico's Tamara Chavez. A bar small in size but ambitious in concept, Junior is a platform to showcase Singapore's most beloved terrains and traditions in the world of cocktails and spirits through intimate, authentic experiences by Joe Alessandroni and team.
For this collaboration: The team will offer a journey across the different terrains of the Latin American continent, going from light to heavy with a deep dive into the history of the continent and education about Latin American ingredients. From street food to the spirits of the continent, expect an enlightening time.
Pop-Up Dates & Sessions: 9th & 10th March, 6pm – 8pm & 8.30pm – 10.30pm.
Menu Price (per pax): S$130++ (includes 5 drinks and 5 food pairings).
Address: Junior The Pocket Bar @ 6 Ann Siang Hill, Singapore 069787

Nordic & Japanese: Zén (2-MICHELIN Star) x No Sleep Club 
A Singaporean outpost of 3-MICHELIN Star Frantzén in Stockholm, Zén is a slice of Scandinavia in Singapore offering Nordic produce, cooking techniques and cuisine at its heart. At just over a year old, No Sleep Club is a cutting-edge all day venue combining the best of cocktails, killer coffee and all-day cuisine.
For this collaboration: Chef Tristin Farmer explores the idea of infusing Japanese elements into functional and minimal Scandinavian aesthetics and cooking techniques. Meanwhile, the co-founders of No Sleep Club, Jessica Hutch and Juan Yi Jun, will put together their flavour forward cocktails with modern techniques to curate a complementary course of drinks.
Pop-Up Dates & Sessions: 16th & 17th March, 6pm – 8pm & 8.30pm – 10.30pm.
Menu Price (per pax): S$180++ (includes 5 drinks and 5 food pairings).
Address: No Sleep Club @ 20 Keong Saik Road, Singapore 089127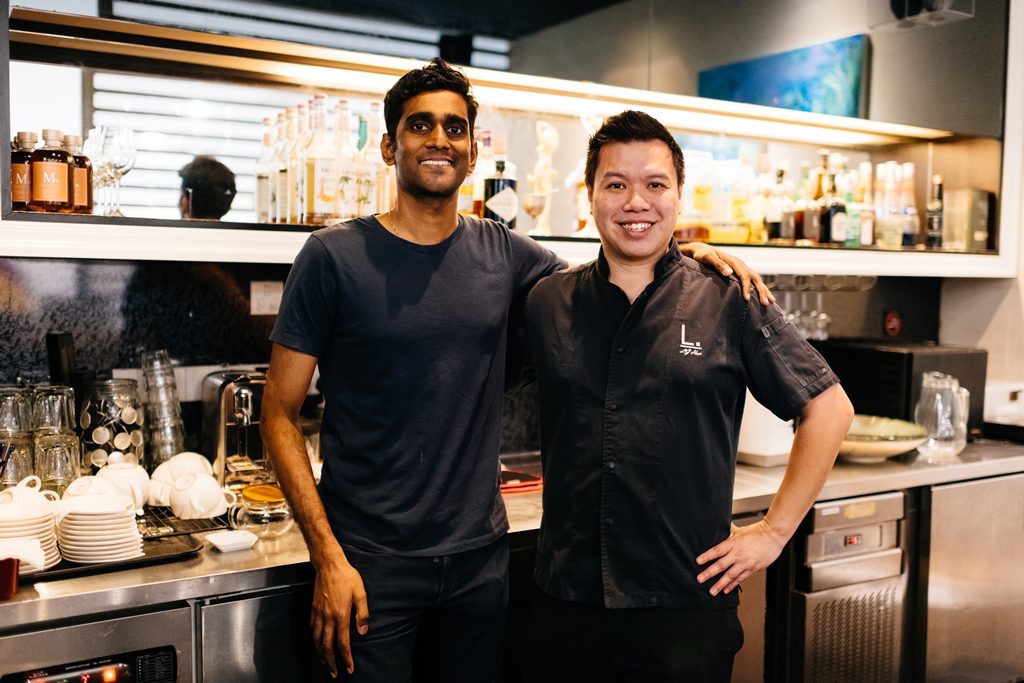 South East Asian: Labyrinth (1-MICHELIN Star) x Native
Helmed by chef LG Han, Labyrinth offers a modern take on Singaporean cuisine, showcasing techniques and reinterpretations of local Singaporean flavours and dishes which encapsulate memories of growing up in Singapore. Over at Native Bar, founder Vijay Mudaliar is championing hyperlocal ingredients and craft from Singapore and Southeast Asia, right down to music selection and artwork. The team forages at every opportunity for its selection of Asian-inspired cocktails.
For this collaboration: With their philosophy in harmonious alignment, the teams at Labyrinth and Native Bar will be creatively showcasing Singaporean and Southeast Asian flavours in new light. Get ready to embark on a journey of discovery of what's readily available in our backyards and beyond.
Pop-Up Dates & Sessions: 23rd & 24th March, 6pm – 8pm & 8.30pm – 10.30pm.
Menu Price (per pax): S$140++ (includes 5 drinks and 5 food pairings).
Address: Native @ 52A Amoy Street, Singapore 069878

Nicolas Achard, Managing Director of Michelin Food & Beverage Asia, said, "We have seen the cocktail scene grow exponentially in Singapore over the past decade, placing it among the top capitals of the world when it comes to mixology. It is thrilling for the MICHELIN Guide to bring the worlds of cocktails and food closer together to create new explorations and synergy between chefs and bartenders, and we hope this gives guests of both genres something to look forward to as they travel through their palate."

"We are excited to partner Michelin in offering locals new foodie experiences at the selected bars and MICHELIN-recommended restaurants. We encourage everyone to support our local chefs, bartenders and food personalities, while rediscovering our gastronomic culture in unexpected ways. We are also encouraged by the resilience and innovation of the local F&B industry in reinventing their offerings in these challenging times, while continuing to set Singapore apart as a top culinary destination." added Ms Ranita Sundra, Director of Retail and Dining, Singapore Tourism Board.

Limited seats available per session. For tickets and more information, please visit Website