Mid-Autumn Festival 2021: Top 5 Mooncakes You Wouldn't Want to Miss
CONTENT: Luxe Society Asia

Amidst the easing of the current pandemic restrictions, we share with you our special mooncake feature series, this year, there are new interesting flavours for both the traditional baked mooncakes as well as the delicate snowskin creations. Not to mention the pretty and multifunctional packaging that has become one of the factors for consumer's choice for personal consumption or as a gift for their family or clients.


Conrad Centennial Singapore
Conrad Centennial has launched "A Celestial Celebration" mooncakes for this year's Mid-Autumn Festival. Their baked and snowskin mooncakes come in a gorgeous luxe Limited Edition Crocodile Leather Box in a deep dark red. The traditional baked mooncakes come in various classic combinations of creamy white lotus paste and salted egg yolk cores, while the snowskin mooncake lineup sees the debut of two new flavours, a sweet and fragrant Honey Osmanthus, and a savoury dessert-inspired Acai, Goji Berries and Dates.

What we liked most:
First impressions count the most, and the box definitely stood out in a market of creatively packaged mooncakes. Our favourite is none other than the Royal Hazelnut Crunch snowskin mooncake; their signature flavour is a rich creamy nutty chocolate inside with bits of crunchy biscuits. I liked how the skin wasn't too thick or chewy. The new Honey Osmanthus snowskin mooncake was surprising in a good way, with a sweet, flowery fragrance that pairs well with an earthy oolong tea.

After finishing our mooncakes, the box made a gorgeous addition to our dresser – checking off the sustainable factor.

Order Conrad Centennial Singapore mooncakes over the counter and online  from now until 21 September 2021.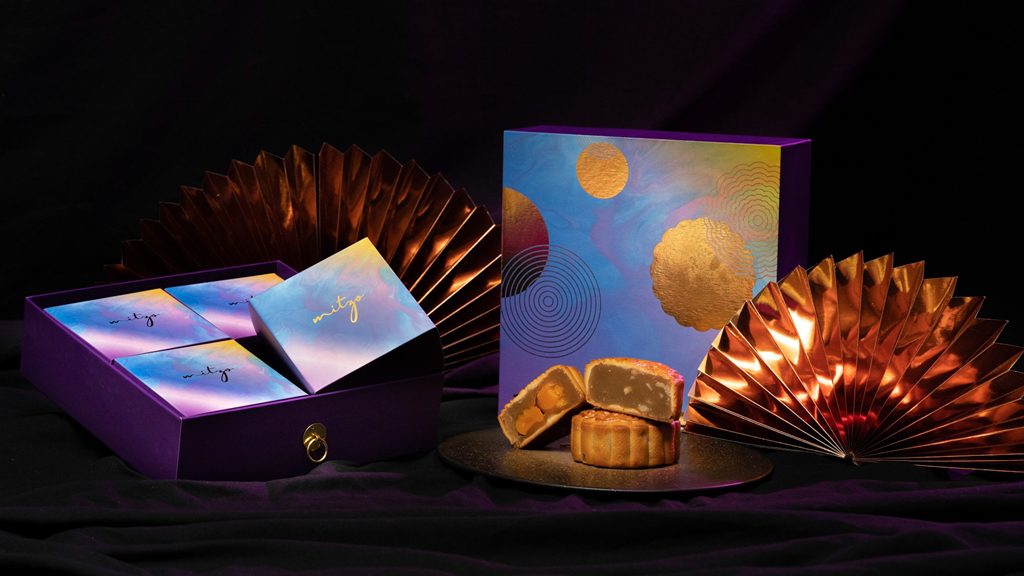 Grand Park Orchard
Mitzo at Grand Park Orchard has prepared three flavours for this upcoming Mid-autumn festival. Using only the freshest ingredient, choose from the classic favourite Baked White Lotus Seed Paste with Single (S$72nett) / Double Yolk (S$74nett), the healthier alternative Baked Lychee White Lotus Seed Paste (S$72nett) with reduced sugar, smooth lotus paste and a fragrant lychee.

What we liked most
We highly recommend the Baked Yam Mooncake (S$74 nett/ S$72 nett without yolk) which is a popular favourite which has a fresh, creamy yam paste filled within a spiral flaky layers of buttery crusts which is available with yolk or without yolk.

Should you wish to try all the flavours, opt for the Mixed Mooncake Box of 4 (S$74 nett) which features a combination of two Baked Yam with Salted Yolk with choice of other two flavours. Twin Mooncake set of 2 (S$40nett) is also available.

Order Mitzo mooncakes online or email mooncakes@mitzo.sg for enquiries or bulk orders. Enjoy 25%off on orders before 31 August 2021.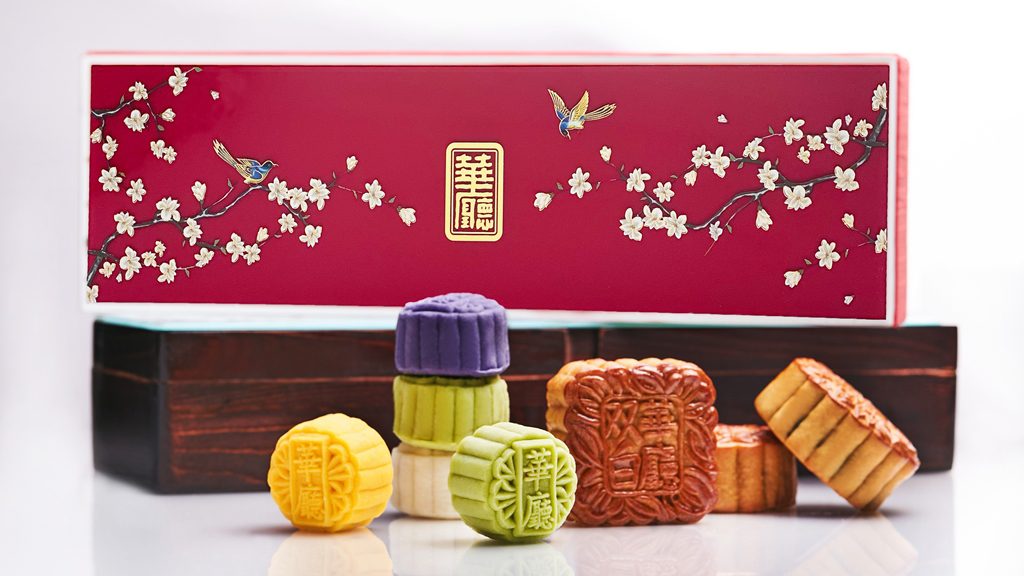 Orchard Hotel, Singapore
Having recently been awarded the World Gourmet Summit (WGS) Awards Hall of Fame, Hua Ting Restaurant, is offering an assortment of lunar treats for you and your loved ones to celebrate the upcoming Mid-Autumn Festival.

With the mooncakes presented in gorgeous lacquered pinewood boxes, in a deep shade of Millenium red with oriental motifs; these gems are perfect for gifting as well, or to be re-purposed to store jewelry and other trinkets.

What we liked most:
We enjoyed the low-sugar range offered for the baked mooncakes – perfect if you're gifting, or sharing with elder family members, or would like to enjoy the classics while staying healthy. These bakes come in the following flavours: White Lotus Paste with Macadamia Nuts (S$72 per box of 4), White Lotus Paste with Single Yolk and Macadamia Nuts (S$76 per box of 4), and the White Lotus Paste with Double Yolk and Macadamia Nuts (S$78 per box of 4).

We also particularly enjoyed the Wasabi with Roasted Hazelnut Mini Snowskin Mooncakes (S$72 per box of 8) – the piquant, mildly sweet wasabi filling melding with the earthy, nuttiness of the roasted hazelnuts. While it may sound like a novel creation, it was a surprisingly delicious treat!

If you are not so adventurous, go for the velvety-smooth Salted Egg Yolk Custard Mini Snowskin Mooncakes (S$72 per box of 8), a savoury-sweet combination that is sure to not disappoint.

Other snowskin mooncake flavours include the Blueberry with Vintage Hua Diao Wine (S$72 per box of 8) and the White Lotus Paste with Champagne (S$72 per box of 8). If you are indecisive, go for the Hua Ting Mini Snowskin Treasure Gift Box (S$72 per box of 8), which has two of each flavour.

Order Millennium Mooncakes by Hua Ting at Orchard Hotel Lobby Kiosk from 27 July to 21 September 2021. All prices quoted are subject to prevailing government taxes. For more information please visit Website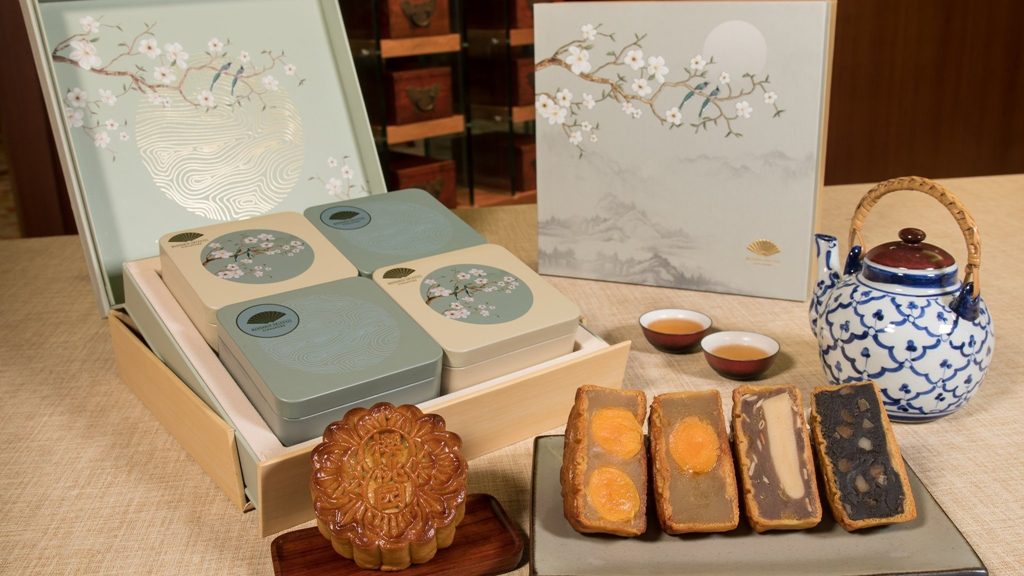 Mandarin Oriental Singapore
Well-known for it's an authentic Cantonese dining experience, Cherry Garden at Mandarin Oriental mooncake collection this year unveils a medley of uniquely crafted traditional mooncakes alongside time-honoured favourites.

Indulge in the Cherry Garden Four Treasures (S$82 per box with 4 assorted flavours) containing perennial classics including Low Sugar Silver Lotus Paste with a choice of Single or Double Yolk and the new delight of Tieguanyin with Macadamia Nuts will appeal to tea aficionados with its aromatic parcel of tea flavoured silver lotus paste studded with macadamia.

What we liked most:
The highlight of this year's collection is the unique rendition of the traditional baked Chestnut Paste with Hokkaido Milk, Apricot and Melon Seeds. The Japanese-inspired delight with an ivory dairy centre encased in luscious chestnut paste with bursts of crunchy nuttiness from the melon seeds and baked till perfection with its shiny golden brown texture. Not forgetting these premium mooncakes are encased in exquisite gift box embellished with elegant floral motifs that comes in two colours, Jade Green and Coral Red that can be upcycled as a centerpiece or as a storage box at the dresser.

Order Mandarin Oriental, Cherry Garden's mooncakes at Mandarin Oriental, Singapore Hotel Lobby or Online from now till 21 September, 11am to 9pm. Please call +65 6885 3500 or e-mail mosin-mooncakes@mohg.com for mooncake orders or enquiries. Enjoy a 15% Off when you order online. Simply apply the promotion code MOON15 upon checkout.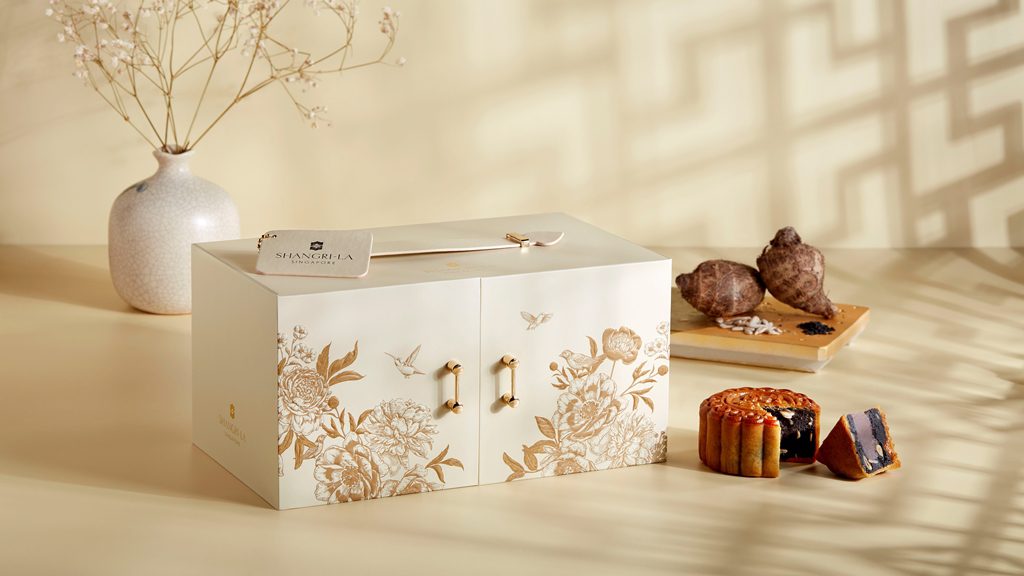 Shangri-La Hotel Singapore
Known for being one of the undisputed experts in the local mooncake scene, Shangri-La has stayed true to their traditional mooncake roots while incorporating a more modern look and feel with their packaging to entice mooncake fans of all ages! The Shang Palace Four Treasures (S$80, 4 pcs) set contains 4 baked mooncakes packaged in three distinct boxed colours: traditional red, modern blue and exquisite champagne gold that are adorned with flower blossoms to represent a bountiful harvest during the mooncake festival!

What we liked the most: While the box certainly found its future use as a jewelry/makeup box, the star mooncake had to be the Reduced Sugar White Lotus Seed Paste with Double Yolk! We found that the intensity of the seed paste paired with the richness of the two yolks in the mooncake ensures an extremely flavourful experience for those who have a rich palate, especially for the older generation! The skin of the mooncake had a silky, slightly oily texture to it that encapsulated the delicate flavours of the mooncake together while melting away seamlessly when bitten into!

Other notable Shangri-La Mooncake sets include their Bird's Nest Mooncake Gift Box (S$238, 10 pcs), Premium Mao Shan Wang Durian Snowskin Mooncake Set (S$98, 8 pcs).

Order Shangri-La Singapore's mooncakes online  from now to 21 September 2021.