MO Bar Serves Up New Japanese-Themed Afternoon Tea Menu
CONTENT: Adriel Yong
IMAGE: Luxe Multimedia

Asia's 50 Best Bars, MO BAR at Mandarin Oriental Singapore has launched a new Japanese-themed Afternoon Tea menu. The Afternoon Tea menu feature interesting bites, accompanied with a selection of premium coffee and tea blends, or Champagne and cocktails.

With a view that overlooks the Marina Bay area, the luxurious setting of MO Bar is perfect for an afternoon getaway alone, or with a friend. The Afternoon Tea set is available for one at S$48 and S$88 for two.

We particularly enjoyed the meticulous curation of rare teas from Asia's famous tea-growing regions, including the Mandarin Oriental, Singapore Exclusive Blend which evokes an exceptional complex and aromatic profile that made the afternoon all the more memorable. The coffee selection in partnership with Bacha Coffee is equally formidable here and we thoroughly enjoyed the notes of candied fruits and citrus zest in the Hola Columbia.

We have previously wrote about MO Bar's exceptional line-up of cocktails featuring interesting stories and flavours across the region. It's never too early for a drink and you could pair your afternoon tea with one of their delicious cocktails for S$65. Alternatively, you could elevate the experience with a flute of the incredibly elegant, stylish and crisp "R" de Ruinart Champagne at S$68.


We came in slightly famished from an early lunch and left with a full stomach and satisfied palate. The Afternoon Tea menu features five different courses that aim to provide a contemporary spin on classic favourites. One example is the deceptively simple looking Egg roll with Ikura topped with Mirin and Miso emulsion which has achieved an incredible balance of flavours. We also got to start with a refreshing White Peach Granite that cleansed the palate and prepared us for the onslaught of delectable bites.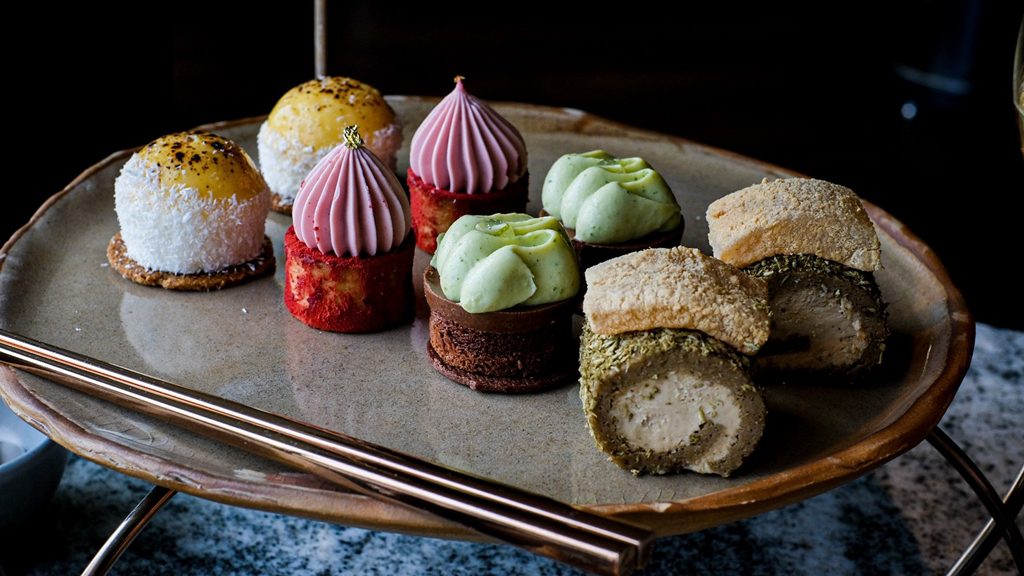 The two tier stand was filled with savoury bites on the top and sweet bites on the bottom. Some of the savoury bites include the Smoked Salmon on Hokkaido milk bread with Wasabi Mayo for a bit of spice, and the succulent Soy Ginger Glazed Chicken presented in a fresh tortilla with sesame. From the range of sweet bites, we had some perfectly crafted desserts such as the Hojicha Roll, blending mellow, caramel undertones of oolong with Kinako Mochi, a traditional dessert dusted with soy bean powder and enjoyed by past emperors of Japan, and the decadent Coconut and Raspberry Sable Tart. We particularly enjoyed the robust flavours of the Kinako Mochi.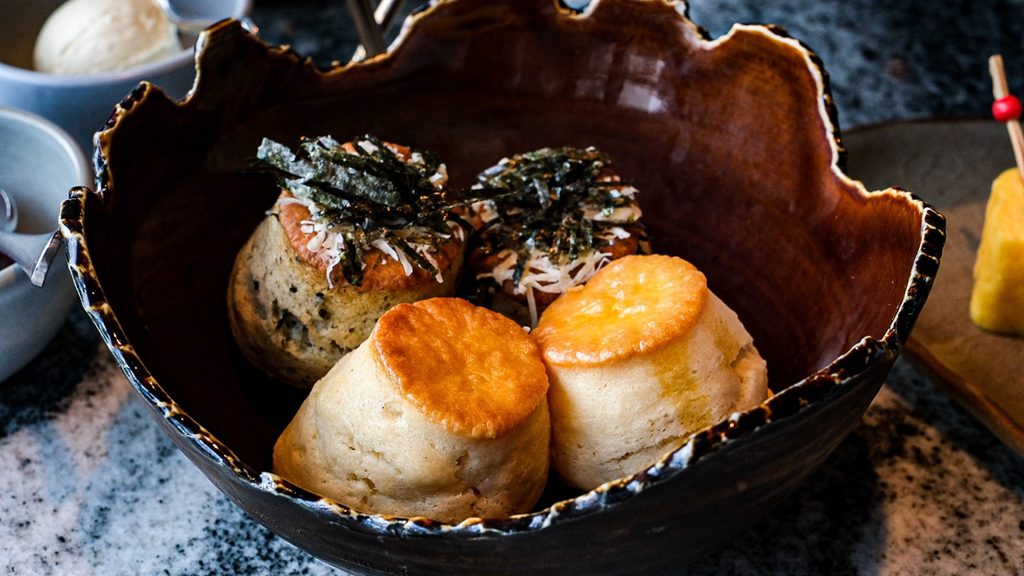 At this point, we regretted not leaving sufficient space for the scones. While you should always have some traditional Vanilla Scones for an afternoon tea, we would strongly encourage trying the Nori and Truffle Scone, a modern twist on the quintessential classic. The flavours of the scone and incredibly fragrant with umami undertones that made the scone an unforgettable highlight in the extensive set.

To top off the luxurious afternoon, have a rich Chocolate Praline or two, as you bask in the magnificent view of the breath-taking Marina Bay skyline.

The MO Bar Afternoon Tea is priced at S$48 per pax and S$88 for two. For those looking for an additional indulgence, set options are available to include one of MO BAR's signature cocktails from the Volume Three menu (S$65) or a glass of "R" de Ruinart Champagne (S$68). Prices are subject to a 10% service charge and 7% government tax.
Served daily from 3 to 5 pm, the tea set is presented with personalised service for which MO BAR is renowned. The full Afternoon Tea Menu is available on MO BAR's website Reservations can be made by via email or call +65 6885 3500

MO Bar's Afternoon Tea is available for dine-in as well as takeaway, the takeaway and delivery menu for Afternoon Tea can be found here. 

MO Bar
5 Raffles Ave, Singapore 039797