Neon Pigeon Celebrates Three Years of Fun, Food, Drinks and Vibes
Neon Pigeon, the modern urban Izakaya celebrated its Third Year Anniversary on 22 March 2018. Nestled in the ever popular Keong Siak Road, Neon Pigeon has cemented its position as the go-to drinking and dining spot since opening its doors in 2015.
The Neon Pigeon team has grown a dedicated group of followers, evident in the 200-strong crowd that celebrated their three years on the scene. The passionate team at Neon Pigeon is committed to continuously delivering quality service, with a promise to develop and invigorate their food and drinks menu every six months. The last three years have seen six new and refreshed menus, for both the cocktails and their 'birdfeed' food menu, as well as the launch of their delicious Bar Bites menu late last year.
Dishes and Drinks
Neon Pigeon effortlessly channels Japanese Izakaya with a modern twist. The dishes exemplify the skills of Head Chef Justin Hammond and Chef de Cuisine Dennis Smit in a style of "Progressive Japanese" – paying respect to traditional Japanese flavors in a modern social setting.
Neon Pigeon highlights the finest flavors inspired by the streets of Tokyo, with a continual effort to offer new experiences that stay true to their distinctive style. Guests are continuously provided with opportunities to enjoy creative and innovative food.
The drinks menu helmed by Group Beverage Manager Symphony Loo, who was awarded 'The Rising Star of the Year' at Bar Awards Singapore 2017, reflects Neon Pigeon's edgy, underground ambience, with Japanese-inspired cocktails. As Group Beverage Manager, Symphony continuously elevates the drink offerings at Neon Pigeon, with ingenious creations that not only complements the food, but are truly unique.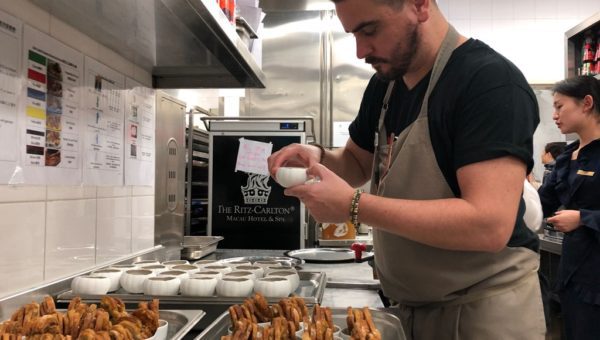 Neon Pigeon Takeovers (Global Recognition)
Neon Pigeon flew the nest in early February to the vibrant city of Mumbai, where they took over San:Qi at The Four Seasons Hotel for two nights. The concept dinner menu was specially curated by Chef de Cuisine Dennis Smit, along with cocktails by the talented Group Beverage Manager Symphony Loo. A 7-course dinner that consisted of Neon Pigeon favorites Tokyo Hummus and Japanese Crab Cakes, to name a few, paired alongside a swanky sake-based cocktail line-up made for an evolved dining experience for the discerning patrons in Mumbai.
Just a week before their 3rd Year Anniversary, Neon Pigeon flew over to the dynamic city of Macau, for the Pigeons & Lions popup at the Ritz-Carlton Hotel. The team hosted another exclusive 7-course dinner over two nights, that showcased Neon Pigeon's iconic take on traditional Japanese food.
Head Chef Justin Hammond brought signature delicacies, such as the three-layered Tuna Tartare and Confit Duck Leg. Alongside Head Chef Justin, Group Beverage Manager Symphony Loo elevated the gastronomic experience with her unique concoctions, including the Teared Negroni, a signature Neon Pigeon cocktail which is a take on the classic Negroni which combines sake and umeshu, topped off with prosecco. As well as the Shibuya, made with a Suntory Kakubin whisky base and Yuzu marmalade jam, Cointreau chamomile and lychee liqueur.
Following the successful takeovers in Mumbai and Macau, Neon Pigeon left the coop yet again for a takeover in Bali, at the newly popular Japanese-inspired seafood restaurant, Seasalt located at the Alila Hotel in Seminyak. Head Chef Justin put up a 7-course modern Japanese degustation with classics featuring Crispy Brussel Sprouts and Braised Pork Belly. Guests were warmly greeted with a complimentary welcome cocktail and were treated to a musical evening with DJ Halim as the sun went down on the perfect night in Bali.
After wrapping up three amazing takeovers, the team is excited and ready for more things to come this year. On the horizon, there is a new food menu set to be unveiled at the end of April, as well as a new drink menu in May. Be sure to check out what the team have in store this year and in their words – Eat – Drink!
Neon Pigeon is located at: 1 Keong Saik Road #01-03 Singapore 089109
For reservations please call: +65 6222 3623, email: info@neonpigeonsg.com or visit: www.neonpigeonsg.com