Neon Pigeon Takes Off with It's New Spring Menu
CONTENT: Yiew Kai Jie
Experience a new culinary journey as Neon Pigeon's Head Chef Justin Hammond and Chef de Cuisine Dennis Smit, launches their Spring menu. The new menu comprises of 12 new items, showcasing striking dishes with Japanese inspired flavors.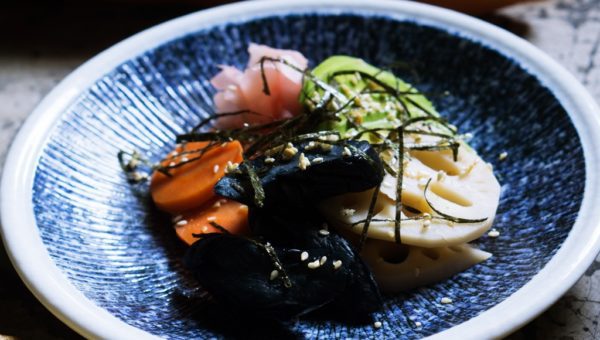 Drawing on his passion for Japanese fermentation techniques, Chef de Cuisine Dennis Smit has created a unique appetizer in the Birdfeed section in the form of Pigeon's Pickles (S$10/18). Featuring various methods of pickling and fermentation, the dish showcases a combination of cured carrots that are slowly fermented to give it more flavour, lotus root that is slowly simmered in vinegar, eggplant, ginger shoots,nori and finally topped off with a side of creamy avocado. This dish is sure to whet your appetite for the night and is perfect for sharing amongst friends or guests!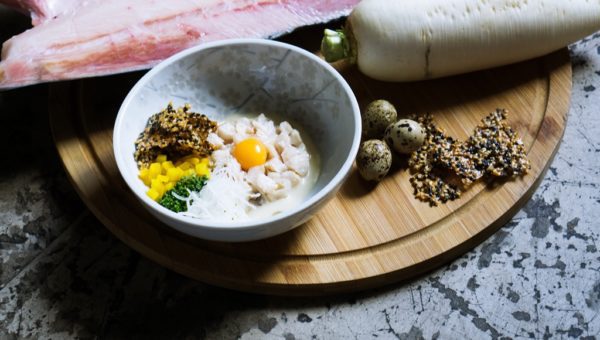 Another highlight from Birdfeed is the Hamachi Tartare (S$16/30). The Hamachi is lightly salted for six hours and then seasoned for two hours to get rid of the saltiness before being blow torched, showcasing deep and smoky flavor combinations. The fish is seasoned with a creamy miso-tofu dressing and topped with a quail egg for an added luxurious creamy texture. The dish is then finally mixed tableside with pickled daikon, topped with sesame tuile, chill flakes, chives and daikon to ensure that the fish is fully marinated with the various condiments and sauces.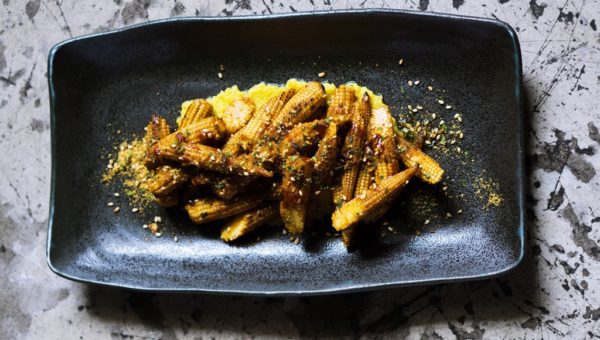 The Spicy Baby Corn (S$12/22) from the Vegetables section features dry-fried baby corn glazed with a spicy miso sauce, giving the dish a distinctive umami flavour. It is served on a bed of corn cream and topped off with a dehydrated corn crumb, further showcasing the glory of this simple ingredient. Although this dish looks simple, it is highly addictive due to the crunch and spiciness of the corn. Combine the corn with the cream and it'll be a perfect balance of soft and hard textures that becomes a much more healthier and delicious snack rather than a basket of oily french fries.
The Seafood section features the Grilled Barramundi.(S$18/34) To preserve the delicate balance of flavors, the barramundi is marinated with two variations of miso and grilled over charcoal. Served with a parsnip crème, rosella compote and shiso, the Barramundi is topped with a spiced mentaiyaki sauce and is torched for added texture. Customers who prefer the strong the taste of the fish will find this to be a must-order dish on the menu in order to appreciate the distinct flavours of the protein.
The Duck Tonkatsu (S$18/34) is a highly praised dish from the Meat 'N' Poultry section. Replacing the traditional pork with duck breast, the meat is served with a delicately balanced ponzu sauce which skillfully cuts through the richness. The duck is accompanied with crispy puffed soybeans and shiso pickled cucumber, showcasing a unique combination of textures with a kick of acidity. The duck itself was not dry despite being it being notorious for being easily dried out while cooking while orange juice was used instead of their signature yuzu to reduce the harshness and sourness of the dish. The crust on the duck was just right as it was very light on the palette and did not overpower but instead complemented the main star of the dish.
Finish the meal with the Seaberry Bombe (S$12),made with exotic sea buckthorn, also known as Seaberry to many; this refreshing fruit is sour by nature and filled with various vitamins. To complement the sour flavour notes, the seaberry mousse is presented in a sweet matcha sponge, glazed with white chocolate and topped with homemade chocolate buckwheat crumble and toasted meringue for added crunch. Talk about a healthy and sweet ending to your meal at Neon Pigeon!
Neon Pigeon is located at 1 Keong Saik Road #01-03 Singapore 089109.
Neon Pigeon is open from Monday to Saturday, 6.00pm – midnight and closed on Sunday.
For reservations, please contact them at +65 6222 3623 or info@neonpigeonsg.com
For more information, visit www.neonpigeonsg.com