Neon Pigeon Welcomes Spring with more Exciting and Playful Dishes
CONTENT: Michelle Ng
IMAGE: Luxe Multimedia
Neon Pigeon is a popular drinking hole for many good reasons – their extensive sake and alcohol selection, the energetic and cozy ambience, and not to forget their izayaka sharing plates. What's even more special is that every three and four months, chef Dennis Smit whips up new additions to constantly change things up for your tastebuds.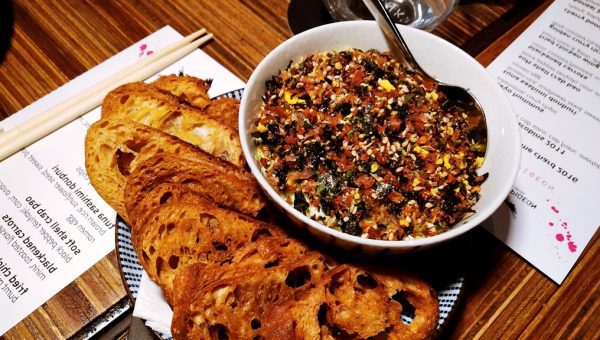 To welcome the new year, a total of twelve new items join all-time favorites like Tokyo Hummus and Soft Shell Crab Bao, all inspired by modern takes on Japanese-inspired flavors. Most of the dishes come in small and large portions, which is good for both small and large groups.
Start off your drinks with some light bites. The humble vegetable gets the spotlight here, which doesn't come as much of a surprise considering that many Japanese diets are mostly made of vegetables. The Blackened Carrots are crunchy, caramelized sticks that are great for sharing and nibbling. Neon Pigeon also takes on the classic Fried Chicken Wings, serving their crispy wings drenched in burnt miso and garlic dressing with a side of tangy preserved carrots.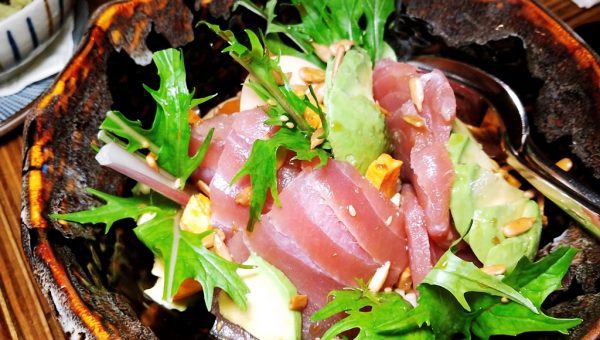 While you might not be looking for a proper meal at an iyazaka, Neon Pigeon might just change your mind with the rice bowls. The Tuna Sashimi Donburi is a satisfying, healthy bowl that'll fill you right up. The bowl is pretty much the embodiment of a fresh salad bowl, but better, with thick slices of tuna on a bed of brown rice, sweet potatoes, and sunflower seeds. The donburi is then topped with a ramen egg, which is nice and runny in the middle. You can get the donburi as a single portion or a bigger portion to share, but its so delicious you might just finish it all yourself!
The Golden Curry Rice is also a treat for the stomach as a comforting dish, especially if you're planning on drinking a lot. The Japanese curry is mixed in with the rice, almost like a risotto, and comes with roasted, crunchy cauliflowers, fried fish and an egg to mix everything together. We love how the cauliflowers are in a bright, deep purple, making the dish look slightly more enticing.
With Spring comes Valentines Day, and Neon Pigeon will also be having a brand new dessert just for the occasion! End the night sweetly by sharing a Cherry Bomb with your date. The meringue is paired with cherries, yakult sorbet and sake jelly for a refreshing and sweet dessert. The sake jelly is made in-house and is soft with just the right kick of alcohol. If only they sold just the sake jelly, we would buy it by the tub.
The Cherry Bomb is definitely a much more interesting dessert on the tastebuds compared to the simple Bonsai 2.0, which has been refined. The original Bonsai was a simple yet intricate blend of chocolate mousse and matcha soil, and the Bonsai 2.0 version now comes with honeycomb for sweeter crunch.
The wine menu sees new red and white additions, which are good for pairing with food or enjoyed on their own. The le Menut des Jacobins is a full-bodied French red wine, with a fruity palette that's best paired with meats (we recommend the Fried Chicken Wings). If you prefer your wine white, the Jamsheed Madame Chard 2016 is a slightly sweet chardonnay that goes down easily. Other new wines include Patrick Sullivan Baw Baw Field 2014 and Momento Mori The Incline 2017.
And don't forget the extensive selection of sake and Japanese Whiskey for those serious about their Japanese liquor. We love how Neon Pigeon is constantly bringing in exclusive sake that you won't be able to find anywhere else, which means every visit is a surprise!
Neon Pigeon is located at 1 Keong Saik Rd, 089109