Okashi Gaku, Japan's Popular Cake in a Can is now available in Singapore!
Established in Japan late last year, Okashi Gaku's indulgent canned cakes have since taken Japan by storm with its colourful and striking photos splashed all over social media.

Founded in Hokkaido in 2006, GAKU is famed for crafting great sweet delights with unique flavours and designs yet seen anywhere else. After the success of their late-night parfait store Parfaiteria Bel, GAKU launched a specialized cake store named Okashi Gaku, where the idea of selling cakes in drinking cans via vending machines came about. This simple idea spawned the release of the OG: Strawberry Shortcake 3 months later in Japan mid-2021!

With machines across Sapporo, Osaka, and Tokyo, Okashi Gaku is now launching here in sunny Singapore from a vending machine debuting this Friday, 16 September 2022 in Suntec City.

Each of Okashi Gaku's canned cakes are carefully handmade and imported from Japan to stay true to authenticity and taste. In the vending machine, they are stored at a controlled temperature of 0 – 3 Degrees Celsius to keep fresh and are restocked weekly. Upon purchase and dispense from the machine, the cakes can be kept refrigerated for up to a week.

Enjoy Okashi Gaku's Shortcake Cans, Fuwa Cans and Egg Pudding Cans along with some Singapore exclusive flavours.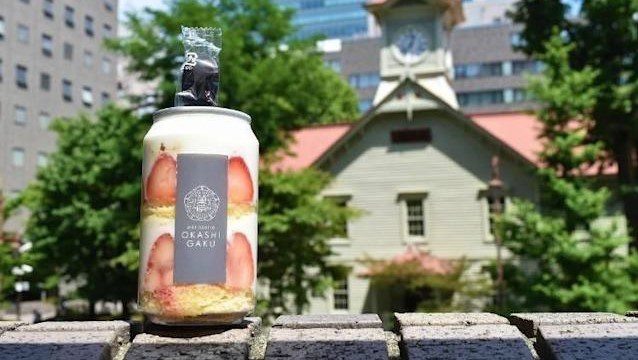 The Shortcake Cans (S$11.80) layers fluffy chiffon cake with whipped cream churned from whole fresh milk and halved fresh strawberries from Hokkaido. More fresh strawberry chunks and puree sit in between the layers for juicy sweetness that is hard to beat. The Fuwa Cans (S$8.80 – S$9.80) borrows its name from the Japanese word for fluffy, presenting chiffon cake layered with cream, fruit jelly, fruit puree and fruit jam. The Egg Pudding Cans (S$5.80) is a light as air sweet pudding, rich in flavour from milk, egg, sugar, fresh cream, vanilla beans and vanilla paste.

Take your pick from flavours of Strawberry (S$9.80) and Mango & Passionfruit (S$9.80). Singapore's exclusives feature three new flavours: Matcha (S$8.80), Mango & Chocolate ($9.80) and Tiramisu (S$8.80).

Okashi Gaku's cakes can be purchased with debit and credit card, NETS, PayWave and all forms of digital payment systems including UnionPay, GrabPay, SamsungPay, Wechat, AliPay and PayNow.

Okashi Gaku Singapore
Entrance of Eat at Seven, #03-306/307, 310-316 (3 Temasek Blvd, Suntec City, North Wing s038983)
Website