Propeller Bar Launches Its New Cocktail Menu Based on the Seven Wonders of The World
CONTENT: Yiew Kai JIe
Known for having a scenic view of Sentosa Gateway and being a popular Instagram spot, Propeller, the first and only rooftop bar in the HarbourFront district has refreshed its tipple offerings. Overlooking the Keppel Harbour and Sentosa, Propeller makes for a breezy chill-out spot with friends and colleagues or for entertaining clients. One can also enjoy the fireworks erupting from across the Sentosa Boardwalk as you lounge on cushy sofas on the hotel rooftop.
In the pursuit of perfection, the Propeller crew "travelled around the world" for inspiration and used their experiences and wit to come up with this cheeky new rendition. Nothing beats a casual evening unwinding after a busy work day filled with happy hour deals, great food and good music, and that is exactly what Propeller has been designed to deliver.
The new cocktail menu was concocted by head bartender Taufiq Jumat, who took the names of the Wonders of the World and came up with his own renditions, formulating drinks that reminded him of those places.
The highlight has to be My Ah Gong's Temper (S$17) (Angkor Wat, Cambodia). For this, Taufiq infused his own spiced rum with a selection of Khmer flavours before mixing in Dom, Jagermeister and vermouth then garnishing it with candied ginger, creating complexity and intensity in a glass. The drink was rather similar to the taste of an old-fashioned cocktail, alberit with a gingery aftertaste that that has medicinal hints in it.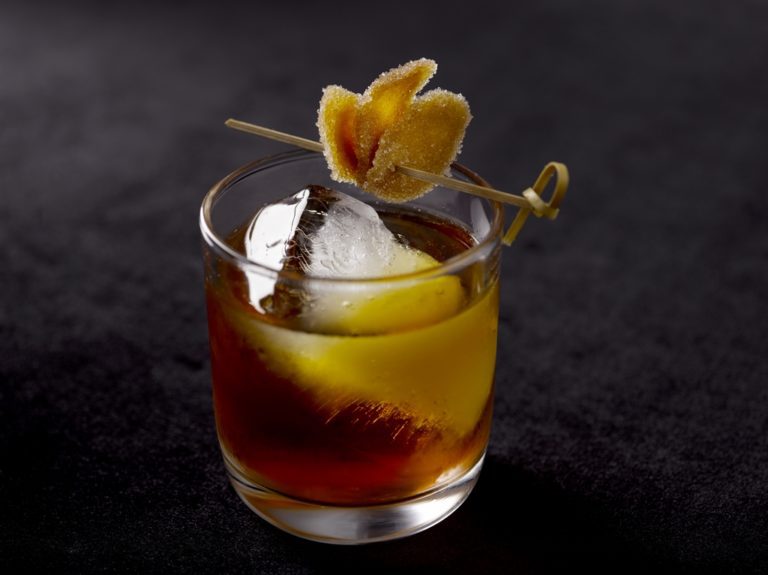 Everyone should always have a traditional cup of lassi or two when they're in India. With the Touch My Heart (S$15) (Taj Mahal, India), a rum-based kiwi lassi cocktail, you can now have an alcoholic drink that satisfies your cravings for the drink! The drink tastes like a fusion cocktail that has the sweetness of a pina colada and accompanied by the distinct taste and texture of yoghurt.
Ladies and those with a sweet tooth will be delighted with the Pink Island (S$15) (Pink Lake on Middle Island, Australia) and visualise themselves drinking malibu rum shaken with bourbon, chambord liqueur and strawberry served in a large cocktail glass that is covered with blue icing sugar on the rim. This cocktail is extremely sweet, the sweetest cocktail out of the nine that we tried. The drink itself tastes like a creamy strawberry milkshake and if the cocktail wasn't sweet enough, the icing sugar should be enough to make some drinkers wince due to the excessive sweetness. This cocktail is more of a ladies drink then anything else- one sip might be enough, but a full glass might make it a little too sickly sweet or jelat for most.
Other drinks include the I Fear Tower (S$15) (Eiffel Tower, France) of elderflower, lime juice, gin and topped up with bubbly. Out of all the cocktails, it was the lightest tasting cocktail- but it was in a good way! The sweetness of the champagne was perfectly balanced with the herbal and natural flavours of the gin and lime juice. This cocktail is perfect for guests who have just started drinking, got pulled along with their friends to go drinking on a friday night (mostly against their will) or not wanting to end up flat on the ground at the end of the night. (With adequate pacing of course!)
Hello Bay (S$15) (Halong Bay, Vietnam), the Vietnamese coffee-based liquor served with a shot of baileys on the side will undoubtedly be a favourite for caffeine lovers who might be working through the night or they need to satisfy their daily alcohol and coffee intake in one go. Pour the shot of baileys into the concoction, stir well and take a sigh of relief as you indulge in the cocktail that resembles a cup of latte at any hipster coffee shop!
For those who have a penchant for gin (especially Hendrick's Gin), have A Date at Aisle of Sky (S$17) (Isle of Skye, Scotland). The sweetness from the dates and honey complements the sourness from the lime juice, making it a stiff yet refreshing drink. Travellers to South America will appreciate the Amaze On (S$15) (Amazon Forest, South America), concocted with South American pisco sour apple, apple juice, egg white, simple syrup and angostura bitters. Or take a trip to Japan with Meiji Shines (S$15) (Meiji Shrine, Japan) a sake-based cocktail that's topped with grated meiji chocolate.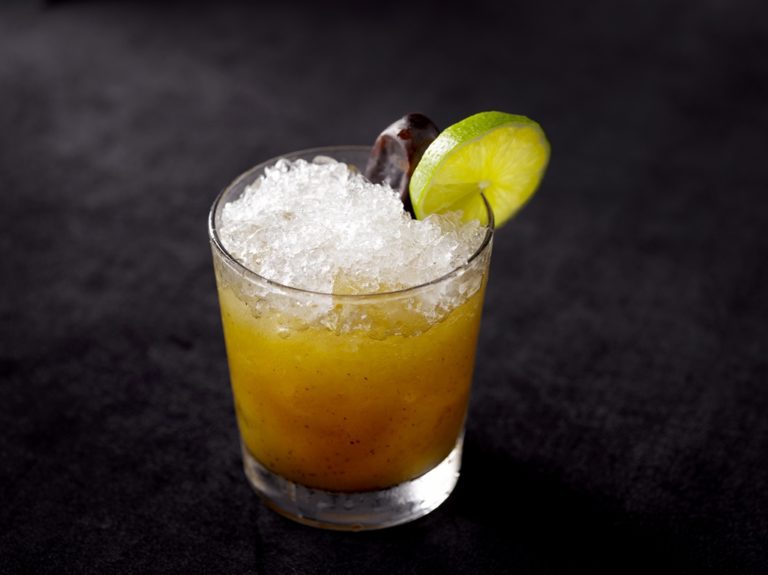 Last but not least, try the Baby's Lawn (S$15) (Hanging Garden of Babylon, Iraq) which contains gin, cucumber, lemon and garnished with a sprig of hanging dill. Resembling the taste of a mojito, this herbal cocktail is sure to refresh a weary guest after a hard day's work! Besides, with the recent rise in temperatures, everyone needs a cool drink to chill and relax in the safety of a shade or cover away from the sun.
The bar has also launched a wider selection of food dishes including seafood and meat party platters. The chef has also whipped up main courses such as Indonesian grilled chicken served with vegetables (S$14.90) and Lamb rack and roasted potatoes (S$19). For pizza-lovers, be sure to try out the Propeller's Marmite chicken with dorito chips pizza (S$18), where the savouriness from the marmite makes the perfect complement to the sweetness of the diced mango. Add a dash of tabasco or chillies to give it the extra spicy kick it needs!
Finally, end the meal on a sweet note with their Tiramisu (S$7.90), Chocolate Lava Cake (S$8.50) or Premium Lemon Gelato (S$9.90).
For guests who just want to throw a drinking competition with each other, drink their work stress or sorrows away, the bar has just launched the "Merrier Hours at Propeller" with three hours of free-flow dishes, draught beers, house pour spirits and house wines at $58++ per pax starting from 5pm, Tuesdays to Saturdays.
Propeller Bat is open daily, Tuesdays to Thursdays from 5pm to 12am, and Fridays, Saturdays and Public holidays from 5pm to 2am
Propeller Bar is located at the rooftop of Bay Hotel, 50 Telok Blangah Rd, Singapore 098828.
For reservations at Propeller, please contact +65 6818 6676 or email propeller@bayhotelsingapore.com.