REVIEW: Mister Donut opens first Singapore outlet at Bishan Junction 8
CONTENT: Isabel Tan
Japan's renowned donut chain Mister Donut has finally made its well-anticipated debut in Singapore, with their first outlet at Junction 8, Bishan. The outlet features a total of 20 donut flavours, available in various types: Pon de ring, chocolate rings, french cruller, old fashioned and yeast donuts. For quality control, the donuts are produced freshly in limited quantities and available until sold out.
Spoiled for choice with a wide variety of flavours? Here's a roundup of the menu and our verdict after taste testing the donuts.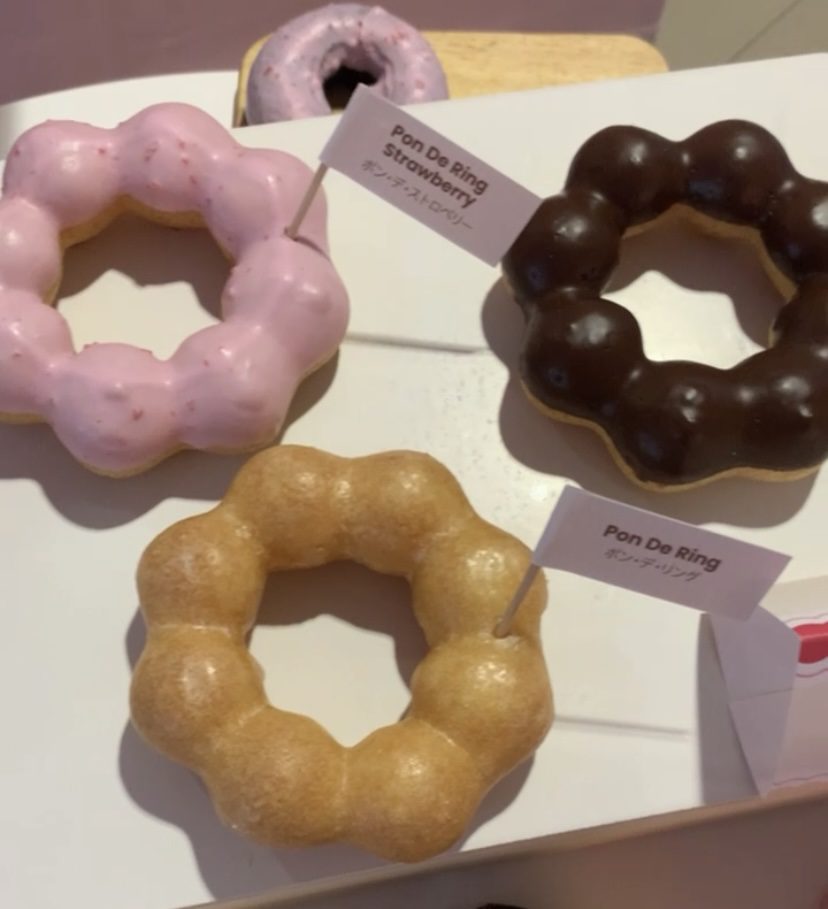 Signature flavour: Pon de ring mochi donuts
The signature flavour is the Pon de ring donuts, made with mochi flour. It is available in four flavours: original ($2.30), glazed ($2.50), strawberry ($2.50) and chocolate ($2.50). The pon de ring donuts are eye-catching, they look like rings of cute puffy bubbles. Made of mochi flour, the pon de ring donuts are super light and fluffy, yet chewy at the same time — the texture is super addictive. If you prefer something savoury and less sweet, you can try the original pon de ring donut which does not have any glaze on it.
Chocolate rings
Mister Donut's chocolate rings are a chocolate lovers' dream come true. You can easily identify the chocolate rings from its distinct brown chocolatey dough. The chocolate rings are available in different flavours: strawberry chocolate ($2.50), golden chocolate ($2.50), coconut chocolate ($2.50) and original chocolate ($2.30).
The chocolate dough is light and fluffy, and the chocolate taste is not too sweet. The texture of the donut is more of a cake-like consistency, different from the regular donut dough.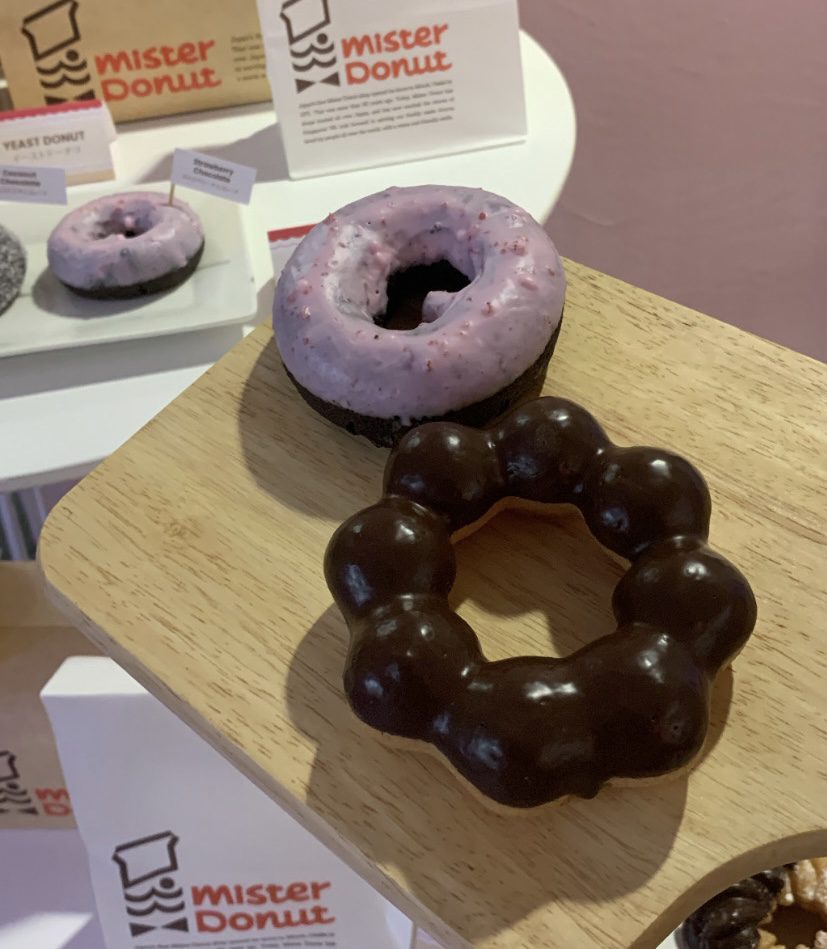 Singapore exclusive flavours
Mister Donut has launched two donut flavours that are only available in Singapore: Pon de ring chocolate, and strawberry chocolate.
The chocolate Pon de ring donut is a Singapore exclusive flavour, featuring the signature pon de ring mochi donut covered in chocolate glaze. The chocolate goes well with the soft, chewy mochi texture of the donut.
The strawberry chocolate ring is a Singapore exclusive donut flavour, featuring the chocolate dough covered in strawberry glaze. If you have a sweet tooth and love both strawberry and chocolate, this is a must-try flavour.
French cruller donuts
The french cruller donut is probably one of the most unique flavours we have ever tried. The texture of the donuts has a similar consistency to cream puffs. It looks like a typical ring donut, but in between the donut is a layer of fresh cream. The strawberry custard french donut is filled with a layer of custard cream and topped with strawberry glaze. Meanwhile, the angel chocolate french is filled with a layer of fresh cream and topped with chocolate glaze.
We recommend getting the original french cruller donut, without the glaze so you can enjoy the unique texture of the french cruller donut. One interesting point about the glazed french cruller donuts is that only half of the donut ring is topped with glaze — perhaps so that people won't feel jelak afterwards.
Old fashioned donuts
Another interesting flavour to try is the old fashioned donuts. These have a rather unique bite, as it has a crunchy, biscuit-like texture which is different from the typical donut. We tried the chocolate old-fashioned donut, and to our surprise we loved the mix of savoury dough and sweet chocolate glaze.
The old fashioned donuts are available in three flavours: Old fashion ($2.30), strawberry fashion ($2.50), and chocolate fashion ($2.50).
Cream donuts
The cream donuts ($2.50 each) are a true dream for cream lovers. These cream-filled donuts are available in two flavours: Angel cream and custard cream. We tried the angel cream donut, filled with the classic whip cream. The texture of the donut is super powdery, pillowy and soft — while it is filled with cream, it didn't feel oily or jelak as the dough is quite light and airy.
Classic yeast donuts
Mister Donut also sells the staple classic yeast donuts — the traditional, original donut. These are available in your typical flavours: sugar raised, strawberry ring, chocolate ring, and honey dip.
The prices
The price range of the donuts are $2.30-$2.50 per piece. The original flavours (without glaze) cost $2.30, meanwhile the flavoured ones (with chocolate, strawberry glaze etc.) are priced at $2.50.
Bundle prices are available, customers can purchase a box of donuts for either 6 pieces at $14, and 10 pieces at $23.
Mister Donut Singapore is located at 9 Bishan Place, Junction 8, #02-27A Singapore 579837