REVIEW: Plant-based Butcher Love Handle Subscription Box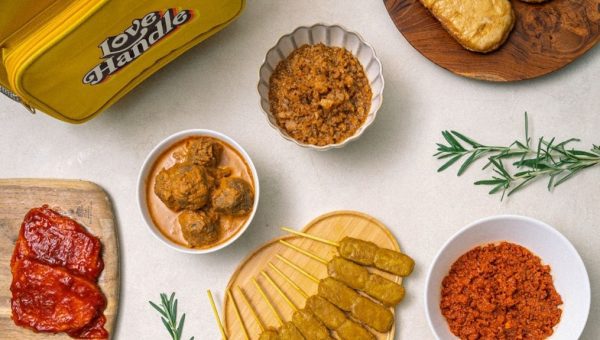 CONTENT: Michelle Ng

As plant-based foods start to become more mainstream, many are still hesitating to adopt them into their everyday meals due to cost or convenience. Burger joint Love Handle also has a butcher and deli where you can buy plant-based products. Brand favourites Impossible, Beyond and Tindle are stocked here, alongside local brands like HAPPIEE! and Love Handle's own innovations like smoked pastrami and egg frittata.

Love Handle has conveniently put together Subscription Boxes that will deliver curated selections every 2, 4, or 8 weeks based on your preferences straight to your house. To make it sweeter, you're getting 20% off retail prices too. Pick from 5 boxes; the Love Handle Favourites contains a mix of both raw and marinated chicken and beef meats, the Ready-To-Heat Collection comes with handy marinated products that require minimal meal prep, an Asian Meats & Flavours to recreate local dishes, a Western Classic Meats selection for pizza and pasta lovers, and the Platinum Selection which is packed only with the top selection of pastrami, roast chicken breast, and HAPPIEE! crab patties.

With a busy schedule that keeps me on the go, I opted to try the Ready-To-Heat Collection. The first box for every new subscription will come in a bright cooler box, which will definitely come in handy for future grocery trips. Upon arrival, I popped everything into the freezer to ensure that it lasts longer.

My favourite was the Love Handle Pastrami, made from sliced jackfruit and smoked with hickory wood. I layered the pastrami slices in between lettuce and toasted bread for a quick sandwich, and the meaty toughness from jackfruit combined with the peppery and smoky tastes was absolutely satisfying.

Plant-based companies have perfected the art of imitating meat, as the Love Handle Chicken Nuggets, Love Handle Roast Chicken Breast, and Beyond Sausage could have passed off as meat dishes. The meats could be used in a huge range of dishes, or even just air-fried and it was tasty on its own.


The Chicken Satay is made with soy, and I can almost taste a slightly rubbery mouthfeel, but the peanut sauce was savoury enough to pass it off as satay. I did appreciate the convenience of the marinated meats as I only had to pop it in the air fryer for a fuss-free meal prep. I wasn't about to recreate the Impossible Wellington from Bread Street Kitchen due to time constraints, but it was easy to use the patty as a beef fillet. It even cooks faster than regular meat due to the mushrooms and ingredients used, so keep a close watch if it's your first time cooking any plant-based meats!

Love Handle's website also has a handy tab of recipes to give you inspiration on how to turn the pre-packaged meats into a proper meal. The nuggets and homemade BBQ sauce was a simple prep work with ingredients that I already had sitting in my kitchen, or there was a Satay Bee Hoon recipe that was pretty easy to follow.

The Love Handle restaurant in Ann Siang also has a butcher section with a wider variety of meats, dairy and condiments where you can purchase additional items to stock up your kitchen. They even have their own version of the popular Lao Gan Ma chili sauce made with mushrooms, an eggless Egg Mayo, and vegan cheese slices from Violife. I liked how they stocked up on various different brands, which means that you can find all your plant-based and alternative foods easily in one place! With a subscription, you also get 10% of all additional purchases in store and online, with the option of free delivery if you add the item to your next box delivery date.

The Love Handle Subscription Boxes are available for purchase now online. The Love Handle butcher and restaurant is open daily at 8 Ann Siang Hill, Singapore 069788.