Rumah Rasa Welcomes the New Year with Indomie Specials and A Giveaway
CONTENT: Yiew Kai Jie
IMAGES: Luxe Multimedia
Rumah Rasa at the Bay Hotel has launched a series of new menu items that were inspired by using a simple and well-known ingredient: humble Indomie instant noodles.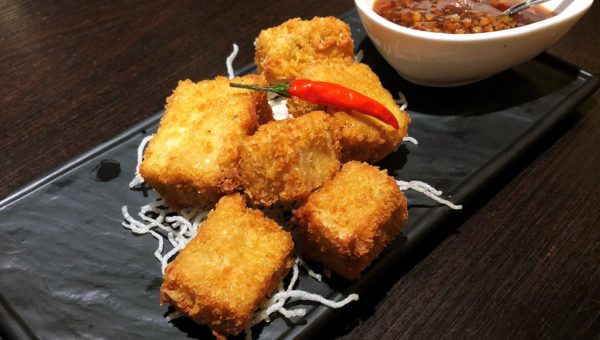 Start the meal and surprise your friends and co-workers with some homemade Indomie Nuggets (S$7.90) where to the untested and untrained eye, many will mistake it for a vegetarian or chicken nugget. Only when one looks closely at the cross section when the nugget is cut, can one make out the strands of noodles embedded in the nugget. The noodles are steamed and blanched till they are soft, carrots and other seasonings are then added and then baked and deep fried with breadcrumbs. The texture of the nuggets are very different from the actual Indomie noodles and they actually taste like a normal chicken nugget! Dip it in the Chef's special sweet and spicy sauce for an intoxicating burst of flavour that will make you order this dish twice or even thrice!
The Tossed Gado Gado Cold Indomie (S$8.90) is the perfect salad for customers who fear salads. Served with a chunky, aromatic and gritty gado gado sauce that is filled with small bits of peanuts, lather the sauce over the noodles and toss it together before slurping it up. Add in the sides of tempeh, tofu and prawn crackers to complete the dish.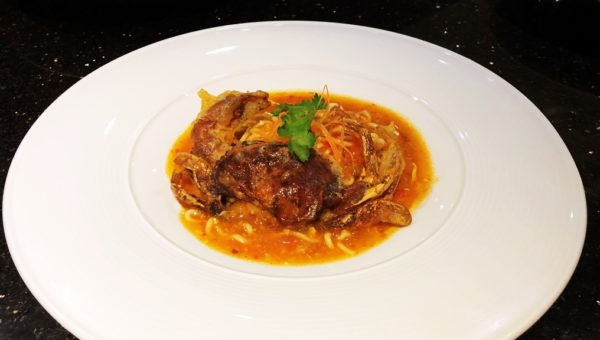 One of Singapore's national dish and adored by locals and tourists alike, the chilli crab has been used by many restaurants and they have come up with their own renditions or taken up their own unique twists on the dish. Rumah Rasa have come up with the Crispy Soft Shell Crab Indomie Served in Chilli Crab Sauce (S$9.90) to please their customers who are looking to satisfy their chilli crab cravings. The soft shell crab is fried to a crisp before being drizzled in hot chili crab sauce and served atop a hot plate of Indomie. The sauce was rather light but it had a very strong flavour of the classic chilli crab taste. The crab tasted like prawn crackers, it needed more seasoning, but overall it was a nice dish but it can be a little spicy so get a glass of milk on standby to douse the flames.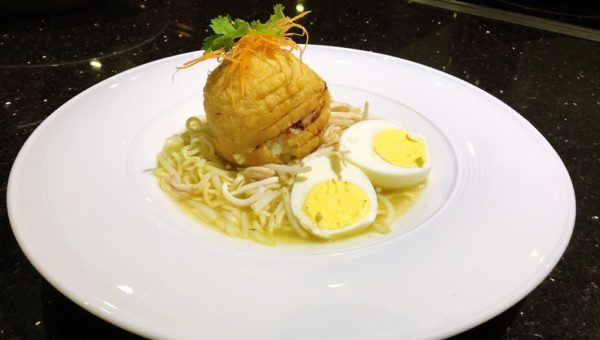 For those who prefer a classic rendition, the Homemade Begedil Soto Ayam Indomie (S$7.90) is recommended. Watch with glee as the ball is being cut open to reveal the aromatic chicken bits within. The noodles are nicely cooked till al-dente in a traditional chicken broth, the chicken bits are nicely seasoned and when combined together, results in a flavour explosion that will impress even the strictest of makciks. (Malay for Auntie)
Last but not least is the Beef Stroganoff Button Mushrooms Indomie Served in Lemak Chilli Padi Sauce (S$9.90). Beef slices are marinated and simmered overnight to enhance flavour before being cooked to a medium doneness, or you can request a different level of doneness from the chef.
*Starting from 15th January, Rumah Rasa will select one lucky winner to win two dozen packets of Indomie home for every two weeks. To participate, diners only need to take a photo of one of the Indomie dishes mentioned in this article and post it with the hashtag #indomieRR and #rumaheasasg on Instagram!
The Indomie dishes is available for a limited period and only from Monday to Thursday.
Bay Hotel Singapore is located at: 50 Telok Blangah Road, Singapore 098828
For reservations or more information, please call: +65 6818 6666, email dining@bayhotelsingapore.com or visit: www.bayhotelsingapore.com