Señor Taco expands Taqueria at Clarke Quay
Señor Taco, home to Singapore's most authentic Mexican food and drinks has recently expanded; the all-new dining outlet now offers more delicious tacos to go with the wide range of Mexican drinks and in-house Sound Lab mixing music to get the energy going.
While the original Señor Taco Clarke Quay seated just 20 diners and introduces Singaporeans to a traditional delicious range of tacos and quesadillas, the all new taqueria features a vastly expanded menu of Mexican food. At the heart of this new menu is a wide selection of classic and new tacos, all made with Señor Tacos's own locally made fresh tortillas and served with house-made salsas, ranging from mild (guacamole) to the extra-hot (habanero) to bring out the best flavours.
Another addition to Señor Taco's legacy of serving some of Mexico's best bar favourites is the Corona-rita ($24), combining two of Mexico's most famous exports, a frozen lime margarita and a bottle of Corona beer, to create and intoxicatingly fun new experience. The Corona-rita joins a selection of mezcais, Mexican beers and Señor Taco's extensive range of premium tequilas.
Entering the new Señor Taco Clarke Quay invokes the atmosphere of a typical Mexican bar, with swinging saloon doors, rustic wooden and metal furniture, while monochromatic graffiti adorns the walls depicting scenes of Mexico's northern rancher culture. Expanding on the original Señor Taco has allowed for a much greater seating area allowing up to 140 people to choose from indoor seating near the bar or outdoors to soak in the ever-bustling nightlife of Clarke Quay's street.
No matter where you seat, Señor Taco's Sound Lab will ensure that the hottest tunes from Latin America and around the world will get you moving to the beat. Enclosed in glass and visible from the street, the Sound Lab will be manned by Señor Taco's video DJ, mixing up music videos for the big screens which can be seen around the taqueria.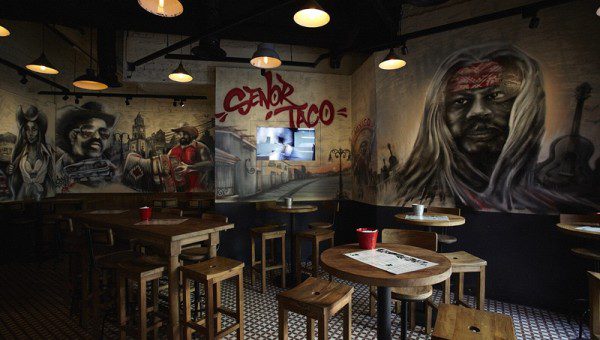 Alejandro Blanco, Founder of Señor Taco, said, "Since opening our First Señor Taco in 2009 right here in Clarke Quay, we feel great about expanding at the same location amidst the buzz of one of Singapore's favourite nightlife haunts. This outlet allowed us to share our love for Mexican food with Singaporeans and visitors to the city from around the globe"
"Clarke Quay always holds a special place in the Señor Taco story, as it is our original location and marks the start of our journey to bring the best of Mexico to Singapore, with our new expanded taqueria, " we're coming back to our roots to make Señor Taco Clarke Quay the original and the best in the Señor Taco family. We are confident that with our extensive menu of both food and cocktails, we will attract more diners," added Alejandro.
For more information on Señor Taco, please visit www.senortaco.sg