Seven Legendary Hawker Dishes Come Together at Shangri-La Hotel,Singapore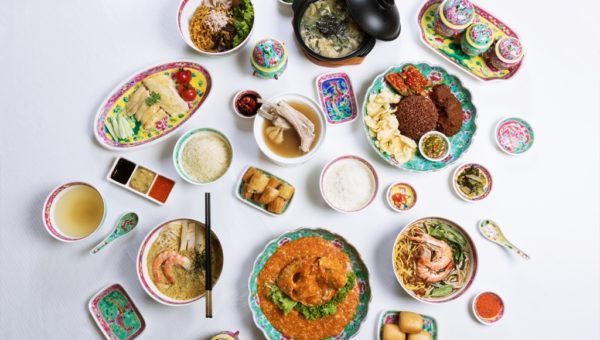 CONTENT: Yiew Kai Jie
Get ready to embark on a spellbinding culinary journey at The Lobby Lounge, Shangri-La Hotel, Singapore. Driven by a mission to preserve the heritage of hawker dishes, Chef Franco Brodini and his team have collaborated with prominent food critic Dr Leslie Tay to curate the ultimate showcase of local cuisine with specially curated local heritage hawker dishes under one roof in a beautifully decorated environment complete with lush greenery.
Genuine to the Smallest Ingredient
Chef Franco has spared no expense in ensuring the quality of his renditions match the authentic versions' of how the hawkers cook it themselves. The kitchen team follows the recipes closely to the last pinch of salt and have gained the respect and endorsement from the respective hawkers who produced the original dishes themselves! Each of The Lobby Lounge's renditions of the hawker's signature dishes are further elevated with premium ingredients, such as the addition of fish maw in the soup of Seng Kee's Mushroom Minced Meat Bak Chor Mee and using Alaskan King crabs in Dragon Phoenix's Chilli Crab.
All the food is served on Peranakan crockery — with colourful motifs of nature that lend an authentic touch to the dining experience. Enjoy the stylish and relaxing atmosphere at the Lobby Lounge, complemented by impressive soaring columns, floor-to-ceiling glass windows that let in natural light, and plush sofas in leather and fabric. With its mix of heritage and modernity, the Lobby Lounge is a wonderful space for locals and travelers alike to savour the best of what Singapore's hawker fare has to offer.
Seven Legendary Hawker Dishes in One Astounding Location

Bak Chor Mee with Fish Maw Soup by Seng Kee Mushroom Minced Meat Noodle
A luxurious take on Bak Chor Mee, this dish takes its recipe from the signature fish maw soup at Seng Kee Mushroom Minced Meat Noodle. The broth is brewed from pork bones and dried sole, and chock-full of quality threadfin fish maw, minced pork, pork slices and egg topped with stewed mushroom slices.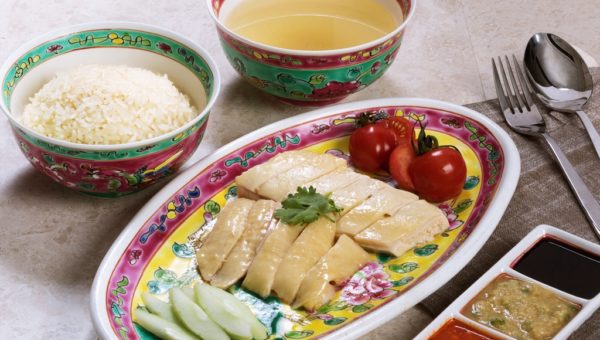 Hainanese Chicken Rice by Shangri-La Hotel, Singapore
The inspiration for this traditional Hainanese dish is the old-school style of cooking with tender poached chicken. The fragrant rice is cooked in flavoursome chicken stock and spices. Best eaten with a piquant garlic chilli sauce, although we couldn't get enough of the chicken and ended up devouring the first portion in less then 10 minutes that left us hankering for another plate!
Prawn Noodle Soup by Beach Road Prawn Mee
Mr Lee Pi Duan arrived from Nan'an (Fujian Province) in 1928 and started selling prawn noodles without knowing that one day his family will run nearly all the most popular prawn noodle shops in Singapore. The hotel's dish closely resembles the Beach Road Prawn Mee version, run by Lee's eldest son, John. Note that this dish tends to become cold very quickly, so do request it to be served piping hot or slurp away quickly!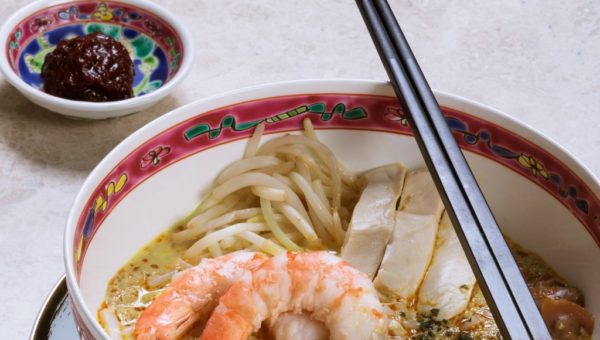 Katong Laksa by The Original Katong Laksa (Janggut)
This rendition is adapted from The Original Katong Laksa aka Janggut Laksa in Katong. The rich coconut gravy is flavoured with dried shrimp and fragranced with laksa leaf, served with poached chicken the traditional way.
Chilli Crab and Mantou by Dragon Phoenix
Chef Hooi of Dragon Phoenix Restaurant added sambal and eggs to enrich the original chilli crab gravy of a pushcart stall along East Coast Road in the 1950s. The hotel elevated the dish by using Alaskan King crab and topped the sauce with X.O. for an added kick.
Bak Kut Teh by Legendary Bak Kut Teh (New Signature dish)
A well-loved traditional dish in Singapore, we are using the original recipe from Legendary Bak Kut Teh with fresh Indonesian pork and Sarawak peppercorn for the rich and slurp-worthy soup. This dish is served with fried 'you tiao' and hot tea.
Beef Rendang by Rumah Makan Minang (New Signature dish)
Cooked by Rumah Makan Minang, a specialist of Indonesian Minangkabau cuisine, this aromatic Beef Rendang dish is served with brown rice, eggplant and keropok. A specialist in Indonesian Minangkabau cuisine, Rumah Makan Minang was incepted in 1954, and is featured as a pit stop on Singapore Tourism Board's heritage trail along Kampong Glam. Food connoisseurs can tuck into one hawker classic, each day of the week as part of the local buffet lunch priced at $38++ during weekdays or $42++ during weekends. Just pick one main course from the seven signatures, and accompany it with a wide selection of local delights and desserts such as popiah, kueh pie tee, nyonya kueh and pulut hitam by HarriAnns.
Apart from the food, the free-flow of teh and coffee tarik are one of the highlights of the buffet, as the staff have been well-taught in how to prepare this local favourite for their guest, making sure that they do not lose the authentic flavour. Regardless of what you order, the beverages are served in traditional coffee shop cups to pay homage to the long history of the hawker or coffee shop culture that still endures to this day.
The Local Buffet Lunch is available from Monday to Friday 11:30am to 2.30pm and Saturday, Sunday and Public Holidays 11.30am to 4pm.
Lobby Lounge is located at Shangri-La Hotel, Lobby Level, Tower Wing, Singapore, 22 Orange Grove Road, Singapore 258350
For Reservations, please contact them at (+65) 6213 4398 or email them at dining.sls@shangri-la.com