Sichuan Alley: A New Sichuan Spot By Chef Pang Kok Keong
CONTENT: Adriel Yong
IMAGE: Luxe Multimedia

Renowned Chef and Restauranteur Pang Kok Keong who is known for his time at Antoinette and for starting up Pang's Hakka Delicacies, has now made his foray into Sichuan cuisine. The newly minted Partner at Sichuan Alley has curated a special menu that blends French cooking techniques with familiar Sichuan flavours to stun the tastebuds.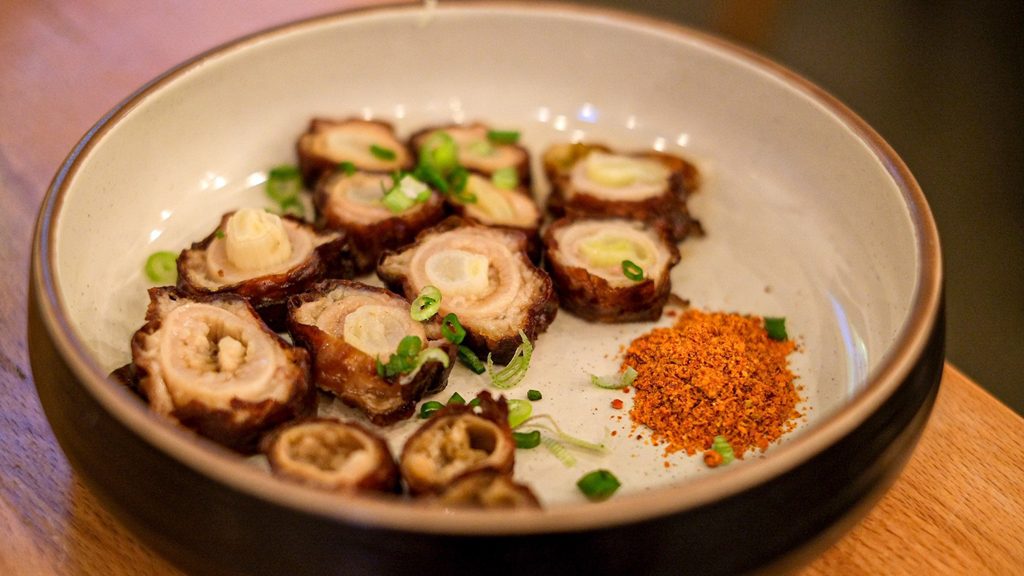 For starters, we found the Fried Pig Intestines (S$6.50) and Funky Pork Liver (S$5.50) a good introduction to ease us into the strong flavours of Sichuan cuisine. The flavourful Fried Pig Intestines is first braised in a four year old braising liquid before being stuffed with leek and deep-fried, giving it a depth of flavours and range of textures. On the other hand, the Funky Pork Liver was a tad spicy and numbing with hints of charred flavours.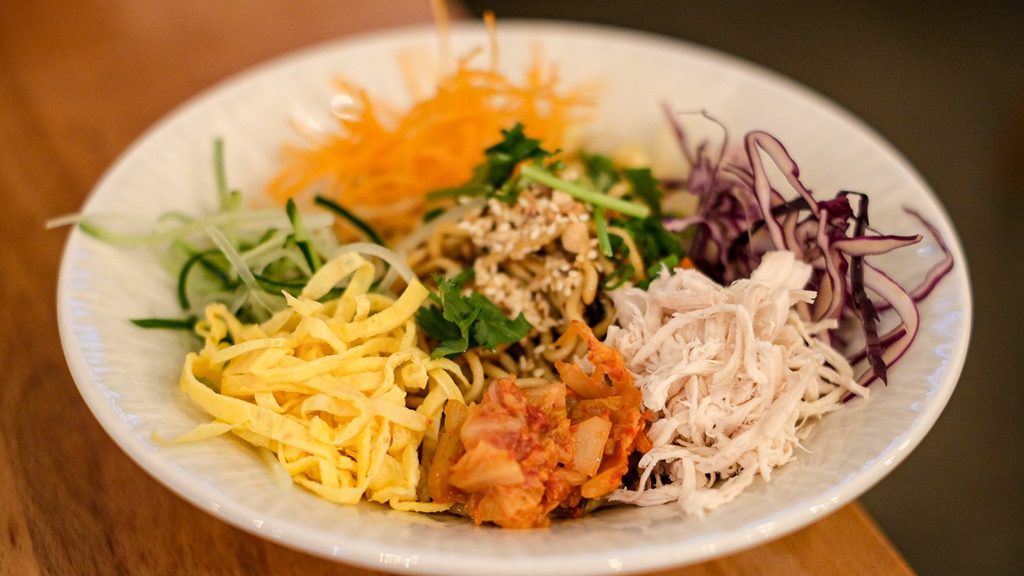 The star of Sichuan Alley's menu is the range of noodle dishes such as the Shredded Chicken Kimchi Cold Noodle (S$9), Signature Dan Dan Noodle (S$9) and the French Red Wine Wagyu Brisket with Truffle Foam (S$25). The noodles are carefully developed after months of research and learning from an artisan in Sichuan. The end product of this painstaking endeavour are noodles with a particularly smooth texture and firm bite.


The particular noteworthy noodle dish is the French Red Wine Wagyu Brisket with Truffle Foam (S$25), which draws on influences from French cooking. There are three main flavours in this dish. The first is from the Australian wagyu brisket which is stewed overnight in red wine and wonderfully absorbs notes from the wine. The second is the Truffle foam which has a delightful piquancy and aroma. The final one is the noodles which are coated in a spicy-numbing sauce. Undoubtedly, this is a complex dish for those with an adventurous palate.

Besides these must-try dishes, Sichuan Alley also serves a Pickled Chilli Beef Tripe (S$5.50) and Mapo Tofu Rice (S$13). The Mapo Tofu is a comforting combination of minced beef and a sauce containing the aged Sichuan bean paste that it was cooked in. The dish is also family friendly as it is not as spicy compared to some of the other dishes here.


For a sweet and refreshing ending, check out Chef Pang's unique Sweet Jars which taps on his strength in French pastries and displayed beautifully in transparent jars. There are currently two flavours for the jars: the first is the Nice Smelling Thingy (S$7) which contains a jasmine flavored meringue-based mousse, and the second is Got Salted Egg (S$8) that contains lotus paste mousse with salted egg sauce. We especially loved how refreshing the Nice Smelling Thingy was after a heavy and flavourful meal. The tartness of the mangoes provides a nice contrast to the floral notes of the jasmine mousse.

The array of dishes served up at Sichuan Alley could just teleport you to Chengdu, the hometown of Sichuan cuisine. But we will leave you to make your own judgement.
The new offerings will be available for dine-in, takeaway and delivery via Oddle 

Sichuan Alley
51A Telok Ayer St, #01-01, Singapore 048441
Tel: 9755 1058
Operating hours: Mon to Thur 1030am to 3pm ; 5pm – 930pm |Fri to Sun 1030am to 930pm