Steam Box Launches Its First Hotpot Alongside Exciting New Dishes!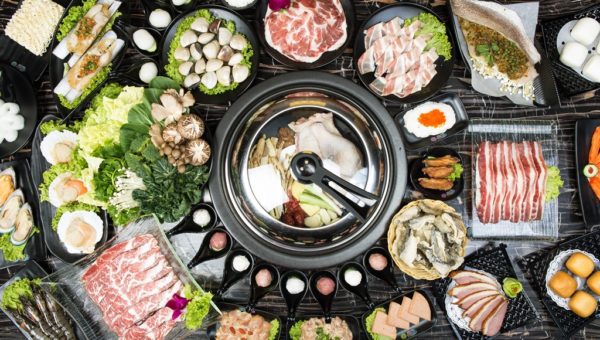 CONTENT: Yiew Kai Jie
Known for its usage of the age-old steam-cooking heritage combined with a sense of modernity, Steam Box has launched its very first hotpot as well as new dishes. For the first time at Steam Box, diners can enjoy sumptuous and healthy food two ways – with high-speed "steam-potting", and heart-warming steamboat-style!
Slurp up the new delicious hotpot soup bases, which come in three different choices: Pork Rib Lotus Root ($18), Chicken Herbal Collagen ($25), and Base of Seafood ($28). Healthy and nutritious, the soups will be packed with more flavour after being used for steaming the food, as the soup will be imbued with the rich juices that comes from the meat after steaming. All soup bases are lovingly brewed in-house with chef's special recipes.
However, it is highly recommended that you should try out their Chicken Herbal Collagen soup rather than the other two. The Pork Rib Lotus Root soup is a rather common asian herbal soup to be ordered at a restaurant and the Seafood Base turned out to be disappointing as the soup barely had any spice to it, as it aspired to be a classic seafood tom yum soup.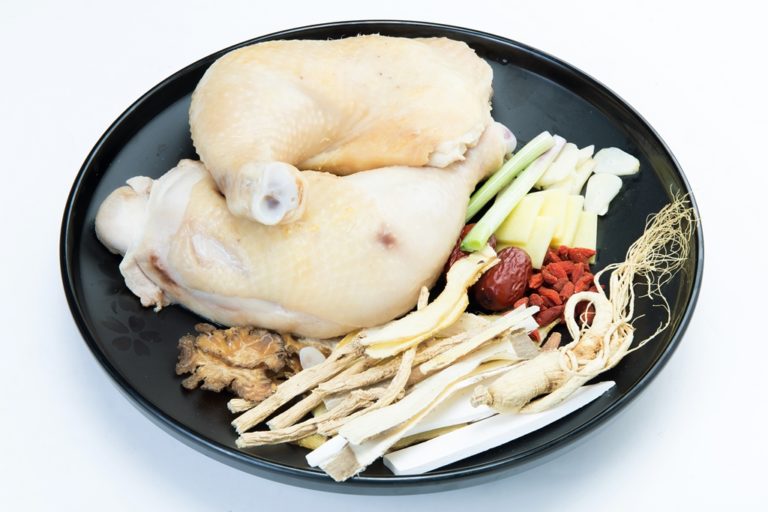 The Chicken Herbal Collagen soup was rather robust in it's flavour, even through the soup could have been thicker and richer, it ultimately depends on the amount and kind of ingredients that are steamed above. What is unique about this broth, is that the chicken thighs do not dry out and remain tender and well seasoned with the essences from the broth and with the respective meats that have been steamed.
Steam Box has also launched new dishes that ranges from seafood to dimsum and new side dishes. Perfect for steaming, the new Meat Flower Rings feature the tender Chef's Specialty Marinated Beef ($10) and Chef's Sliced Fish ($9.80) marinated in salt and osmanthus and arranged in a delightful flower-shaped presentation.
The accurate proportioning of glutinous rice powder and sweet potato powder is key to the springy and bouncy texture of the Signature Sweet Potato Ball with Sweet Corn ($4.80 for 2 pieces). Made in-house, the beautiful purple colour is 100% naturally derived from the purple sweet potato. Just be careful when chewing down on the balls after you steam it as it is very hot on the inside!
Enjoy home-made meat pastes and meat balls, made fresh daily from 100% seafood, pork and beef, with no addition of chemicals. The balls are hand-made by hand-tossing for a springy, chewy texture. New items include:
Handmade cuttlefish paste ($8.80)
Chef's Specialty Bamboo Shoot Roll ($7.80 for 3 pieces)
Handmade fish ball ($1.80 for 2 pieces)
Handmade pork ball ($2.20 for 2 pieces)
Handmade cuttlefish ball ($2.50 for 2 pieces)
Handmade beef ball ($2.50 for 2 pieces)
Handmade prawn ball ($2.30 for 2 pieces)
Mixed paste balls ($4.80 for 4 pieces)
One of the new highlights is Chef's Specialty Paper-wrapped Mala Groupe Fillet ($19.80), a traditionally fried delicacy that has been revamped in a healthier steamed version at Steam Box. Fried peppercorn and spices are spread on top of the tender grouper fillet, which is wrapped in paper and steamed for six minutes to retain the full flavour and aroma of the fresh grouper fillet. This fish is perfectly cooked and nicely imbued with the essences of the spices as the spice paste turned into a sauce that helped to marinate the fish and cook it at the same time. This is a must-order on the menu that will leave everyone at the table hankering for more!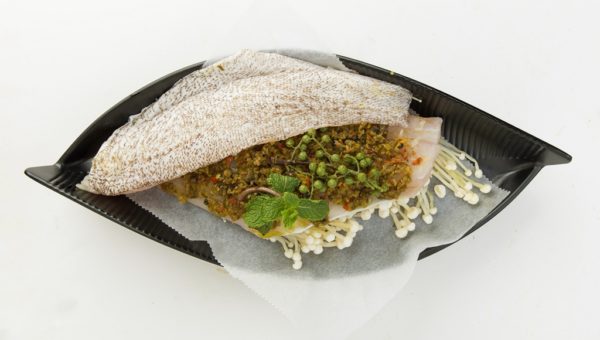 Apart from the seafood and meat dishes, we tried some of their new dimsum offerings as well:
The Hakka Traditional Mixed Paste Oyster Wanton ($4.80 for two) is a traditional Hakka favourite, the offering contains fresh oyster and a combination of special minced meat of pork, fish, and shrimp that are wrapped in tender wanton skin, to be steamed for 2 minutes and enjoyed while it's hot after steaming for the best taste and texture.
The Silky smooth XO Sauce Rice Roll ($6.80 for two) is filled with sweet scallops, shrimps, chilli, radish and a special home-made XO sauce.
Egg-lovers will love Steam Box's new and rich Chawanmushi (S$4.80) is made with 3 types of eggs – century, quail and chicken! Take note that this egg dish needs to go into the steamer twice due to the amount of eggs in the cup, but the end result is worth the wait! Dig into the egg and wait for the fluffy and bouncy texture to reveal itself.
Steam Box's Mantou ($2 for 4 pieces) comes in both fried and steamed options and works as an alternative to rice and porridge, the mantou is crispy on the outside, and fluffy on the inside. Even through there isn't any chili crab sauce provided, dip the bun into the condensed milk provided and bite down on the buns as either a good starter or a satisfying finish to your meal at Steam Box!
Steam Box is located at 68 Serangoon Garden Way, Singapore 555962.
Steam Box is open from Tuesday to Thursday from 6pm to 12:30am, Friday and Eve of Public Holidays from 6pm to 1:30am, Saturday and Public Holidays from 12pm to 1:30am, Sundays from 12pm to 12:30am.
For reservations, please contact them at +65 6281 6939.