Taikoo Lane Offers The Best Of Both Hotpot Worlds with Flavours from Sichuan and Cantonese Cuisines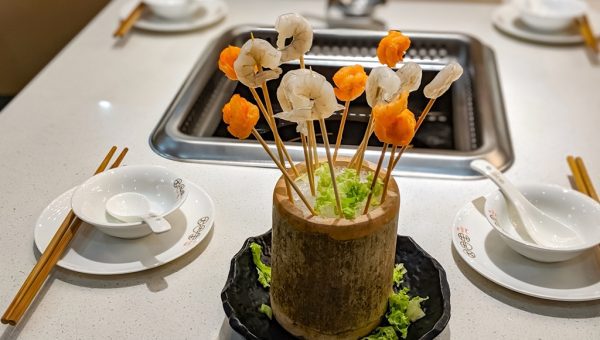 CONTENT: Michelle Ng
IMAGE: Luxe Multimedia
The latest hotpot restaurant to open, Taikoo Lane specializes in not just one, but two Chinese cuisines. The brainchild of owners of Chengdu restaurant brings the best of Sichuan and Cantonese flavours in a medley of hotpot broths and cooked dishes.
Even though the idea of having hotpot is to share a giant pot of broth, getting everyone to agree on a broth might not be as easy as it sounds like. Here's where Taikoo Lane saves the day by offering individual pots so that everyone gets to enjoy the soup of their choice!
Each individual pot can fit up to two broths – which also makes it perfect for solo diners. Enjoy your hotpot yin-yang style by complementing a spicy with a mild broth. For larger groups with similar tastes, they also have your standard shared pots for the whole table.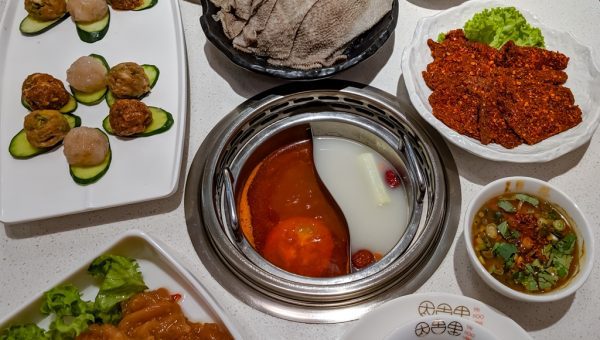 The spicy broths come in two options – the Sichuan Spicy Broth that is boiled with beef tallow instead of oil for a more flavourful punch, and the Chengdu Green Pepper Broth inspired by Chengdu Restaurant's best-selling Fish with Green Peppercorn Soup. Another Sichuan signature, the green peppercorns are fried with chillies and minced garlic before superior soup stock is added to it for a simmering burn.
On the Cantonese side, the Collagen Nourishing Pork Bone Soup will warm you to the bones with a tasty and healthy rich broth that comes from boiling a concoction of pork bones, pig skin, poached chicken and spices for more than 7 hours. There's also a Pumpkin Millet Soup, suitable for vegetarians and those with a sweet tooth. The pumpkin soup is best paired with Taikoo Lane's handmade chili sauce – as recommended by them!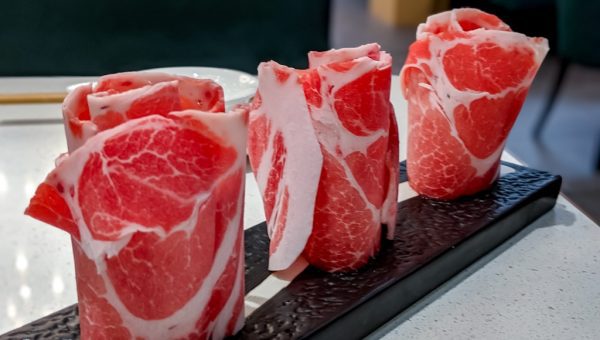 Whether you like meat or seafood, you won't be disappointed with the choices. The Spanish Iberico Black Pork Collar arrives shaped like a rose, and the marbled meat is full of flavor that matches with any broth. Marinated meats like the Sliced Chicken With Green Peppers and Spicy Marinated Beef are Sichuan favourites that gives a spicy punch to your soup.
Taikoo Lane takes the traditional Hong Kong Lobster Noodles and pimps it up. The whole lobster is cracked for you, so all you have to do is dip the meat and noodles into the soup and you're all good to go. The lobster also comes with special sauces and condiments that really makes it DIY dish that you'll definitely love. For less fuss, get the Shrimp Skewer, where you get de-shelled prawns half unseasoned and half marinated in Cajun spices. The shrimp skewers come on a stick, which you can easily stick them into your soup without losing them.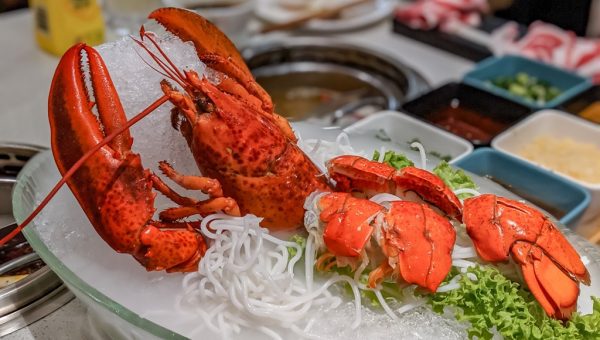 To complete your hotpot experience, complement your meal with free flow condiments, sauces, appetizers, and fruits!
It's not a Sichuan restaurant without their signature skewers. The Sichuan Fiery Skewer on Fire is a combination of beef, chicken, quail eggs, French beans and mushrooms all fried in that delicious spice seasoning before being wrapped in aluminum foil and flammable paper. The skewers are then set on fire right in front of you to lock in the smoky flavor.
Other equally Instagrammable (and delicious) dishes include the Grilled Frog Skewers that docks on your table in a glorious junkship that takes inspiration from the Chinese novel The Romance Of The Three Kingdoms. The Stellar-1 Pork Ribs is a fun take on the Sichuan street shao kao – the meat is served in a bowl that lights up with flashing colours in a bubble before bursting in a cloud of mist.
Taikoo Lane is located at Chinatown Point, 133 New Bridge Rd, B1-16, S059413. Open daily from 11am to 10pm.