Takeshi-San Takes Sake and Sushi Pairing To The Next Level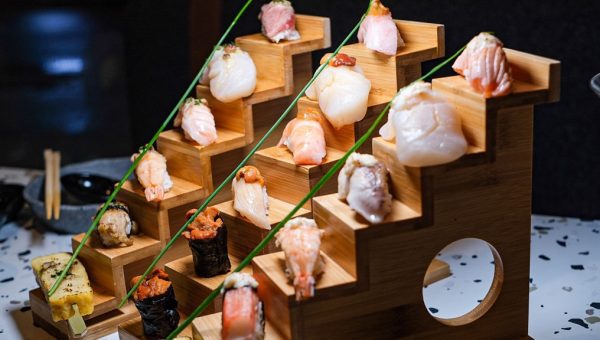 CONTENT: Yiew Kai Jie
IMAGE: Luxe Multimedia
If you're looking for a new Japanese establishment to wet your whistle and chow down on some authentic Japanese foodfare, look no further then the newly opened Takeshi-San, located at one of Singapore's most popular watering hole locations- Holland Village! The humble establishment prides themselves in improving the humble sushi roll while offering an extensive and curated selection of sakes and Japanese spirits.

The restaurant is inspired by two juxtaposing Japanese concepts — the iconic Sakura blooming season and the history behind the valiant Samurais — leading to the idea of creating the perfect sushi based on the values of precision, consistency, creativity and continuous innovation. Hints of Takeshi-San's inspirations are seen throughout the restaurant, from the locally-sourced, handmade white Sakura blossom ceiling fixtures to the sake barrels that greet diners as they begin their culinary experience.

Selling anywhere from 200 to a staggering 300 towers daily, Takeshi-San's signature Sushi Kaidan Tower Set (S$18-$42) comes in eight different combinations that focuses on eight different premium sushi ingredients to give diners an extravagant sushi dining experience. Mimicking the visual design of the restaurant, each Kaidan Set has been displayed on a small pseudo step ladder decor that is aimed to guide the diners to properly enjoy the mini bites of goodness. For the hardcore purist salmon lover, they can opt for the Salmon Set (S$22) to enjoy the protein in three different ways: sashimi, aburi mentai and aburi black pepper. Foodies who are looking to experiment should opt for the decadent Foie Gras Set (S$42) which combines the freshness of the sashimi with the richness of the foie gras for a melancholy combination of flavours that cannot be found elsewhere!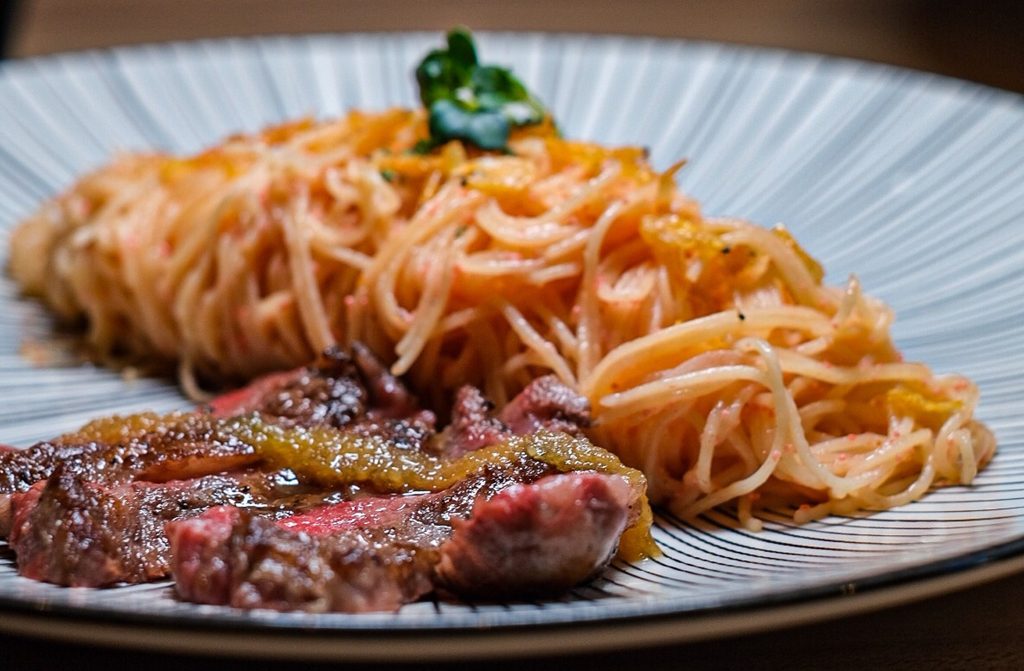 Apart from the main sushi highlights, Takeshi-San also offers a wide variety of dishes under their belt. Some noteworthy dishes include their A5 Wagyu Pasta ($38) that includes tender strips of melt-in-your-mouth beef with a generous amount of flavourful pasta. Another must order dish is the Prawn Pasta (S$22), which is the establishment's own rendition on the classic Japanese Mentaiko Pasta that has been created with Takeshi-San's in-house mentaiko sauce — but with a hint of hae bee hiam and an unmistakable wok hei flavour. A unique fusion dish, the Volcano Roll (S$20) is a fusion sushi roll that uses a spicy kimchi salad filled with copious amounts of scallop crabmeat that gives a feisty punch to the shrimp tempura embedded within.


In addition to their ala-carte menu, Takeshi-San also offers daily Lunch Sets and a Special Lunch Menu that starts from as low as S$8.90!

Takeshi-San also offers an extensive range of sake and Japanese liquors for diners who want a little aperitif with their food. The Umenoyado Tsuki Usagi Sparkling Sake (S$28) works as a refreshing tipple for the everyday diner with its low alcohol content coupled with light floral extracts with a distinct grape-plum flavour that dances on the palate as the spritz comes to a conclusion. For the more discerning connoisseur, a bottle of the smooth tasting Junmai Daiginjo (S$128) is an award winning wine that has sweet notes of plum, peach and green apples with a mildly dry finish that pairs well with the taste of Takeshi-san's food.


Regardless if diners are bringing their family for an overdue get-together, a corporate luncheon or even a simple date night, Takeshi-san will never fail to provide a quick escape to the land of the rising sun.
Additionally, the restaurant is filled with a team of dedicated and attentive staff that provides exceptional service to their diners. Before even taking any orders, they will check with their diners if they have any allergies and are very knowledgeable about their in-house liquors and sake should diners need any recommendations.

Takeshi-San
38 Lorong Mambong, Singapore 277694