Top 5 Must Try Mooncakes for this 2015 Mid-Autumn Festival
Mid-Autumn is the time of the year wherein people flock to queue for the best mooncakes for either personal consumption or gifting, but can you really try each and every mooncakes from the numerous brands? Well, we have tried most of those you would be probably consider to purchase from and we were so surprised that most had come out with their own tea infused mooncakes. Is this a trend or something to offer to health conscious mooncake lovers? Now, let us introduce you to the brands that made it to our this year's Top 5 must try mooncakes.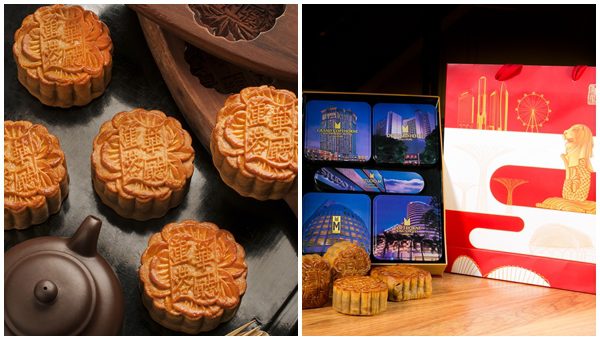 Hua Ting, Orchard Hotel – "Luxe Society's Editor Choice!"
Orchard Hotel pays tribute to our nation during this exceptional SG50 year as award-winning Masterchef Lap Fai from Hua Ting Restaurant specially put together new mooncake creations to commemorate Mid-Autumn Festival and Singapore's 50 years of independence.
In celebration of this special SG50 mid-autumn, Millennium Mooncakes by Hua Ting will be encased in limited edition, collectible tin boxes adorned with raised Singapore icons, premium packaging will showcase renowned Hua Ting's mooncakes individually packed in a collection of Millennium Singapore hotels and enclosed beautifully in a tin box featuring Singapore icons and stories from the past to the present, the perfect gift for your corporate clients and loved ones – perfect to keep as your memorabilia!
What we liked most:
Yes! Orchard Hotel is this year's Editor's Choice because we felt touched by their effort in designing their limited edition SG50 tin boxes. But apart from that, we love their Golden SG50 Mini Snow Skin Red/White Twist SG50 (狮城五十周年庆团圆). Exquisitely crafted with a combination of red bean paste and salted green bean paste, these Merlion designed pieces are imbued with luxurious bits of gold foil, sprinkled with popping candies. Enfolded within a red (natural Cherry colour) and white tender snowskin to represent our nation's colour, it is a nostalgic flavour that magically transports you back to your childhood! Isn't this awesome?
Hua Ting's exquisite mooncakes are available at the lobby of Orchard Hotel, Singapore, and at retail booths located in shopping malls island-wide. For more information, please visit www.orchardhotel.com.sg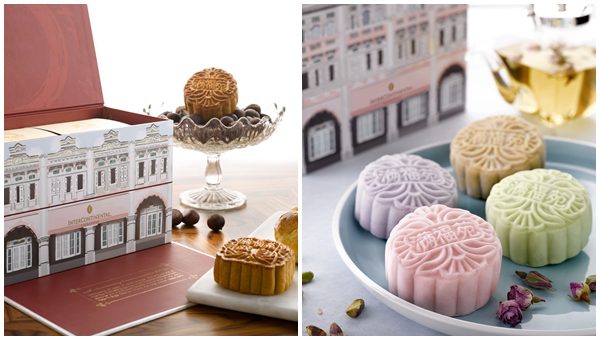 1. Man Fu Yuan Restaurant, Intercontinental, Singapore
This year Intercontinental Singapore celebrates its 20th anniversary with a special commemorative box, reflecting the multifaceted facades of the historic Bugis district where the hotel stands resplendent. Featuring the whimsical illustrations of local artist Jacqueline Goh, the beautiful mooncake tin box captures the hotel's rich heritage, arts and culture, encapsulated in this time of reunion and tradition at Mid-Autumn. A graduate of the LASALLE College of the Arts in Singapore, Jacqueline is also the director and designer of The Fingersmith Letterpress, a letterpress printing company specialising in hand lettering and illustrations
What we liked most:
Making the debut this season this delicately-crafted Snowskin Tea Mooncake Collection 冰皮精选茶系列月饼 ($66) featuring aromatic blends of earl grey and baileys truffle with white lotus paste, Japanese matcha, oolong with black sesame paste, and delicate rose with white lotus paste and pistachio, these winning combination captured our taste buds with its fragrant tea scent aroma, the melt in your mouth skin and the uniqueness of the flavour combinations.
Intercontinental Singapore's Mooncakes is our Top choice for this year! No doubt about this.
Mooncakes are available from 20 July through 27 September 2015 at Tea Hut, located at the entrance of InterContinental Singapore from Bugis Junction, and 9 locations across Singapore including Century Square, Compass Point, Junction 8, Jurong Point, NEX Serangoon, Parkaway Parade, West Mall, Takashimaya and VivoCity. Online purchase will be available at singapore.intercontinental.com/mooncakes. For more information, please call 6820 8519 / 8520 or email sinhb-festive@ihg.com
2. Cherry Garden, Mandarin Oriental Singapore
Making it to the second top spot and making their debut on our Top 5 list is Cherry Garden restaurant located at Mandarin Oriental Singapore – known to use fresh, seasonal produce, to provide diners with an authentic Cantonese dining experience. Same goes for the mooncakes, every piece of mooncake is prepared by their own chefs with the finest ingredients, delicately made to perfection, and exquisitely crafted to an intricate finish.
What we liked most:
Making its debut in Cherry Garden is the Chef's signature pecan maple praline mooncake, the perfect baked combination of sweet and crunchy nuttiness, paired with the light fragrance of smooth lotus paste, one bite and you can smell the aroma and sweetness of the Maple flavour. We also love the fact that most of their silver lotus paste is available in " Low Sugar" perfect for those looking after their calories
Please call 6885 3081 or e-mail mosin-mooncakes@mohg.com for mooncake orders or further enquiries.
3. Summer Palace, Regent Singapore
Regent Singapore's theme this year of the "perfect reunion" (圆满) is beautifully encapsulated in an elegant red and gold duo-toned box that boasts a bold Chinese tea pot embellishment and delicate trimmings reminiscent of a lush garden; a tribute to the tradition of celebrating family and friendships under the full moon with aromatic Chinese tea and mooncakes "月圆,人圆,事事团". Dim Sum Chef Leong Kwok Sing's showcases an exquisite collection of all-time favourites and two new tea-infused snow- skin mooncake flavours.
What we liked most:
Specially customised Regent Blend tea (Darjeeling and Jasmine tea) and premium 18-year-old Pu'er tea, respectively. Regent Blend Tea with Lemon Paste is a harmonious pairing of refreshingly sweet and tangy notes while the Pu'er Tea with Red Dates delivers pleasantly complementary complex and earthy flavours wherein tea connoisseurs will be delighted – delectably smooth and fragrant tea infused lotus seed paste.
For further enquiries, please call 6725 3239 or email foodbeverage.rsn@fourseasons.com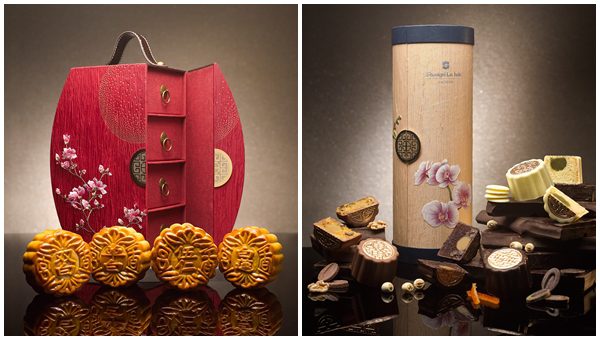 4. Shang Palace, Shangri-La Hotel, Singapore
Shang palace's Master Chef Steven Ng draws inspiration from the popularity of French desserts to create this year's unique artisanal mooncake, which features a perfect amalgamation of ingredients from the East and West. With the assistance of Area Pastry Chef Hervé Potus, each mooncake is handcrafted with precision to enhance its distinctive flavours.
What we liked most:
We love the fact that The Chocolate Trilogy mooncake collection is very unique and innovative, being the one and only mooncake of this type this year, but sadly, we felt like we are having a cake rather than the mooncake having a combined fine layer of chocolate enveloping lotus seed paste and other Oriental ingredients. But for chocolate lovers, this is a must try!
The three flavours featured are Dark Chocolate with Lotus Seed Paste and Candied Orange, Milk Chocolate with Lotus Seed Paste, Mixed Nuts, Pumpkin and Melon Seeds and Carrot, as well as White Chocolate with Lotus Seed Paste, Green Tea and Coconut. Must try for those who are bored of the usual traditional mooncakes, not to mention these are their "Limited Edition"
For mooncake orders, please visit www.slsrewards.com.sg/mooncakes. For enquiries, please call (65) 6213 4511 or email festive.sls@shangri-la.com.
5. Li Bai Cantonese Restaurant, Sheraton Towers Singapore
Li Bai Cantonese Restaurant pays homage to this timeless tradition of Mid-Autumn with its signature baked mooncakes and four new exciting flavours which are deftly handcrafted in-house by award-winning Chef Chung Yiu Ming and his culinary team.
What we liked most:
The Traditional Baked White Lotus Seed Paste with Four Yolks Mooncake promises a divine mix of sweet lotus seed paste and savoury yolk in every bite, though we didn't get to try, heard from those who tried the Mini Snow Skin White Lotus Seed Paste with Salted Egg is very sinful for Salted Egg lovers.
For more information, please contact Li Bai Cantonese Restaurant at 6839 5623 or email mooncake@sheratonsingapore.com