Tuscan-styled Restaurant Ristorante Pietrasanta Refreshes Menu for the First Time In a Decade
CONTENT: Adriel Yong

Nestled in the business district of one-north is the slightly more than a decade old Italian Trattoria Ristorante Pietrasanta. The homely Italian restaurant owned by two Tuscanean brothers was previously located off the beaten track at Portsdown Road since 2008. This menu refresh marks the first in more than a decade.

The restaurant has both an intimate interior for date nights and business meetings, and an al fresco outdoor dining area for happy hours and a more laid back dining environment. Regardless of which dining area you choose, you will be served with the impeccable hospitality and warmth that is characteristic of Italian restaurants.


On to the food. We were served with warm and freshly made focaccia accompanied with salsa dips as well as the antipasti dishes of Burrata and Porchetta. The Porchetta comes with shaved Parmigiano Reggiano and a 15-year aged balsamico that gives it a nice balance of flavours. On the other hand, the 300g Burrata cheese ball is typically off-menu and only known to those familiar with the restaurant. It is incredibly creamy and fresh given that it is flown in from Italy every three days. The Burrata is also served with a home-made olive oil made in Italy that has a secret recipe passed down across the generations. The simple addition of the olive oil added a unique touch to a non-descript Burrata.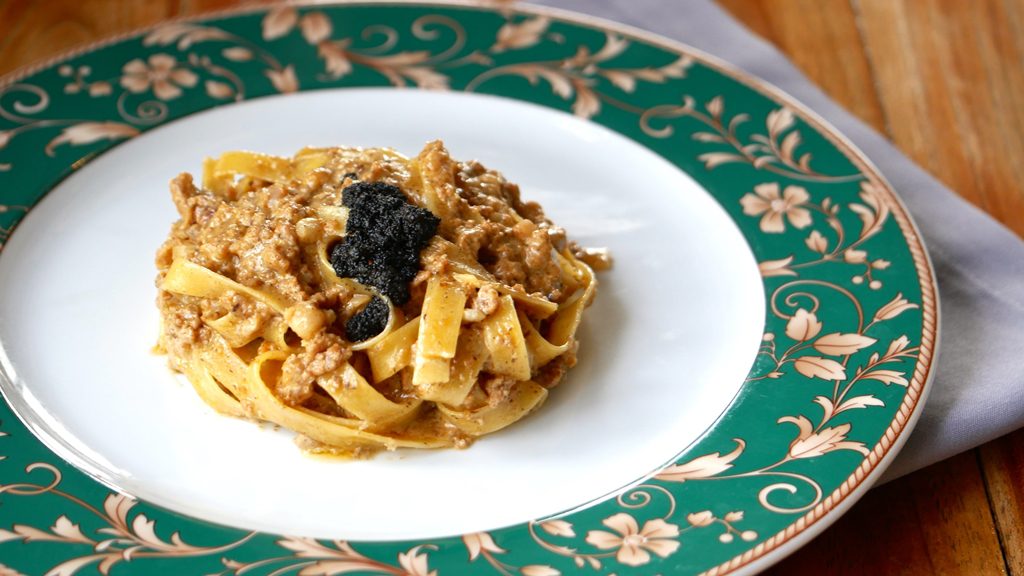 The quintessential Italian pasta is judged by the quality of its pasta and the pasta here is made by hand daily. The Fettucine Con Salsiccio Tartufo features handmade Fettucine pasta served with pork-ragout in a light cream base, with sausages and minced Italian black truffle preserved in olive oil. This was a rich explosion of robust flavours and a very memorable pasta dish.

For a lighter touch on the palette there is also the newly launched Tagliatelle Fresche Gamberi E Pomodori Secchi which uses freshly kneaded tagliatelle, fresh prawns, semi-dried tomatoes, garlic, basil, olive oil and prawn broth. The combination of flavours here is lighter but nonetheless filled with umami.

In case you thought we were at the end of our meal, an Italian dinner usually has five courses (four for us). Our main course featured the humongous Bistecca Alla Florentina – a prized Black Angus T-Bone cooked in Tuscany style medium rare. Just the sight of the huge piece of beautifully grilled meat is set to whet the appetite. The cut is only lightly seasoned with salt, pepper, rosemary and thyme for diners to fully appreciate the beefiness of it. I like my meat fattier so I would have preferred the sirloin of the T-Bone instead of the tenderloin.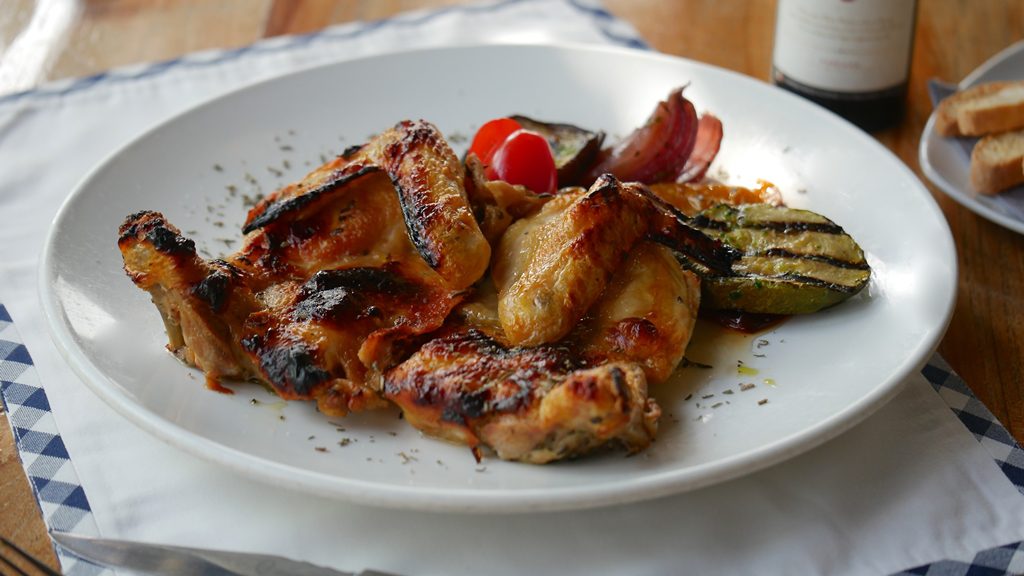 The other main we had was the Galletto Disossato Arrosto, an organic spring chicken roasted and deboned, and garnished with garlic, herbs, and lemon zest. Many roasted chickens have been wasted because of their dryness and toughness when handled poorly. However, the roasted chicken here was incredibly juicy and reeked of smoky herby flavours.

To end of a sumptuous dinner our dolce course featured an unusual construction of a cheese cake. The Cheese Cake Alle 5 Medaglie will surprise cheese cake connoiseurs with the use of mascarpone cheese that gives it a lighter flavour and makes it incredibly easy to wolf down. The flavours of the cheesecake are well complemented by drizzling a Giuseppe Giusti 20-year-old balsamic vinegar. The vinegar has a thicker texture and is not as sour or acidic as most vinegars. It even has a slightly sweet note which makes this cheesecake a memorable rendition. Of course, go in with your eyes open wide as this is not a cheesecake you would typically expect.

Both our hearts and tummies were warmed with the hospitality and food at Ristorante Pietrasanta. If you are still searching for a Christmas dinner venue, check out their 4-course Festive Menu (S$88/pax). It features the antipasto (appetizers), the primo (first course) of pasta, the secondo (second course) of meat or fish. You can also satisfy your sweet tooth with an Italian Christmas dessert cake served with vanilla ice cream. This menu will only be available till 31 December.

Ristorante Pietrasanta
1 Fusionopolis Way, #01-08, Singapore 138632
Opening Hours: Daily, 11:30am – 2:30pm, 5:30pm – 10pm
Tel: +65 9863 9253
Website