Verde Kitchen: Green, Sustainable and Scrumptious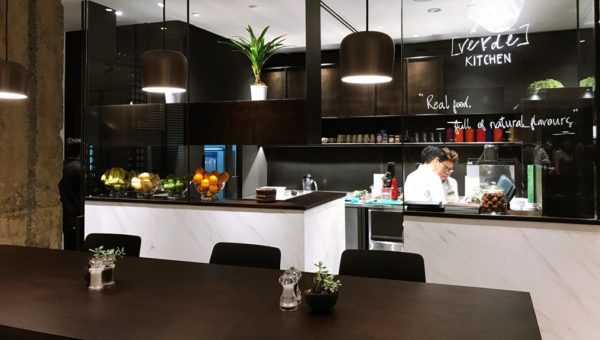 CONTENT: Yiew Kai Jie
IMAGES: Luxe Multimedia
Verde Kitchen opens at Hilton Singapore, serving all-natural, sustainable whole foods to nourish mind, body and soul
Since its inception on February 2018 at Hilton Singapore, Verde Kitchen embraces a holistic and wholesome attitude toward healthy eating. The cozy 32-seat restaurant is located at level two of Hilton Singapore with an industrial-chic and casual aesthetic look, a perfect place for a healthy dining experience with business associates or catching-up with old friends. Through supporting locally grown, organic, certified ingredients as well as utilizing sustainable food systems right at the hotel, Verde Kitchen is committed to serving food that is best for individuals, local communities and the environment, with the aim of making tomorrow a better day.
From Farm to Table
Verde Kitchen is fully devoted to supporting the local Singapore food economy. 50 percent of the menu incorporates locally and sustainably sourced high-quality ingredients that provide superior taste and a benefit to society through Fairtrade and other certifications. Suppliers include local independent organic vegetable farms, floating fish farms and free-range lacto poultry farms in Singapore and Johor.
Verde Kitchen chefs harvest hotel-grown leafy vegetables – lettuce, arugula, spinach, kale, rocket and basil from the Vertical Garden on the property's ground floor. Products from the Vertical Garden do not require pesticides or packaging.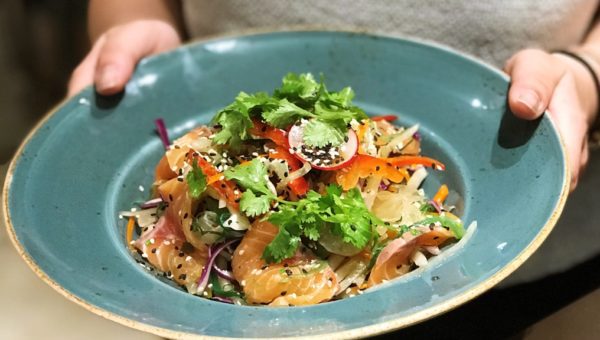 Healthy and Green
Verde Kitchen serves simple, tasty cuisine that is aligned to its mantra- "real food, full of natural flavours". The menu features a variety of great-tasting healthy dishes that includes gluten-free, dairy-free, vegetarian and raw food options. 98 percent of the menu items are made from scratch every day and 60 percent of the seafood served is sustainably sourced and carries the Marine Stewardship Council / Aquaculture Stewardship Council eco-labels. All chicken and eggs served at the restaurant are certified organic, free-range and lactose-free.
Customers who patronize the restaurant can expect to find fresh soups, salads and mains packed with uber healthy superfoods like wakame, kale, pomegranate, turmeric and the all too popular avocado! The Kitchen's signature salads includes the Salmon Sashimi and Pomelo Salad (S$27), a salad that is packed to the brim with sashimi and consists of a very good variety of vegetables with it. The salmon itself is rather fresh, and does not have a strong overwhelming fishy taste to it.
The Super Food Grilled Halloumi (S$25) with Bulgar cereal, Chickpea and drizzled with a homemade Roasted Walnut Dressing made in house daily and with passion from the heart, according to Executive Chef Vijayakant Shanmugam! The halloumi cheese has a nice roasted, burnt taste to it and balances the whole dish without it being overpowering. The chickpeas and bulgar helps give the whole dish a rather soft texture and helps to finish the dish alongside the various greens in the dish.
Last on the list of appetizers, is the Low-fat Creamy Broccoli and Kale Soup (S$16) with a Poached Omega 3 Egg and an Emmental and Parmesan Cheese Toast on the side. The soup is rather gritty, possibly due to the vegetables not being grinded well enough, however it helped give the soup a little texture rather than leaving the soup tasting flat. Despite the softness of the cheese toast, the bread is able to hold together when it is dipped into the soup, and results in a cheesy explosion in the mouth and a deep sigh of satisfaction when it is eaten whole.
Should diners be looking for more heartier options or their daily protein intake, they have several choices to choose from the diverse menu. One of them includes the Free-range Pulled Pork Burger(S$28) with cheddar, purple and white coleslaw on a sunflower seed brioche bun.
The bun was rather dry and tough to chew on as it did not break apart as easily as one would assume a brioche bun would- but it was nicely toasted with butter and was not overly greasy. The pork was nicely seasoned through and tasted rich, sweet, and peppery and the protein was not as dry as it looked, but the coleslaw was completely overpowered by the taste of the pork. One would not be disappointed by the burger, but don't expect to be astounded by it either.
Diners who are looking for something spicy or hearty can indulge in Malay-style Organic Lacto Chicken Curry (S$32) with spicy turmeric curry, organic lady's fingers and brown rice. This dish is where Chef Vijayakant showcases his skills and pays homage to Singapore's Malay heritage. The curry is chocked full of flavour from the various spices and herbs in it and is a more healthier version compared to other Malay curries- without excessive oil and grease being used to artificially enhance the flavour of the dish. However, the chicken was slightly bland and could have used a little more seasoning in it. The dish might taste relatively normal to diners who have a seasoned palate for curry, but it has all the basic flavour profiles of a traditional Malay curry that would make any Makcik give her grunt of approval!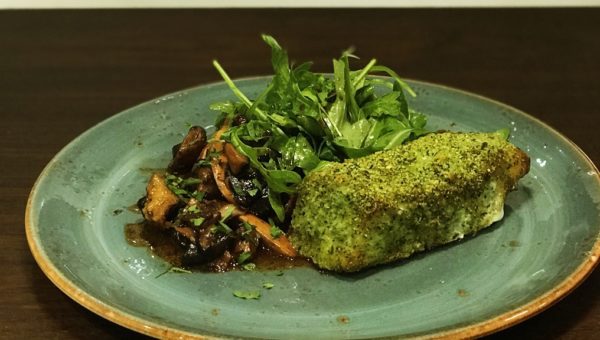 Lastly, a must-order dish on the menu, is the Organic Basil-crusted Glacier 51 Toothfish (S$38) with local seasonal mushrooms and thyme jus. The protein is baked at a high heat of 180 degrees and cooked perfectly- just slice the fish in half and look at the beautiful cross-section. The fish tastes exceptionally fresh and is extremely light despite the heavy basil crust that encompasses the protein and helps to further complement and enhance the protein.
Pair the fish with the mushrooms and it will be perfectly balanced due to the heavy flavour of the mushrooms which help give the dish a perfect balance. Be warned that the fish might taste too rich after a few mouthfuls, so either compensate with the greens on the plate or take a break or sip of water before you move on!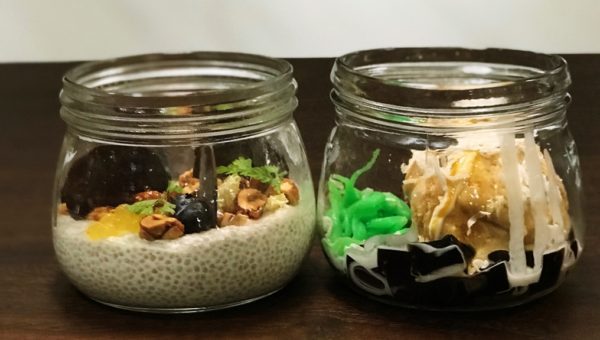 End the meal on a pleasant note or satisfy that sweet tooth without suffering from empty calories low-sugar or no-sugar-added desserts include a Chia Seed and caramelized hazelnut pudding (S$14); Flourless Chocolate Cake (S$14); and even a less-guilty Homemade Gula Melaka Ice Cream (S$14) with chendol, attap seeds, red beans and coconut milk.
Hilton Singapore Executive Chef Vijayakant Shanmugam said, "The restaurant's menu brings a new balance to healthy eating. We're proud to serve healthier versions of local South-East Asian favourites alongside the freshest salads and healthier desserts. It's been a pleasure training the team on well-being and waste-reduction, and we are all inspired to help our guests eat the best possible foods for their bodies and the planet."
The Verde Kitchen culinary team is also trained in healthier cooking methods and practices – all menu items are made from scratch with an eye to reducing added sugar, salt and saturated fat up to the variety of fresh juices and smoothies in their beverage menu.
Brewed coffee and espresso are made from Fairtrade Java Mountain Coffee, a responsibly farmed and sourced micro-roaster that is committed to empowering rural women farmers in Java. A selection of bottled beverages includes natural, lemon or bandung kombucha, a detoxifying turmeric elixir as well as a small selection of organic wines and cider.
Verde Kitchen is open from Monday to Saturday from 10:30am to 5:30pm.
Verde Kitchen is located at Level 2, at Hilton Singapore, 581 Orchard Road, Singapore 238883
For reservations, call +65 6730 3397 or email VerdeKitchen@hilton.com.