Veuve Clicquot Toasts to its 250th Anniversary with an Icons exclusive collection pop-up at ION Orchard
CONTENT: Luxe Society Asia

In celebration of Veuve Clicquot's 250th Anniversary, the champagne house unveils "The Icons," a quartet of the House's most emblematic objects, each of which tells a part of Veuve Clicquot's story.

Based on the House belief that highly functional packaging can be transformed into a unique, desirable object as an integral part of our art de vivre, these new products pay tribute to the House's love for beautiful and functional objects, re-edited with sustainability in mind.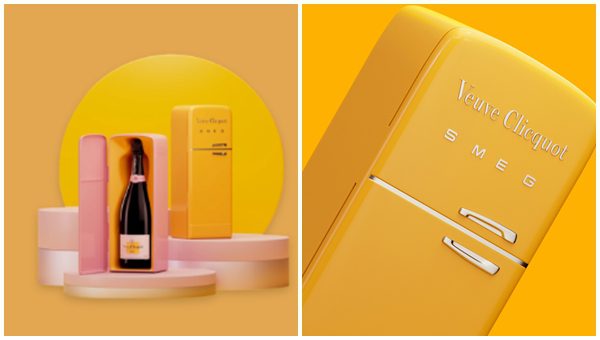 The Veuve Clicquot Fridge is an audacious chill box inspired by the refrigerators of the 1950s. In Veuve Clicquot's iconic solaire yellow and rosé pink, it embodies the House's creative spirit and its ability to reinvent everyday objects, transforming them into objects of desire.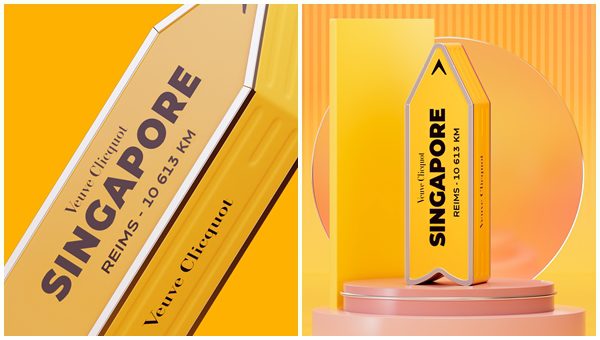 An instant classic when it was launched in 2016, the Veuve Clicquot Arrow continues to capture hearts and imaginations everywhere. Made from tin plate (one of the most recyclable materials), the new version of the Clicquot Arrow now has 30% recycled material as well as a removable wedge made from 100% sugarcane waste so that it can be upcycled as a keepsake box. Like a real road sign, every box indicates the number of kilometres from your special place to Reims, France, and the cellars of Veuve Clicquot!

The collection, like all Veuve Clicquot products moving forward, has been designed to last and is now plastic free, 100% recyclable, with greenhouse gas emissions way inferior to the previous editions, in alignment with Veuve Clicquot commitments to reduce by 50% its emissions by 2030.

The two Icons available exclusively at the pop-up in Singapore are The Clicquot Fridge in the Yellow Label (S$79.90) and Rosé (S$90.90), a peppy chill box that cools the bubbly Veuve Clicquot as well as The Clicquot Arrow (S$84.90), the striking customisable packaging that is truly revolutionary.

Celebrate 250 years of Solaire culture, discover icons from the past reimagined for the future and get the chance to personalise your very own iconic Clicquot Arrow while shopping other limited-edition pieces from the collection available only at the Veuve Clicquot Icons pop-up.

More than an anniversary, the pop-up is an ode to joy and optimism expressing one of Clicquot's convictions that each new day opens new paths to build a brighter future.

Veuve Clicquot Icons pop-up
Where: ION Orchard
When: 16 -24 October 2022