Wine and Whisky Week Returns for its 8th Edition with a Focus on Personal Themes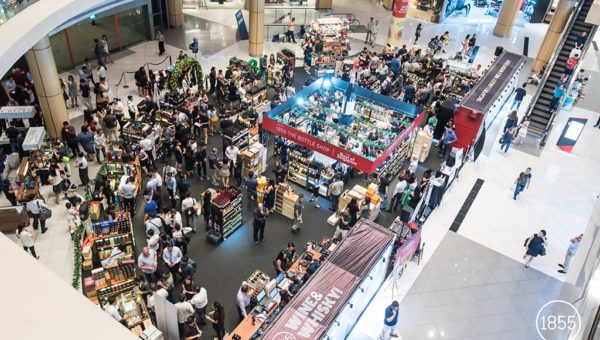 The biannual 1855 The Bottle Shop's Wine & Whisky Week (WWW) is set to return from the 6th November to 17th November at Suntec City East Atrium Level 1. Inspired by the diverse personalities and styles of wines and spirits, the eighth edition will be ripe with opportunities for wine and whisky consumers to explore their favourite tipples through a different perspective. The engaging concept of "Unbottle Your Style" aims to create a fun, interactive and immersive space for consumers to taste, play and shop at the same time. Step into a vibrant, colourful, multi-sensory space and indulge your five senses in an experiential journey where consumers will get to discover their perfect match and find their alter ego in a bottle.
During the event, consumers will have the opportunity to gain rare insights from experts, learn about their individual drinking style and get personalised recommendations on what kind of wine or whisky they should purchase and imbibe in. After exploring the world of fine wines and spirits through the palette of styles, consumers can declare it at the special Personality Wall through an interactive poll by simply dropping a token in the personality box that best represents their style.
This year's event will see the Singaporean debut of a series of exquisite, award-winning wines from three new-to-market brands – The Prisoner Wine Company (California, USA), Charles Smith Wines (Washington, USA), and Castello di Monsanto (Tuscany, Italy) that can only be found at 1855 The Bottle Shop.
Each wine and spirit has a distinct identity that is an amalgam of its unique history, inspiration, making, design, aromas and flavours. Inspired by this, 1855 The Bottle Shop has created The Style Palette, a series of five distinct styles that best represent and embody the range of products available at this edition: Edgy & Provocative, Quirky & Playful, Rustic & Traditional, Elegant & Sophisticated and Bold & Expressive.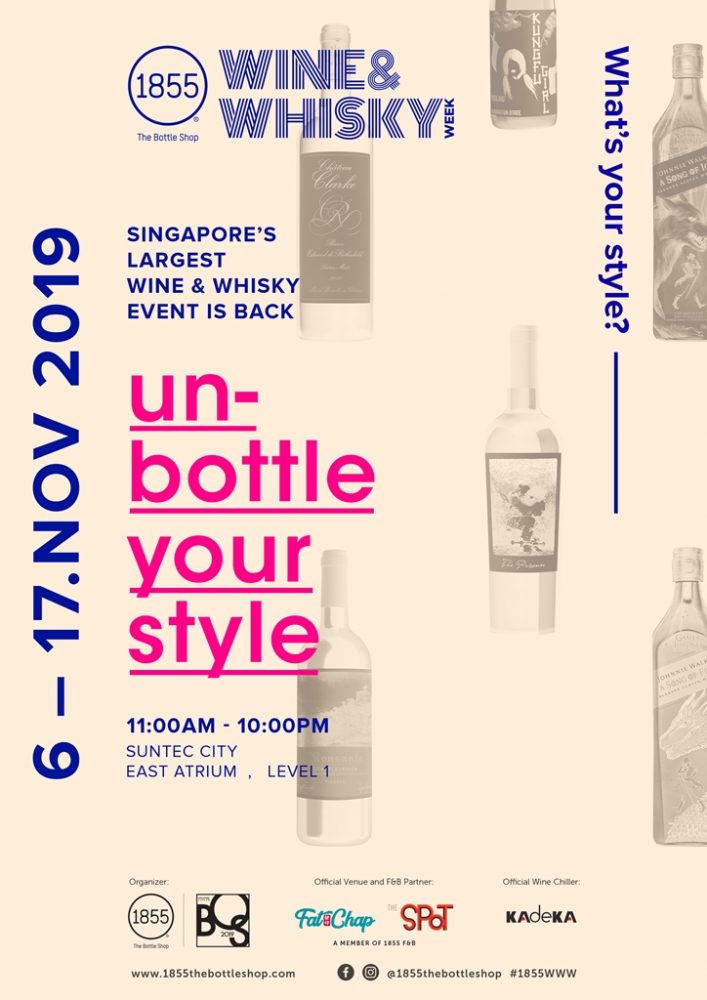 To that end, a specific bottle of wine or whisky has been assigned to represent each specific theme as they are the perfect embodiment of the theme in terms of their depth of flavour and place of origin.
Edgy & Provocative: The Prisoner Red Blend 2017 ($75, 2 for $138)
Quirky & Playful: Kung Fu Girl Riesling 2017 ($38; 2 for $70)
Rustic & Traditional: Chianti Classico Riserva DOCG 2015 ($58; 2 for $110)
Elegant & Sophisticated: Château Clarke 2011 ($52; 2 for $98)
Bold & Expressive: A Song of Ice / A Song of Fire ($158 for set of 2)
Launched exclusively at Wine & Whisky Week, whisky enthusiasts can also get their hands on Johnnie Walker A Song of Ice / A Song of Fire, two new limited-edition Scotch whiskies which celebrate the enduring legacy of the critically acclaimed HBO® series Game of Thrones. Additionally, the event will also play host to the Singaporean debut of two limited-edition Scotch whiskies; the incredibly rare luxury Scotch whisky Johnnie Walker Blue Label Ghost & Rare Glenury Royal ($418) and the ancient 14-year-old Scotch whisky The Balvenie The Week Of Peat.
With complimentary tasting available all day every day, visitors can look forward to savouring over 100 labels including wines, single malts, blended whiskies, gins, and sakes from boutique breweries, etc.
The 8th 1855 The Bottle Shop Wine & Whisky Week will be held at Suntec City East Atrium, Level 1, Singapore 038983 from the 6th to 17th November 2019, Wednesday to Sunday (11am – 10pm).
For more information, please visit www.1855thebottleshop.com