World's Best Mirazur, Chef Mauro Colagreco opens Homely Italian Restaurant in Fiamma in Capella Singapore
CONTENT: Adriel Yong / Rovik Robert
IMAGE: Capella Singapore

After a spectacular Mirazur pop-up at Mandala Club, Chef Mauro has opened his first restaurant in Singapore, Fiamma at Capella Singapore. Nestled away in the lush greenery of Sentosa, Fiamma provides a warm and relaxed atmosphere for diners to savour the seasonal offerings of Italian fare.

Aperitivo
We started off with small bites of Culatello Di Zibello, Parmigiano Reggiano, freshly baked focciacia bread and drizzled with a potent aged balsamic vinegar. That could have been a whole appetizer itself but we had to taste some of the freshly made Pizza Tartufo. While deceivingly simple, there is something about the combination of smoked scarmoza cheese and fresh black truffle that makes Fiamma's appetiser pizza an immediate winner, especially when you see it come out fresh from the restaurant's wood-fire oven.


Antipasti
The diversity of antipasti is an appealing proposition, especially for group dinners, but we gladly served ourselves an extra portion of Crudo di Gambero Rossa Di Mazara, a masterfully prepared portion of Mediterranean red prawn crudo, kumquat and green peas. The freshness of the prawns shines and it is accentuated by the garden flavours in the accompanying ingredients. Chef Mauro discovered the red prawns while he was scouting for new regional produce to feature in Mirazur, making this a special treat. Do note that the red Mediterranean prawns are also seasonal in nature.

We also had the Crudo Siciliano, a marinated Japanese seabream, sliced carpaccio style, dressed with an orange sauce made with chopped shallots, orange cubes, reduced juice, white balsamic vinegar and ginger, and mint oil. Similar to the prawn crudo, the seabream crudo boasts a nice level of acidity that helps with opening the palate.

Our third antipasti was the Carpaccio di Pomodoro E Pesca, an assortment of heirloom tomatoes and yellow peach dressed with a delightfully refreshing vinaigrette made with olives, rice vinegar, lemon juice, ginger, garlic & fresh basil. This was a deceptively understated antipasti that left the table deeply impressed with the robust flavours. It is also a signature dish of Chef Maruro as it reminds him of his childhood memories planting and recoating tomatoes with his grandfather.

Primi
By the time it got to the pasta dish, the Tagliatelle All'astice had a high bar to meet, and unsurprisingly, it was a memorable dish. The blue lobster is served generously on a bed of beautifully made pasta topped with tarragon and confit tomatoes. This dish is a reminder of what makes good pasta.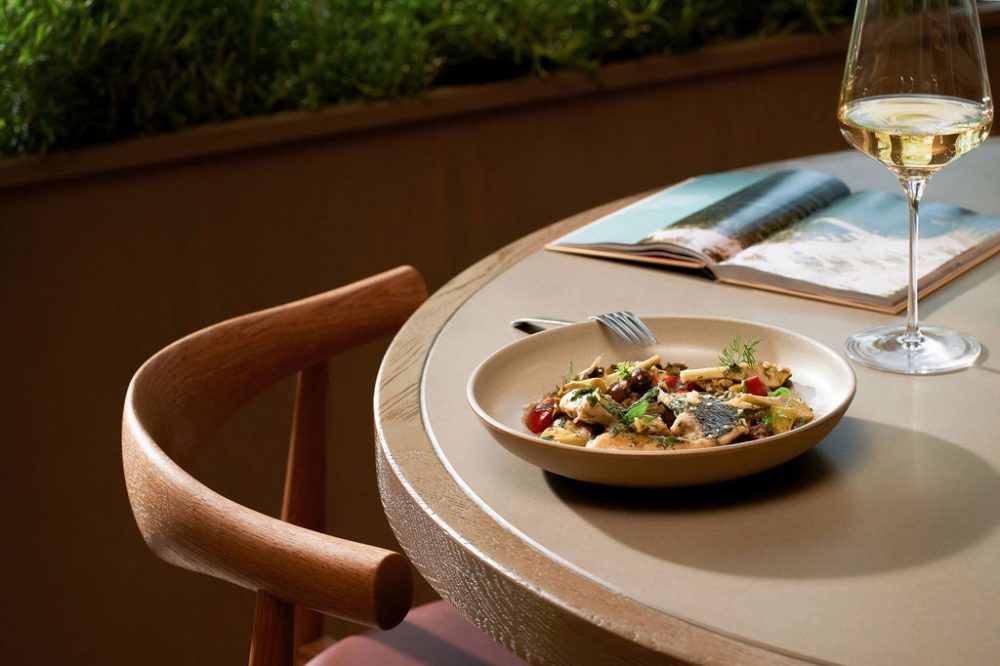 Secondi
The Pescato Del Giorno, is a classic dish from the Liguria region, near to Mirazur. The fresh catch of the day, usually either a seabass or seabream is wood-fire grilled before basted in a rich sauce made with ingredients like artichokes, cherry tomatoes, black olives, capers , confit lemon. The alla ligure style of cooking makes this a comforting dish that is tasty yet light, a good break from the flavours from the dishes before and after.

Fiamma's Bistecca Alla Fiorentina is a show in itself, with a tableside preview of the meat to be carved. Our 1000g sharing portion looked impressive, and by the time the meat hit the palate, we knew that it was not just all looks. we actually enjoyed the accompanying grilled eggplants and baby potatoes as well, especially in how they cut some of the richness of the steak.


Dolce
The desserts are twists on Italian classics, with my favourite being the Meringa Cotta. The generous pour-over of the slightly acidic red berry sauce on the slow-baked crunchy meringue and vanilla cream is a visual treat, and the mouthfuls after make you grateful that you saved space for dessert.

For something more classic, try the Panna Cotta Esotici. A classic Panna Cotta, made with cream and milk infused with Bourbon organic vanilla from Madagascar. The addition of exotic fruits cuts through the richness of the panna cotta and makes this a well-balanced ending to a wonderful night of feasting.

The verdict? Compared to its more highbrow sibling, Mirazur, Fiamma is the place to go to for all occasions be it date nights or casual family dinners. Each dish is reminiscent of homely Italian fare with a modern twist, making it a delightful experience at every course. Don't forget to have a couple of glasses of wine to wash down everything at the end of the night!

Fiamma, Capella Singapore Hotel
1 The Knolls, Sentosa Island, Singapore 098297
Website