Shakespeare in the Park 2014 Presents: The Merchant of Venice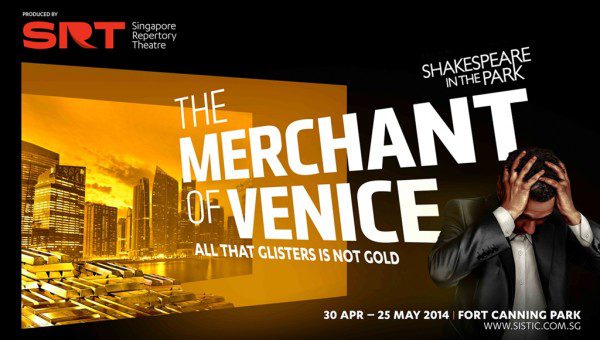 Singapore Repertory Theatre's annual Shakespeare in the Park season returns to Fort Canning Park this May with The Merchant of Venice.
SRT's Shakespeare in the Park, now in its seventh year, has established itself as one of the most anticipated events on Singapore's cultural calendar. A record 30,000 people watched last year's production of Othello. Based on ticket sales to date, The Merchant of Venice is on track to exceed that figure with some evenings already sold out.
Spread a picnic blanket under the stars, uncork that bottle of wine and lose yourself in the rich world of The Merchant of Venice, where all that glisters is not gold. Join Shylock, one of Shakespeare's most sympathetic villains, and the quick-witted Portia in their pursuit of justice and mercy.
"It is a terrific story with fascinating characters. We fear what is different and prejudice is born in that fear. It also has the gripping aspects of a love story coupled with a courtroom drama. It is comedy with tragic elements woven in. It makes for a gripping night of theatre in the park," says director Bruce Guthrie about this, the third Shakespeare in the Park production he will be directing for SRT.
In a coup for Singapore, SRT has engaged multi-award winning movement director Scott Graham from Frantic Assembly. He is one of the most exciting practitioners around, most known for his work with National Theatre's The Curious Incident of the Dog in the Night-Time, for which he received an Olivier Award nomination for Best Theatre Choreographer.
"As a student, I didn't understand the language Shakespeare used. It was only after I saw my first professional production done well, that I began to appreciate why his plays are still performed 400 years later. SRT's goal is to help everyone in Singapore have that same epiphany. Merchant of Venice was not written to be a boring school text book. It was written to be performed," says SRT Artistic Director Gaurav Kripalani.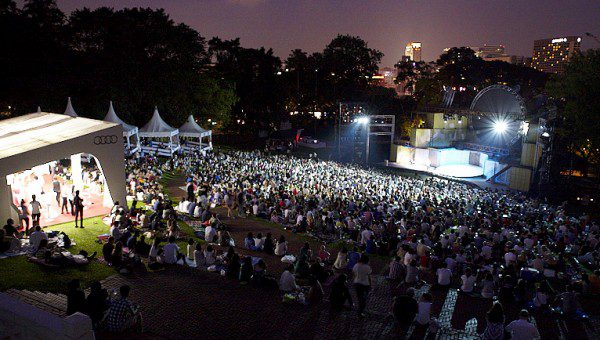 He adds, "SRT stays true to the language written by Shakespeare, but we always set the play in a context that will resonate the most with our audience. The Merchant of Venice will take place in a modern financial metropolis, where greed, prejudice, racism, revenge, and of course, love, remain themes that are as potent today as they were when the play was first written."
SRT is rolling out several educational initiatives for The Merchant of Venice which includes assembly talks and master classes for teachers conducted by the Royal Shakespeare Company.
The Merchant of Venice will be staged Wednesday through Sunday from 30th April at Fort Canning Park, with special student nights on Fridays . The gates will open at 6.30pm for those who wish to choose their favourite spot to picnic. Performance commences 7.30pm. Tickets from $45 onwards are now available from www.sistic.com.sg, at all SISTIC outlets and the booking hotline (65) 6348 5555.