Singapore International Jazz Festival 2018: 12 Mega Acts, 30 Hours Of Music And 20,000 Fans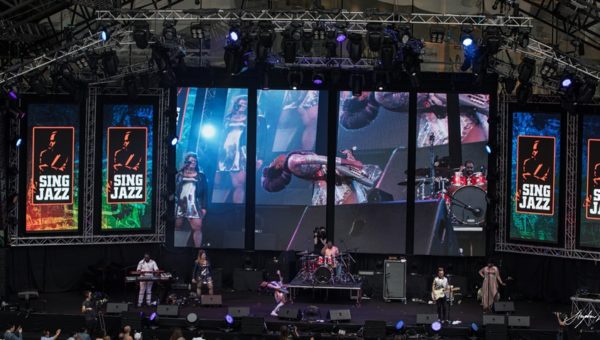 The eagerly anticipated 5th anniversary of the Singapore International Jazz Festival (SING JAZZ) 2018 returns to the iconic Marina Bay Sands from 6 to 8 April, and is all set to excite over 20,000 fans with a distinctively curated musical line-up. The three-night music extravaganza spans across multiple stages around the integrated resort to feature Jazz and all its affiliated genres, including Soul, Blues, Latin, Funk, R&B, Hip-Hop, World Music and Electro Swing.
The Main Stage and The Late Show combine with an impressive 30-hours of live music by 12 mega-acts across the entire weekend. On Friday 6 April, Electro Swing sensations, Parov Stelar will headline the sunset sessions on The Main Stage by the waterfront at Marina Bay Sands Event Plaza, introducing a massive weekend of music.
'Super Saturday' features a stunning programme comprising five-time Grammy Award-winning soul singer Lalah Hathaway, and jazz-pop genius Jamie Cullum on The Main Stage, with legendary hip-hop and soul artist Ms. Lauryn Hill headlining The Late Show including Grammy Award winners, Soul II Soul co-headlining The Late Show on Friday night, with fellow multi-Grammy winner, and "American Boy" songstress, Estelle.
Also showcasing their talent on The Main Stage, this year is an impressive array of Singapore artists including MAS1A, The TENG Ensemble, DJ Drem, Tim De Cotta and weish, performing with popular Indonesian-artist Tompi and band.
Performing in Singapore for the very first time, Ms. Hill's show will be one of the most highly anticipated performances of the year, fittingly as her monumental album, The Miseducation of Lauryn Hill, hailed as "one of the most incredible albums ever made", marks its 20th anniversary in 2018.
Setting the scene for party-goers, the electric atmosphere of The Late Show indoors at Sands Expo and Convention Centre will be designed as an intimate concert arena (complete with VIP tables), taking the late-night experience till 4am on both Friday 6 and Saturday 7 April.
"We're delighted to be presenting a diverse and acclaimed collection of artists for SING JAZZ 2018! We have a 100-strong team working to build a fantastic festival presenting award-winning world-class music for tens of thousands of fans from the region and beyond," says David Smith, Artistic Director of SING JAZZ.
Director of The Late Show, Robbie Hoyes-Cock adds, "Following the success of the inaugural Late Show party in 2017, the venue for 2018 has been dramatically expanded as we look to accommodate more superstar acts in a nightclub-styled space, offering an up close and personal experience for VIP Table buyers."
The Line-up for Singapore International Jazz Festival 2018:
The Main Stage (Fri 5.00pm to 10.30pm; Sat & Sun 4.00pm to 10.30pm)
Friday 6 April: WEISH; GOGO PENGUIN; PAROV STELAR
Saturday 7 April: THE TENG ENSEMBLE; TOMPI; LALAH HATHAWAY; JAMIE CULLUM
Sunday 8 April: JASSO (The Jazz Association SG Orchestra) led by Jeremy Monteiro; HOUSE OF THE GYPSIES (from the Gypsy Kings alumni); BRAND NEW HEAVIES; and INCOGNITO featuring OMAR and LEEE JOHN
The Late Show (10pm to 4am)
Friday 6 April: TIM DE COTTA; SOUL II SOUL; ESTELLE; DREM (DJ)
Saturday 7 April: MAS1A; MS. LAURYN HILL; DJ NU-MARK; JNR TIRSO (DJ)
Tickets for the Singapore International Jazz Festival 2018 are available at www.marinabaysands.com/ticketing and www.apactix.com
The Main Stage
Early Bird $108 (until 10 February 2018)
General Admission from $138
Billecart-Salmon Champagne Terrace access pass at $288 (including one
bottle of Billecart-Salmon Champagne)
VIP Passes at $328 (includes free-flow bar and gourmet food)
The Late Show
Limited Early Bird from $108 (until 10 February 2018) for Friday 6 April (Saturday Early Bird tickets are sold out), General Admission from $138
VIP Passes
From 4 guests at $1,488 (including one magnum of Billecart-Salmon Champagne and one bottle of Ciroc Vodka); to 20 guests at $9,888 (including six magnums of Billecart-Salmon Champagne and two magnums of Ciroc Vodka)
Full One Day Pass
General Admission to The Main Stage AND The Late Show at $248 on either Friday 6 or Saturday 7 April
Full Festival Weekend Pass
Unlimited access to The Main Stage and The Late Show at $488
To book tickets and view artist updates, please visit www.sing-jazz.com