Urbanscapes returns to #REIMAGINEKL with Creative Arts Festival over Three Weekends!
The country's longest-running creative arts festival, Urbanscapes 2018, partners with U Mobile as presenter for the second year running to bring a well-curated city-wide celebration spanning three weekends, kicking off on 3 till 18 November 2018.
True to its roots of inspiring character, culture, and community building, this year's Urbanscapes theme is #REIMAGINEKL. It will create diverse experiences centred around accessible arts, ideas and music all set against the Kuala Lumpur city backdrop. Whether it is within heritage buildings or rejuvenated public spaces, the activities will spur interaction, conversations and participation from Medan Pasar to Petaling Street.
Adrian Yap, founder and festival director of Urbanscapes, says that the festival is about encouraging all to reimagine, reconnect with, and reclaim the city: "16 years on, we would like to think of Urbanscapes as the signature Kuala Lumpur event. We work towards bringing together an eclectic mix of art, design, and music creatives and collectives to inspire interaction and participation of a community made of up people of diverse backgrounds."
He adds the festival programme is even more accessible this year: "Urbanscapes has had really good response with our city-centric approach, hence, this year we wanted to take over even more public and private spaces all across the city. Be it Chin Woo Stadium, Medan Pasar or our mainstay Urbanscapes House at 2 Hang Kasturi, the festival content will definitely inspire conversations and many Insta moments."
"U Mobile is excited once again to present Urbanscapes as part of our greater UNLIMITED GROOVES initiative. We want to bring our customers even closer to their passions especially music! Based on the response we had last year, we felt apt to present our very first satellite Unlimited Grooves Festival within Urbanscapes featuring Wolf Alice, Bodega and Phum Viphurit " says Jasmine Lee, Chief Marketing Officer at U Mobile.
Music Lineup
A key highlight of Urbanscapes, U Mobile is presenting its own UNLIMITED GROOVES FESTIVAL by U Mobile, a mini festival within the festival featuring: Wolf Alice ('Bros', 'Don't Delete The Kisses'), the North London alt-rock four-piece reimagining dream pop and grunge with their sterling sophomore effort 'Visions Of A Life'; and Brooklyn's Bodega ('Jack In Titanic', 'How Did This Happen?!'), an art-rock unit blending kraut-y post-punk sounds with sharp and astute social observations.
Also fronting the mini-festival are: Se So Neon ('A Long Dream', 'The Wave'), the South Korean indie phenomenon peddling quirky pop-rock steeped in blues and jazz; and Phum Viphurit ('Lover Boy', 'Long Gone'), the Bangkok-based singer-songwriter deft with sunny, wistful sounds of lo-fi funk and folk. Malaysia's very own four-piece indie act Midnight Fusic ('Heart Of May', 'Lovesick'), fresh off the release of their six-track EP 'When Love Was Around', also performs; and rounding up the bill, singer-songwriter Bil Musa ('I Would Die', No More Excuses') brings her indie pop tunes to the Chin Woo stage.
In line with Urbanscapes' theme of #REIMAGINEKL, the UNLIMITED GROOVES FESTIVAL by U Mobile will be held at the historic Chin Woo Stadium.
Finally, more than simply 'Young Dumb & Broke', the 'American Teen' rising star Khalid takes to the KL Live stage with pure r'n'b nostalgia and pulsing dance synths ready-made for summer night singalongs.
Creative and Public Arts Lineup
Urbanscapes House at 2 Hang Kasturi remains the hub of the festival. The Urbanscapes House is a five-floor pop up with fresh art, sounds, talks and workshops.
Audio-Visual Experiences:
Immersio 2.0 curated by Filamen returns to Urbanscapes House to converge cutting-edge, immersive new media and technology.
Other audio visual installations include: a 20' x 12' installation of light and motion performance, AVAI by Saishogen at Medan Pasar.
Live Wire by Fairuz Sulaiman is a series of outdoor interactive installations at Medan Pasar, in collaboration with the students of the Media Art (MA) Dept in Multimedia University, Cyberjaya;
Finally, Paint The Light by Cervello is an interactive piece combining projection mapping with immersive digital art.
Art Exhibitions:
The #REIMAGINEUS Visual Art Exhibition at the first floor of Urbanscapes House, curated by Sharmin Parameswaran
At Medan Pasar, multidisciplinary artist Bono Stellar will exhibit her biggest-scale installation yet, ARUS.
Urbanscapes and OUR ArtProjects are collaborating to bring you The Zhongshan Building Weekender. Join art enthusiasts and tenants of the building, which comprises of an art gallery, a bookshop, a café, a record store, music collectives, and more, for a slew of art installations, performances and workshops.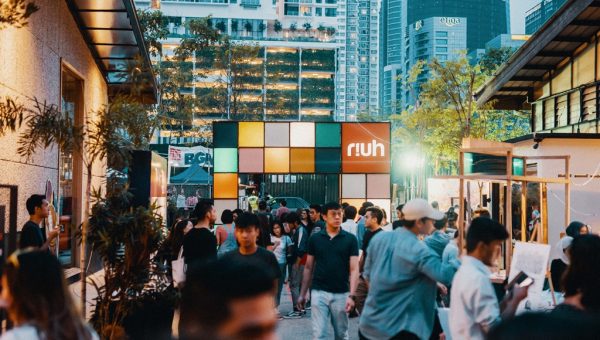 Performance Art:
Dancing In Place, a site-specific dance performance featuring emerging and established dancers the likes of Lee Ren Xin, Rathimalar Govindarajoo, and those from the ASWARA Faculty of Dance, takes to Medan Pasar, continuing to Chinatown and the River of Life for its Urbanscapes edition.
Warung Panggung, featuring MUKA Space and the Malaysian Puppetry Association (MPA), brings the magic of puppetry to the masses for a mobile, multiplex experience to tell the story of Ah Loy.
Pesta Lorong Hang Kasturi with Think City – a revived public laneway by DBKL and Think City – will host a street party with creative programming for all. For a true riuh in the city experience, RIUH! and Urbanscapes are teaming up to bring you a special edition of your favorite monthly creative platform at the River of Life waterfront. Finally, an antidote to the hustle and bustle of Kuala Lumpur, Kuala Hijau by Biji-biji Initiative is a pocket of serenity located adjacent to Central Market, near the River of Life.
More lineup announcements soon to follow in Phase 2. General tickets is now on sale at www.galactix.asia.
For more information and scheduling details, please visit www.urbanscapes.com.my