Lee Hwa Jewellery Unveils its Latest Christmas Offerings.
Turn your unique moments into precious memories this holidays with a sparkling gift from Lee Hwa Jewellery.
This year's hero collections, Destinée Carol and Destinée Alanore, draw on classic symbols of the season that hold meaning for its wearer – the snowflake in particular. While the snowflake symbolises uniqueness, and is often associated with one's individuality, its delicate and short-lived nature is also a representation of fragility and life's fleeting moments.
Aside from the Destinée collections, shoppers can look out for expertly crafted designs by international labels such as Forevermark and Niessing, also carried exclusively by Lee Hwa Jewellery, along with opulent statement pieces from its luxurious precious gems and fancy diamond collections. For those looking for gift options that are easier on the wallet, there will be special festive deals from $98 and jewellery gift ideas under $200 and $500. These include beautifully crafted pieces from popular collections such as PurpleGold and Fashion Indulgence.
Destinée Carol Collection
Crafted by Belgian Diamond Masters, Destinée diamonds dazzle in the latest Destinée Carol and Destinée Alanore collections. Set in white gold and rose gold, the Destinée Carol collection features a dangling snowflake design bedecked with diamonds, reminiscent of snow falling from a winter sky.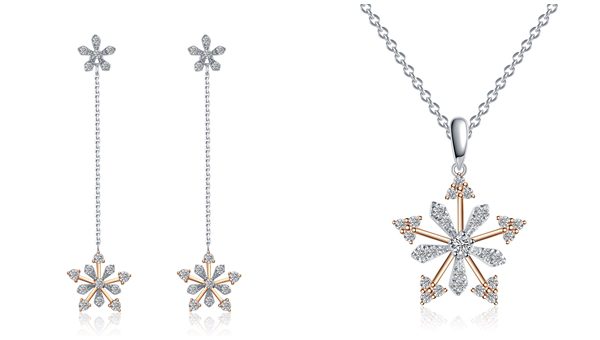 Destinée Alanore Collection
The Destinée Alanore collection showcases a timeless star-snowflake design, a look of pure elegance perfect for a joyous party season. Earrings from both collections are designed to be multi-wear, giving the wearer the option to adorn the set as a classic pair of diamond studs or with a personalised touch.
Forevermark Regal Collection
Add a little sparkle to your Christmas with beautiful, rare and responsibly sourced diamonds from Forevermark's Regal collection. The standout piece of the collection is the Forevermark Regal Necklace which features interwoven rows of brilliant pavé diamonds in an infinity twist motif and a drop diamond at the centre that perfectly accents the neckline. Other equally stunning options for the festivities include the Forevermark Regal Ring, and Forevermark Regal Pendant, both studded with Forevermark diamonds, produced by the world's leading diamond expert, De Beers Group – set in a modern mix of rose and white gold.
PurpleGold in Bloom Collection
A first-of-its-kind created and brought to you by Lee Hwa Jewellery, the iconic PurpleGold line is the epitome of the local brand's commitment to innovation and design. Add a little seasonal cheer with the new PurpleGold in Bloom collection. Inspired by feminine flowers in bloom, its design speaks of the celebration of personal growth – a reminder to bring one's goals to fruition. Set in white gold, the collection consists of a floral-inspired drop-style sphere pendant and a matching pair of earrings with detachable tassels. Bring a touch of style to your festive wardrobe by choosing to playfully match (or mismatch) the earring tassels in any combination to suit your mood and outfit.
"Moments come and go, but memories last forever. What better way to commemorate a personal moment or achievement, no matter how big or small, than to turn it into a memory with a meaningful piece of jewellery as a symbolic reminder" said Mavis Toh, Business Director of Lee Hwa Jewellery.
Lee Hwa Jewellery Glittering Christmas Roadshow
Ongoing till 29 December, get on top of your Christmas gift shopping by visiting the Lee Hwa Jewellery Glittering Christmas Roadshow at VivoCity. Expect a delightful range of offerings catered to various budgets along with the following attractive promotions and activities.
There will also be styling workshops by lifestyle content creators, Melissa C Koh and Andrea Chong as they share their best tips on how to accessorise along with their favourite pieces from the Lee Hwa Jewellery multi-wear collection.
Promotions during the Christmas Roadshow include:
• "Flash Deals" items with savings of up to 70%
• Diamond bracelets at "Best Buy" price of $688
• 1-for-1 deals for Rosetto collection
Lee Hwa Jewellery Glittering Christmas Roadshow is held at VivoCity, Central Court 2, 1 Harbourfront Walk, #01-193, Singapore 098585. Operating hours are from 11am to 9.30pm.
Exclusive Festive Promotions
From now until 31 December 2019, receive a limited-edition gift-with-purchase jewellery pouch with the following minimum spends.
• Receive a small jewellery pouch (worth $59) with a minimum spend of $800*
• Receive a large jewellery pouch (worth $89) with a minimum spend of $1,500*
*Terms and conditions apply. While stocks last
For more information, please visit: www.leehwajewellery.com