SodaStream: Your Personal Sparkling Water Machine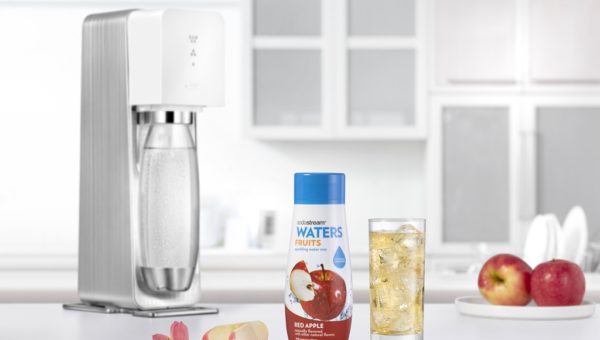 You can now create your own sparkling water right anywhere, anytime with SodaStream.
This sleek Red Dot Design Award winner, designed by Yves Behar is a sparkling water maker that is easy to use and looks very chic and classy whether in your office, home or perfect companion in your outdoor activities.
Best-selling author of One Business, 99 Lessons, Nanz Chong Komo, a former model and celebrated founder of the ONE.99 Shop has taken over the exclusive distributorship of SodaStream for Singapore and is embarking on an exciting relaunch of the brand.
"It's time to make SodaStream a household name," says Nanz, "because it is a product that every home and office should have. Imagine making your own sparkling water in a matter of seconds, right at home. Imagine impressing your friends and visitors as sparkling water is made before their eyes. SodaStream is a sexy, exciting product and it's so easy and so much fun to use, you'll find yourself fetching a drink more than a few times a day!"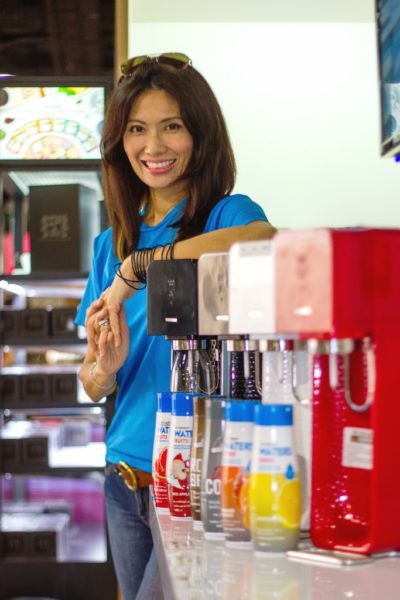 SodaStream
SodaStream promotes the use of a single BPA-free SodaStream bottle instead of disposable plastic bottles. One SodaStream bottle is good for 2,000 uses. It's time to quit buying those plastic bottles of drinking water that end up as toxic landfill, polluting Earth. Recycling comes with its own set of environmental problems, while reducing and reusing can go a long way to staying green. SodaStream lets you do this in style.
Studies show that people consume 43 per cent more water when they own a SodaStream.
SodaStream offers a stunning range of healthy flavours that let you make your own flavoured drinks at home, from colas to "artisanal drinks" such as Green Apple and Cucumber sparkling water! Currently, seven flavours are available with more to come at a later date. These flavourings contain far less sugar than your regular soft drink, and zero threatening substances such as aspartame.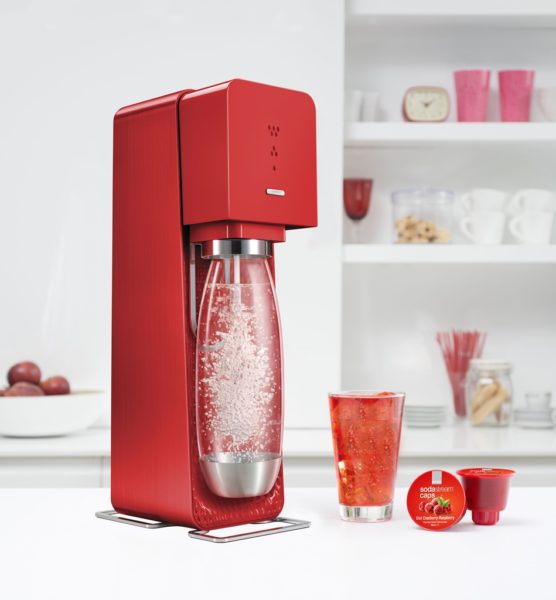 Owning a SodaStream can save users thousands of dollars a year on sparkling water. The machine works with plain water—safe-to-drink tap water—to aerate and transform a regular drink of water into a delicious sparkling experience. Last year, Singaporeans spent $134 million on bottled water alone.
Nanz says, "Singapore is so blessed to have excellent water quality that is completely safe for drinking. Given the upcoming rise in water prices, it makes even more sense to drink tap water instead of buying bottle water. And why not use SodaStream to add some magic to regular water? One SodaStream refill canister costs $26 and can make 200 bottles of sparkling bottled water, which would cost you about $430 at the supermarket!"
Owning a piece of SodaStream is not only cost efficient but is perfect for the entire family's usage, suitable for adults and kids alike, not only do you Go Green, but you are also promoting sustainable environment.
SodaStream Sparkling Water Makers are priced between $249 and $399. Accessory consumables start from $8.90.
Purchase your very own SodaStream at www.sodastream.sg or at relaunch partner retailers ToTT (Suntec City and Dunearn Road) and at selected Home-Fix outlets.