Two Singaporean Artists aged 100 and 65 year-old set to Hold their First Virtual Solo Exhibitions
Amid the uncertainties Covid-19 has brought us, two Singaporean artists, 100 year-old Lim Tze Peng and 65 year-old Hong Zhu An is set to hold their very first virtual solo exhibition with Ode To Art gallery showcasing their decades of journey in pursuing art.

Centenarian Lim Tze Peng has been unceasing this past year, rigorously painting and revisiting scenes of pre-modernised Singapore while Hong Zhu An has delved deeper into his introspective works, seeking meditative peace and calmness.

In spite of their seniority, both Lim and Hong have embraced the idea of holding virtual exhibitions to share their latest series of works with the public. The two exhibitions, each a month-long, will kickstart with 65-year old Hong Zhu An's Becoming and Being [蓄] where he seeks to celebrate Singapore's solidarity – in handling the global crisis – starting from 17 August 2020. Centenarian Lim Tze Peng will celebrate his 100th birthday on the opening day, 28 September 2020, with A Century of Ink.

The virtual exhibitions will allow art enthusiasts to experience:
A virtual tour of audio narratives and videos where additional information on the art pieces are easily available with a click.
A coterie of art collectors' well-wishes and greetings to Lim Tze Peng in conjunction with his birthday while divulging, for the first time, private collections to the public.
Becoming and Being [蓄] by Hong Zhu An
17 August till 16 September

Hong Zhu An's exhibition, Becoming and Being [蓄], will celebrate the human spirit and ability to overcome challenges in conjunction with Singapore's birthday month. This will be Hong's first virtual exhibition and 5th solo exhibition with the gallery, featuring over 40 new works. Hong was born in Shanghai, China, but his artistic career developed after he moved to Singapore, where he has been living for almost three decades. Painting in acrylic and ink on Chinese rice paper, his works exude a serenity and energy that calms the mind and offers insightful abstract interpretation alongside enchanting visuals.


Through Hong's introspective works, viewers can immerse themselves in the meditative world of his delicate calligraphy, decisive brushstrokes and vast fields of deep colour. At first glance, the monochromatic pieces may seem inanimate and still. Moments later, the tonal colour blossoms, amalgamating into an evocative, moving landscape of limitless exploration of the contemplative self and one's surroundings. To view Hong's works is to take a looking glass into one's life, developing a keen sense of self-awareness and self-consciousness. They also serve as reminders to learn from the past and strive for improvement in the present. Just like how Hong Zhu An perseveres in his craft, viewers will be inspired to keep moving forward, continuously striving to be better.

A living evidence for the creative diversity of Singapore, Hong has brought international acclaim to the island through his works, which have been exhibited and collected worldwide by major institutions such the Asian Art Museum of San Francisco, Princeton University Museum in New York, and the Tel Aviv Museum of Art. He is the receiver of many prestigious awards, such as the UOB Painting of the Year 'Grand Award' in 1994. Coinciding with National Day, the exhibition celebrates the creativity and talent of individuals who call Singapore their homes. While Hong may not be a Singaporean by birth, but he is a Singaporean by choice. Singapore, to him, will always be home and he is grateful for the opportunities he has received as an artist thus far.


A Century of Ink by Lim Tze Peng
28 September till 27 October

Lim Tze Peng is one of Singapore's most significant artists and a living legend. Celebrating his 100th birthday this 28 September which coincides with the opening of the virtual exhibition, A Century of Ink, Lim will be showcasing 20 new works. Separated into 3 virtual galleries, Lim's exhibitions will feature his earlier works on Singapore's scenes that were painted en plein air in one room, progressing into works painted in late 2019 to the present – with vivid scenes of Singapore painted from memory, and a final room which will showcase 100 works by art collectors and their greetings to Lim.

Lim's latest works featuring Singapore scenes are painted from memory, something he has been continually doing for over a decade when going out for plein air painting proved to be too tiresome. These impressions of Singapore are plucked from the past, a juxtaposition to scenes of today which differ greatly and a marked transition in his style of painting where previously it was "I see and I paint, now it's I reflect and I paint." Lim who does not usually use a lot of colours in his paintings made an exception for his Chinatown scenes, painting them in colours to capture the quirky charm of this part of Singapore. Even at a 100 years old, Lim continues to paint monumental, larger than life, Singapore scenes. Clipping the rice paper onto wooden boards, he paints these scenes standing up – spending a few hours a day to realise the scenes from memory to reality.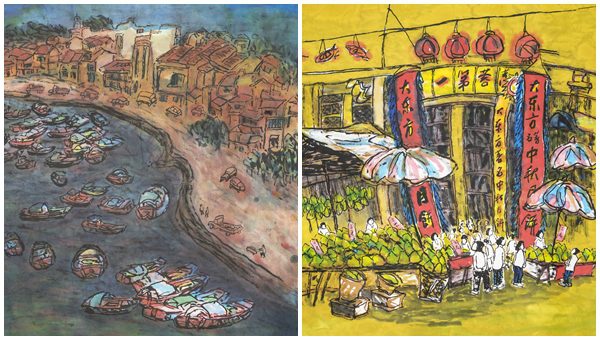 Lim Tze Peng is famously known for his Chinese ink drawings and paintings of Chinatown and the Singapore River produced in the early 1980s after having embarked on his artistic journey in the 1950s. His paintings of these landmarks signified and reflected the change these prime locations were undergoing during urban development in Singapore. These paintings are a memory of what Lim saw as a Singaporean watching his kampong transform into an urbanized capital, and documented the cultural diversity and transformation of the city. In the late 1990s to early 2000s, Lim embarked in his Larger Than Life series where he painted monumental pieces of the Singapore landscape while standing.

His masterpieces are exhibited in the National Gallery, Singapore Art Museum and Nanyang Academy of Fine Arts and are part of many prestigious collections. Lim has been bestowed several awards including the Special Prize at the Commonwealth Art Exhibition in England in 1977 and the prestigious Cultural Medallion in Singapore in 2003. In May 2012, he broke records with the sale of his works at a Christies auction in Hong Kong.


Hong Zhu An's Becoming and Being [蓄] Exhibition Details
Date: 17 Aug – 16 Sep 2020
Link

Lim Tze Peng's A Century of Ink Exhibition Details
Date: 28 Sep – 27 Oct 2020
Link: The virtual exhibition will be available on Ode to Art Website from 28 September 2020