AW LAB Launches It's First Store In Asia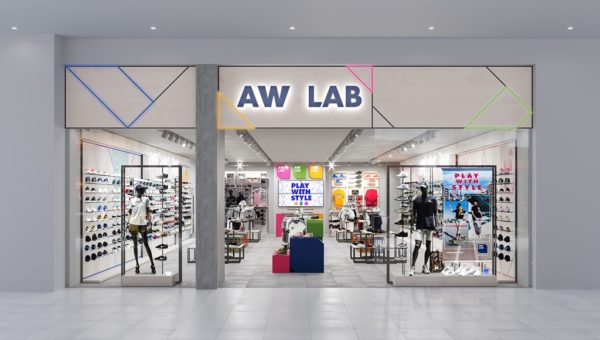 Founded in Italy, AW LAB is the first brick-and-mortar store in the city and in Asia-Pacific. Spanning at a whopping 2,630 square feet, AW LAB, the global reference retailer for sport-style with a wide selection of the latest and coolest sneakers-apparel from the best brands, officially opened its doors last week in Suntec City, Singapore.
Whited out from floor to ceiling, ultra-sleek shelving and bright, stark lighting presents street favorites from Adidas Originals and Vans to Nike and New Balance, while galvanized steel racks are stocked with apparel from leading sportswear brands such as Jordan – rooted apparel labels, Two of a Kind and Down UP. Beyond an impressive roster of streetwear stalwarts, the store also houses exclusive collaborations and limited-edition sneaker models. Unlocking the visual elements of fashion retail with bright-hued blocks, AW LAB stays true to the ethos of urban street culture with positive vibes running deep in every corner.
Commenting on AW LAB's expansion plans in the near future, Giuseppe Nisi, Head of Asia, AW LAB said, " We are thrilled to bring AW LAB to Asia for the very first time. Singapore's close proximity to high growth markets in Asia is a choice location for many global companies, including us, especially with today's youths well acquainted with western trends and the latest streetwear movements. We have trust in the commitment and planning of the team to tap on the market;s potential and it is high time we focus our attention here"
AW LAB's expansion goes beyond just its market position in Italy and Spain. With over 200 stores opening across major Italian cities within a span of 3 years, the fast-paced emergence of AW LAB not only demonstrates the strong market potential but the commitment of their customers.
"Singapore has always offered it's always offered its own style and sometimes the best way to explore a city is simply to walk the streets. That's what we've always envisioned for AW LAB to let the people define their own style while keeping it playful and exciting. AW LAB's concept, operations and even our stores reflects that code, so you can expect a refreshing pace every time," said Giuseppe.
AW LAB is located at Suntec City, West Wing, 3E Temasek Boulevard, #01-341/342, Singapore 038984.