Fashion Weeks 2013 Singapore presented by The Shoppes at Marina Bay Sands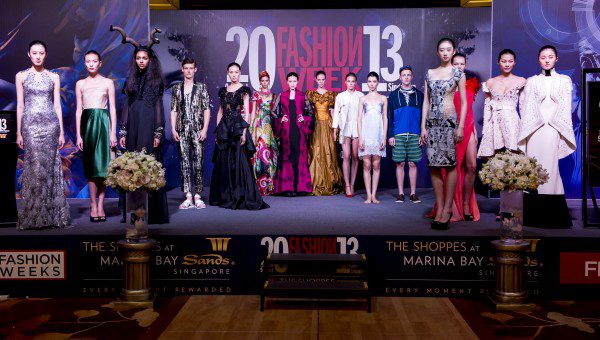 Marina Bay Sands is setting the stage for its biggest fashion season this October. From 9 to 19 October 2013, the highly anticipated 11 day world-class fashion event will see over 30 inspiring presentations of the latest seasons Men's and Women's Prêt-à-Porter and Couture labels that are set to blaze Asia's fashion scene. Tickets go on sale on 12 September at 10am.
Held at the Sands Expo & Convention Centre, Fashion Week 2013 will present an exceptionally seamless schedule encompassing nine featured shows from labels available at The Shoppes at Marina Bay Sands; five Men's Prêt-à-Porter shows (11-12 October); three Japanese Couture Shows (13 October); seven Asian Couture Shows (14-16 October), three French Haute Couture shows (17 October); four Women's Prêt-à-Porter shows (18 October) and the grand finale on 19 October.
Participating retailers from The Shoppes at Marina Bay Sands such as Anne Fontaine, Bread & Butter, Germain, MCM, MOISELLE, Surrender, Pierre Balmain, Porsche Design and 6Five Barcode will include the most stunning displays of their Fall/Winter 2013 collections.
Fashion Week 2013 will also see the return of renowned French couturiers Alexis Mabille, On Aura Tout Vu, Julien Fournie and Stephane Rolland. As members and invited members of la Chambre Syndicate de la Haute Couture they will once again present the craftsmanship and artistry inherent in their craft. Representing the very best of Asian Couture, they will be joined by Frederick Lee, Lie Sang Bong, Sebastian Gunawan, Yumi Katsura, Michael Cinco, Vatit Itthi and Guo Pei. As part of a special Japanese Couture Evening, Junko Koshino, Yoshiki Hishinuma and Keita Maruyama will be showing their collections.
Chairman and Founder of FIDé Fashion Weeks, Frank Cintamani said, "Over the past five seasons of fashion weeks, we have worked tirelessly to gain better recognition for Singapore and Asia as fashion leaders on the world stage. In doing so, Fide Fashion Weeks established a number of critical firsts. This included the creation of the first dedicated Men's Fashion Week in Asia as well as the first presentation of Haute Couture Week, outside Paris."
Mr John Postle, Vice President of Retail, Marina Bay Sands, said, "Following a resounding success from the Men's, Women's and Haute Couture Fashion Weeks over the last two years, The Shoppes at Marina Bay Sands is pleased to once again host this hallmark fashion event. This year we are combining Men's and Women's Prêt-à-Porter and Couture shows across 11 days, creating our largest fashion show to date on property."
Organised by Fide Fashion Weeks and presented by The Shoppes at Marina Bay Sands, Fashion Week 2013 will deliver the highest show quality that will elevate the local fashion scene yet again, with new Prêt-à-Porter labels showing for the first time in Singapore, as well as several returning Couturiers and Haute Couturiers who have won the hearts of all fashion aficionados since its debut in 2011.