Get a Chance to win KLM Royal Dutch Airlines Return Tickets by visiting Tulipmania 2019!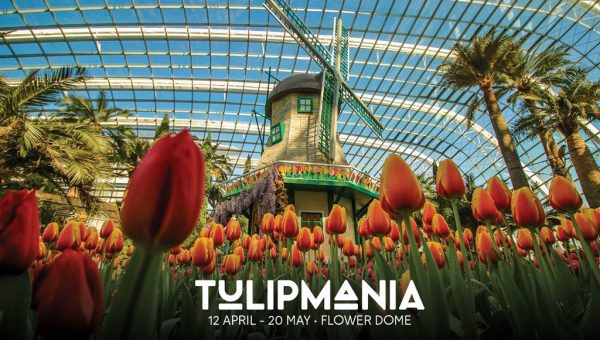 KLM Royal Dutch Airlines (KLM) is returning for its seventh edition in partnership with TULIPMANIA 2019 at Gardens By The Bay, bringing in Singapore's largest tulip show featuring thousands of colourful tulips flown directly from the Netherlands.
With more than 35 varieties of tulips, visitors will get to feast their eyes on a splendid spectrum, including a hybrid christened the Tulipa 'KLM' – a light green and white flower with a blue centre that was specially bred to commemorate KLM's 90th birthday. The Tulipa 'KLM', which changes colour from an intense green to white over its lifespan as it ages, will make a special appearance in this year's Tulipmania, in celebration of KLM's 100th anniversary. KLM was established on 7 October 1919 and is the world's oldest airline still operating under its original name.
To commemorate this milestone, KLM is offering visitors a chance to celebrate with them via a unique KLM Delft Blue Tile Instagram Contest where visitors can stand a chance to win a trip to Amsterdam!
Inspired by the iconic miniature KLM Delft Blue Houses that KLM gifts their loyal travellers as a tradition since the 1950s, KLM brings the blue and white structures to life at Tulipmania, complete with a digital wall, featuring customisable KLM Delft Blue Tiles made for an Insta-worthy backdrop.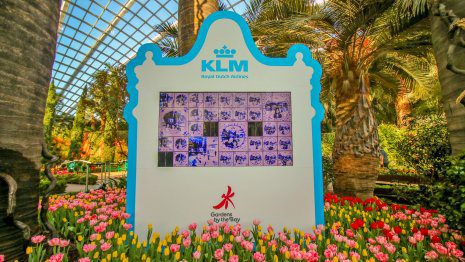 The KLM Delft Blue Tile Instagram Contest
From now to 20 May 2019, simply head to the KLM Delft House photobooth at the KLM x Gardens by the Bay Digital Wall inside the Flower Dome, choose from 5 unique Delft blue tiles as your photo backdrop.
To enter the contest, simply upload your Delft blue tile selfie on your Instagram, share what you love about Tulipmania, and ensure these tags are included: #GardensByTheBay, #GBTulipmania, #KLM, @klm and @gardensbythebay
The best entry will win a grand prize of a pair of return KLM Royal Dutch Airlines Economy Class tickets from Singapore to Amsterdam. First runner-ups will stand to win a pair of return KLM Royal Dutch Airlines Economy Comfort tickets from Singapore to Bali while second runner-ups will get KLM Royal Dutch Airlines Economy Class tickets from Singapore to Bali.
For terms & conditions, you may head over to http://www.gardensbythebay.com.sg/tulip.