2014 Top 5 Must Try Mooncakes for this Mid-Autumn Festival
Every year, as the Mid-Autumn Festival approaches, we highly anticipate the new mooncake flavours being offered by the different F&B establishments. Food lovers in Singapore get to taste the new and innovative, fusion mooncake flavours that are being offered by numerous establishments. Some consumers would have their so called "preferred trusted brand" and will stick with the same brand year after year as they wouldn't want to explore or are satisfied with their traditional choice.
We believe that consumers do have different mindset, but there are many choices for us to choose from and do we have enough time to try all of them?
Many are still confused what brand or flavours to purchase either for personal consumption or for gifting, that is why for the very first time, our team tried numerous flavours from different brands and we compiled the Top 5 must try mooncakes for this year.
1. Shang Palace, Shangri-La Hotel, Singapore  – "Luxe Society's Editor Choice!"
There's no reason not to name this our overall choice! Shang Palace's Tea Collection mooncakes are simply smooth and flavourful that is refreshing with their rich aromatic tea flavour that relaxes the senses.
Each Tea infused mooncake is filled with smooth lotus seed paste with a refreshing tea jelly centre encased with chocolate which blends equally to the tea flavours. Surely, even those who doesn't like tea will love this new flavours from Shangri-La Hotel, Singapore.
The new collection comprises poetic creations such as Mini Snow-Skin Snowy Flake Mooncake (Jasmine Tea); Mini Snow-Skin Phoenix Supreme Mooncake (Oolong Tea) and Mini Snow-Skin Imperial Consort Mooncake (18 year old Pu-Erh Tea).
What we liked most:
All of their Tea Collection mooncakes! It is worth trying all of their different flavours.
Shang Palace's mooncakes are available at the lobby of Shangri-La Hotel, Singapore and at retail booths located in shopping malls island-wide. The online order form is available at www.slsrewards.com.sg/mooncake2014. For enquiries and orders, please call (65) 6213 4448 or (65) 6213 4473.
2. Man Fu Yuan Restaurant, Intercontinental, Singapore
Man Fu Yuan, being one of Singapore's finest Chinese restaurants is one of the most sought after when it comes to their mooncakes.
Elegantly packed in amethyst-hued coffret designed in collaboration with students from Nanyang Academy of Fine Arts, this is perfect as gift for your friends, associates and relatives.
What we liked most:
The unique rich flavours of the Sesame Paste with White Sesame Seeds are one of the highlights this year, followed by the Mao Shan Wang Durian Mooncake with Coconut, which are both available in Man Fu Yuan's Snow-Skin Mooncake Combination. Both are delectably sinful.
Man Fu Yuan's luxurious mooncakes are available at the lobby of Intercontinental, Singapore, and at retail booths located in shopping malls island-wide. For more information, please visit www.intercontinental.com/singapore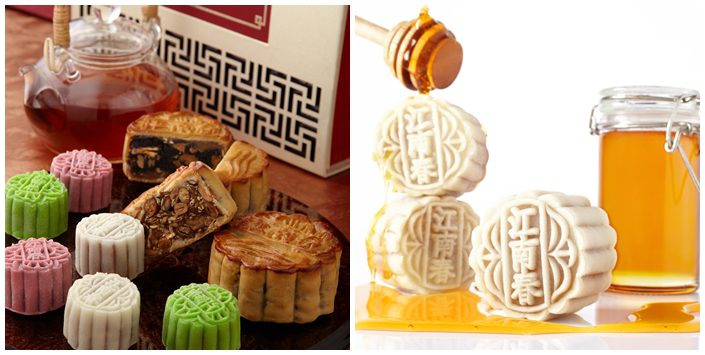 3. Jiang Nan Chun, Four Seasons Hotel
Jiang-Nan Chun Chinese Executive Chef Alan Chan and his team introduces a medley of mooncake flavours that are set to strike the perfect balance on the palate.
Making its debut in Jiang-Nan Chun at Four Seasons Hotel Singapore is the baked mooncake variant of – Assorted Nuts with kaffir lime and BBQ chicken which delivers a savoury and subtle sweetness from the pastry that enfolds it and the ever popular and one of the best sellers – Baked Black Sesame with silver lotus paste and walnuts makes a comeback in the restaurant, which paired with aromatic Chinese teas is sure to be a crowd-pleaser.
What we liked most:
The delightfully soft silver honey lotus paste and yolk Snow-Skin mooncake is incorporating syrupy gold honey and its natural sweetness into the lotus paste making it aromatic in every bite while another of our favourite the hazelnut royaltine and milk tea will delight those chocolate and milk tea lovers.
Jiang Nan Chun's delectable 5 star quality mooncakes are available at the lobby of Four Seasons, Singapore, and at retail booths located at shopping malls island-wide. For more information, please visit www.fourseasons.com/singapore
4. Li Bai Cantonese Restaurant, Sheraton Towers Singapore
As a symbol of luck, success and wealth, elegant blooms serve as the packaging inspiration this year. The Classic box is donned in an auspicious red fabric laced with intricate Adenium embroidery, whereas the new Premium box features an elaborate brocade of luxurious gold and magenta Peonies. Encased within this opulent box are four matching individual boxes which house Li Bai's exquisite mooncakes. Perfected with an elegant gold embellishment of Li Bai's logo atop, the elegantly designed box makes a perfect mid-autumn gift to impress clients and loved ones.
What we liked most:
Award-winning Chef Chung Yiu Ming and his culinary team unveil the Traditional Baked Yellow Lotus Seed Paste with Cranberry and Hazelnut which is a medley of toothsome taste and textures. We simply love the fragrant yellow lotus seed paste that is imbued with the fruit's subtle sweetness and complemented with the delightful crunch of hazelnuts.
Li Bai's traditional mooncakes are available at the Sheraton Towers Singapore Hotel Lobby Mooncake booth, Change Alley and Takashimaya until 8 September 2014. For more information, please call Li Bai Cantonese Restaurant at 6839 5623 or email mooncake@sheratonsingapore.com.
"Asian Cuisine Chef of the Year" Masterchef Lap Fai and "Asian Restaurant of the Year" Hua Ting presents exquisite moon cake creations this Mid-Autumn Festival. Curated from the finest ingredients, this wide selection of mooncakes includes both traditional baked favourites and creative snow skin innovations.
What we liked most:
Amongst their creative snowskin creations, what stood out is their Mini Snow-Skin Green Tea Twist with Yolk – which combines a balance of Green Tea and Custard which brings out a subtle green tea fragrance bite after bite and subtle sweetness coming from the Custard, which is considered a perfect Yin-Yang combination. Look forward to Hua Ting's Mini Snow-Skin Green Tea with Yolk for those searching for a perfect green tea, matcha taste experience while mango lovers should try the Mini Snow-Skin Mango Paste with Preserved Mango which is made from real mango fruit with cubes of preserved mango which enhances the flavour of the mango paste within.
Hua Ting's exquisite mooncakes are available at the lobby of Orchard Hotel, Singapore, and at retail booths located in shopping malls island-wide. For more information please visit www.orchardhotel.com.sg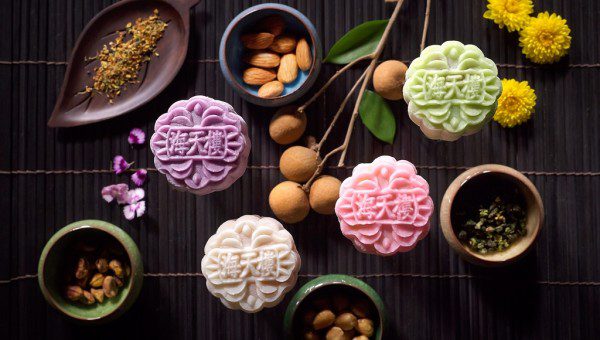 6. Hai Tien Lou, Pan Pacific Singapore
Nope, there are no typo errors or whatsoever; we simply cannot just complete this article without having Hai Tien Lou included in this article the reason being having tasted their four innovative new flavours of Snow-Skin mooncakes, each flavour presents a divine combination of fruit, nuts and floral ingredients encased in a delicate pastel coloured Snow-Skin.
What we liked most:
Created by Chef Lai Tong Ping (黎东平), the subtle fragrance from Melon Seeds with Oolong and Chrysanthemum, the citrus accents of Hazelnuts with Honey and Grapefruit is both best complemented with Chinese tea. Alternatively, you can try a creamier rendition of Almonds with Custard and Longan or Pistachio Nuts with Osmanthus and Chinese Herbs for a slight salty finish amidst the sweet combinations.
Hai Tien Lou's fruits and flower mooncakes is available at Hai Tien Lo, Pan Pacific Singapore. For orders and enquiries, please call +65 6826 8240 or email celebrate.sin@panpacific.com. Order online at www.pacificmarketplace.sg