A Wealth of Sweet Indulgences awaits at Antoinette this Lunar New Year
This Lunar New Year, Antoinette introduces a wealth of new festive delights along with their classics to usher in a prosperous new year.
Antoinette's new offerings are a showcase of French pastry making techniques, with their signature trait – a sophisticated balance of flavours: sweet and savoury; classic French and modern Singaporean, which imbues each bite with both new meaning and perceptions for a profoundly enjoyable indulgence.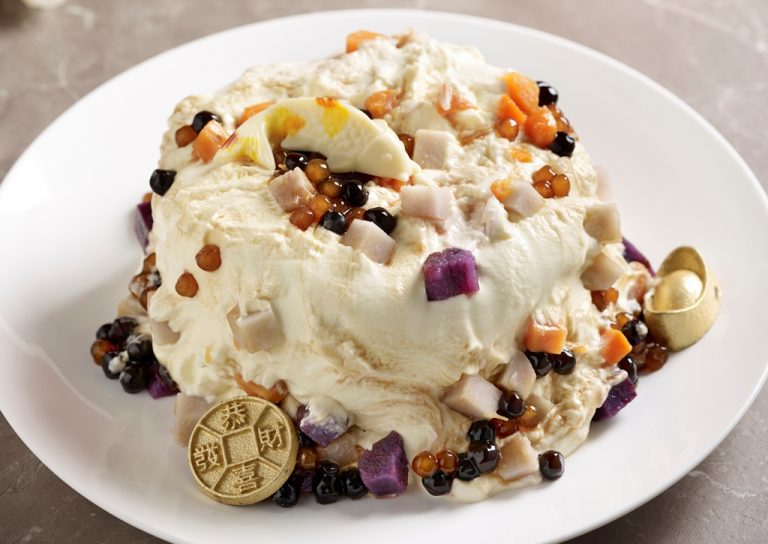 Abundantly or 财源滚滚 ($38) – the cake incorporates Chinese symbolism and flavours as well as a modern presentation into Antoinette's classic French savoir faire. This lusciously textured chiffon cake is infused with rich purple sweet potato and topped with a thin circle of black sesame peanut feuilletine – and to eat it, diners slide off a little partition that releases a flowing profusion of salty cheese cream that drapes over the cake and balances a wealth of sweet toppings including black and gold tapioca bubbles steeped in black sugar, lightly candied sweet potato and yam cubes, and gold covered chocolate coin, ingot and fish.
2019's Hong Bao 红 包 ($10(S); $25(L)) continues the affectionate and whimsical incorporation of Chinese symbolism and flavours. This round bread is infused with red dragon fruit for flavour and colour is filled with mochi or nian gao made in-house with black sugar and perfumed with fried shallots, lightly candied yam, sweet potato, as well as fluffy pork floss and salted egg.
For bite-sized pleasures, Antoinette's Purplelette macarons ($3 per piece; $19 for six) will entice even jaded palates. The gently crunchy confections are infused with purple sweet potato for its distinctive, mellow sweetness; this has the added benefit of adding a regal purple colour, symbol of royalty, wealth and creativity. Sandwiched between is a ring of sweet potato cream with a delicately salty cheese centre, adding richness and balancing the sweet.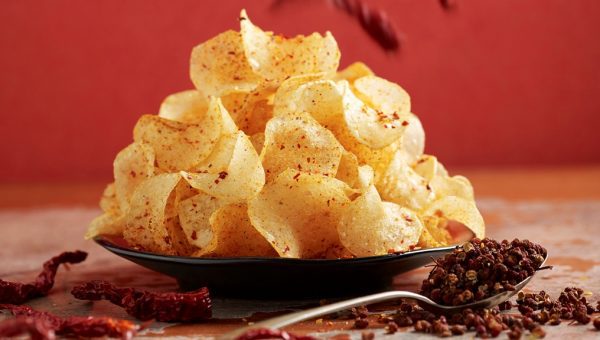 Snackers who prefer something with a little more élan should try the brand new item in Antoinette's Traditionals line-up. The Mala Chips ($15) offer a sumptuous version of the numbing, spicy flavours that have been dazzling local palates over the past months. Seven different peppers including the Sichuan lantern peppers ( 灯 笼 椒 ) and Sichuan bullet head peppers (子弹头) have been used to create the mouth-watering aroma and tongue-tingling flavours that fill the mouth with every chip.
Antoinette's classic Queen's Yusheng ($88) returns once more to invite diners to crack the glowing golden chocolate egg resting in its auspicious nest of chocolates; almonds and cashews; mandarin orange butter cake, meringue kisses; and yam and sweet potato chips, and reveal the cache of freshly diced and shredded pineapple, Thai green mango, red dragon fruit and pomelo, ready for the dressing of mandarin orange, plum and gula melaka and the grand communal tossing for good luck in the coming lunar year.
Their seasonal classics including the Traditional bestsellers such as the Chocolate Love Letters ($20), the Honeycomb fried honey cracker with sesame ($15) and Traditional Pineapple Tart ($15) and their Originals such as the Pork Floss Meringue ($10) are currently also available for purchase.
Antoinette is located at: Address: 30 Penhas Road, Singapore 208188 and 333A Orchard Road, Mandarin Gallery #02-33/34 Singapore 238897.
For enquiries or reservations please call +65 6293 3121 or visit: www.antoinette.com.sg