Catchfly Substitutes Food for Cocktails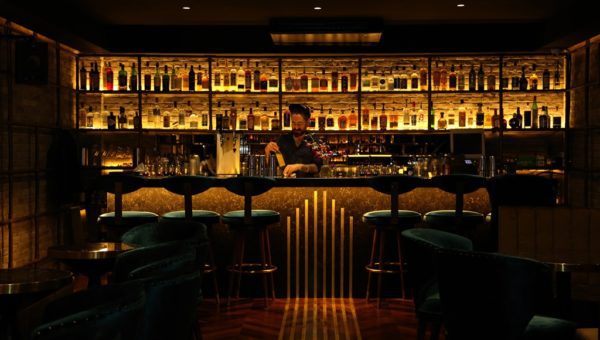 Led by head mixologist Liam Baer, Catchfly serves up classic cocktails with a unique culinary twist
CONTENT: Yiew Kai Jie
American-style cocktail bar Catchfly, a moniker inspired by a nocturnal flower that blooms after dark, comes to life after-hours in the heart of the heritage Chinatown district. Hidden away in the basement of 12 Ann Siang Road, casual nightlife revelers, businessmen and die hard cocktail followers can expect expertly-crafted cocktails and comfort food with class, served up with a dash of personable hospitality.
The intimate space fuses a contemporary aesthetic underlined with a discreet industrial edge, where the exposed brick wall lends an understated contrast to the plush teal armchairs and black marble furnishing. The back-lit shelves display a curated selection of a wide batch of niche American spirits spanning the categories of rums, gins, whiskies and absinthe's for the discerning spirit lover.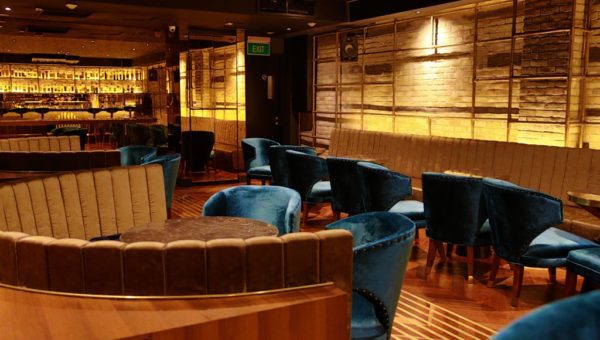 Head Mixologist, Liam Baer got his start in his career by making classic cocktails and builds on the simplicity of traditions by bringing out the best of a base spirit through his unique recipes. Every single component that goes into Liam's cocktails are well thought out and intricately layered, ensuring that the different taste notes of each ingredient shine through on the palate as it goes down the gullet.
Perplexing Cocktails
With each new bar trying it's best to appeal to the millennial trend or with it's own unique concoction, Catchfly's specialty cocktails certainly places itself a step above other bars in the area. One example is showcased in Liam's signature crowd pleaser The Honey Badger ($22), where the in-house rosemary-infused bourbon blends adeptly with yellow chartreuse, a dose of lemon, ginger, and honey.
Liam further elevates his mixology programme by adopting a culinary approach to his cocktails, through utilising kitchen techniques at the bar, and carefully creating house-made ingredients spanning syrups, sodas, and spirit infusions.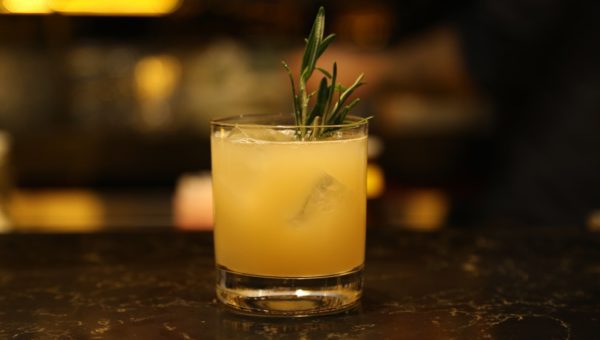 In Taco Truck ($22), Tequila is mixed with Mezcal, freshly squeezed pineapple juice, chipotle, cilantro, a dash of lime and finished off with a Habanero Shrub garnish. Although some of the ingredients are not standard issue for a cocktail, a single sip of the drink would remind customers of a traditional taco.
In It To Nguyen It ($24), dark and black strap rum are mixed together with Averna, alongside cold brewed coffee, condensed milk while finished with coconut juice and roasted chicory. Partaking in this cocktail will remind you of a Kopi Kosong (A coffee heavily combined with milk without sugar) but the drink actually works as a dessert as well, should your sweet tooth act up.
Choke and smoke ($24) also shows Liam's commitment to traditional cocktails, as he mixes up Single Malt Scotch with Cynar, brown sugar cordial, a dash of sea salt, orange oil, Fernet Branca and a large cube of ice on his own version of an Old-Fashioned cocktail. Unlike the over-powering bitter and smoky taste that one might feel from a traditional Old-Fashioned cocktail, Liam's version combines a slight sour yet sweet taste to the drink, inviting beginners who are new to the whisky-cocktail scene and not be put off by the after-burning sensation that amateurs might choke or recoil from.
A vast variety of more than 16 cocktails sit on the menu, spanning a myriad of taste profiles including 'Revitalizing and Crisp', 'Smooth and Sensual', and 'Adventurous', making sure that there is something for every cocktail lover.
Those who prefer not to wake up with a bad headache the next morning can have their pick of 'Low ABV' cocktails, and those looking for a personalized touch can opt for an off-the-menu bespoke cocktail.
Humble yet Satisfying
Catchfly provides a simple food menu for those craving for bites to accompany their cocktails. From the adventurous Kimchi Beef Chilli and Corn Chips, to the addictive Spiced Edamame, there is something to satisfy all late-night hunger pangs.
One of the entrees on the menu, the Charcoal Grilled Angus Beef Burger ($23) is a must order on the menu to pair off with your drinks. On first glance, it may look like a normal burger, but the old saying, "Do not judge a burger by it's looks" is seriously taken to heart when you bite into it. The smell of the charcoal grill is all too apparent as the burger is delivered to your table and you will never look at bar burgers the same way again once you chow down into the tender and juicy beef. Don't hesitate to cut it into small pieces and experiment with the various condiments to share with your friends. After all, sharing is caring.
Hidden away in the basement, Catchfly is a perfect place for those who are looking to take refuge from a noisy bar and just want to enjoy delicious cocktails in a cosy environment. Not only are the cocktails and food mouth-watering and reasonably priced, the service that Liam and his staff provides will make you feel right at home. So if you are looking for a quiet place to relax or to have a lovely date, why not Catchfly and Chill?
Catchfly is located at 12 Ann Siang Road and is Open from 6pm to 12.30am on Monday to Thursday, and 6pm to 2am on Friday & Saturday.
From July 2017, Catchfly will be open till 3am with late-night food & drink menus.