Celebrate the Chinese New Year with creations from Canelé
Herald the Year of the Snake with an auspicious collection of New Year creations by Canelé Pâtisserie Chocolaterie! Celebrate Chinese New Year with both nostalgic favourites and artistic interpretations of popular Chinese New Year treats.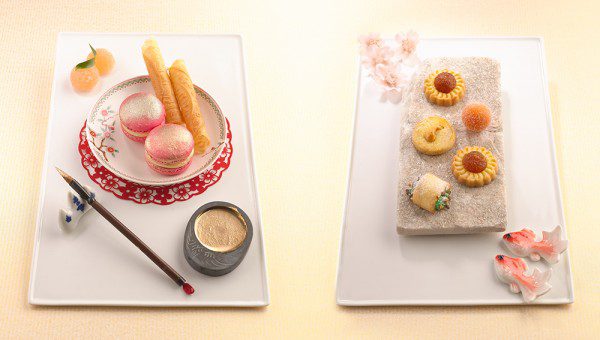 This year, Canelé revives customary goodies like Pineapple Tarts ($8.80/100g), Love Letters ($10.80/100g) and Cashew Nut Cookies ($8.80/100g) that are reminiscent of the good old days. Made with traditional artisanship and quality ingredients, these Chinese New Year favourites come in lavish packaging that Canelé is always known for. Canelé's signature macarons will also take on a fresh twist with tangy mandarin orange juice, infused with intoxicating Grand Marnier.
Canelé Executive Pastry Chef, Christophe Grilo's playful renditions of Golden Carp ($38.80/piece) and Orange Marzipan & Almond Balls ($8.80/100g) are unique coffee table pieces that tells the symbolism behind the partaking of festive delicacies. According to popular Chinese belief, the golden carp represents wealth and abundance. Canelé's Golden Carp is made of premium Italian Vanini Chocolate crust coated in an opulent shade of gold, and packed with an assortment of cookies in the centre.
Find new meaning to the Chinese tradition and enjoy Canelé's version of the Chinese Tangyuán with the Orange Marzipan & Almond Balls on the 15th day of the Lunar New Year.
Last but not least, the Box of Wealth ($48/box) sums the collection up with a bountiful assortment of goodies elegantly presented in a golden gift box which is perfect to be given as a gift or simply enjoy it with your friends, families and loved ones.