Cocktail Hour at Wolfgang's Steakhouse
CONTENT: Yiew Kai Jie
IMAGES: Luxe Multimedia
In a country where there are already aplenty amount of steakhouses competing against each other to be the best, one of the fastest up-and-coming steakhouses in Singapore has just released a new concept to further cement it's positioning and reputation.
Since it opened its doors last October, Wolfgang's Steakhouse by Wolfgang Zweiner has already garnered a reputation for being one of the best steakhouses in town due to their usage of USDA prime grade Black Angus beef for their steaks. They even have an onsite aging room where they dry-age their meat for 28 days to further enhance the flavour of the meat and is checked daily to ensure that nothing goes wrong with the aging procedure.
To add on to their success and comprehensive food menu, the restaurant has expanded its offerings by launching a Happy Hour menu that was inspired by the cocktail and drinking culture of The Big Apple. Available daily from 3-6pm, the new drinks menu highlights a vast selection of wines, beers and hour pour spirits alongside a refined selection of cocktails.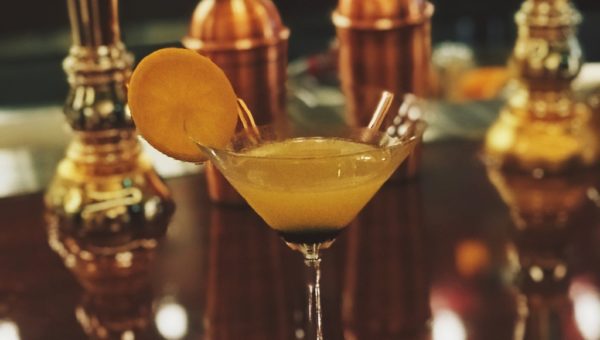 Incorporating some of Singapore's well-known landmarks and elements that can only be found at the Singaporean outlet are four speciality drinks that includes the Wolfgang Sling (S$15)– A combination of Bombay Sapphire gin, Kirschwasser, Dom Benedict, fresh lemon juice, a dash of sparkling water and finished off with a slice of lemon. This cocktail provides a soothing albeit slightly sour taste to it that starts to intensify the more one drinks it, but not overpowering to the point that it would leave one hankering for a glass of water. This cocktail pairs very well with seafood, such as oysters and tuna tartare.
Another speciality cocktail is the Orchard Road (S$15) – made out of Bombay Sapphire Gin, honey syrup and fresh lemon juice. A tad stronger than the wolfgang sling, the presence of the honey balances out the sourness of the gin and lemon. However, a piece of mint would have elevated the drink to another level, creating a crisp, sweet-minty cocktail that gets the night started without any strong kickbacks from the alcohol. Pair this captivating cocktail with a few vegetarian sliders or bring it to the dining table with you and pair it with a juicy steak!
(Honestly, just two of these cocktails were enough to get me buzzed before our food arrived.)
To complement their signature cocktails, the steakhouse features a scrumptious selection of luxurious bar snacks that includes, Fresh Oysters on the half shell (S$10 for 2 pieces), USDA Prime Sirloin Steak Crostinis (S$20) and the classic Wolfgang Burger (S$22) that is also available on the lunch menu. One food item that stood out was the Mini Loco Moco (S$15) – A beef patty topped with a fried egg served with rice and a red wine sauce. The meal reminded me of a traditional Japanese Hamburg steak and although the steak was a little too rare for me, this meant that the protein was extremely tender and nicely seasoned. Should you be absolutely famished or simply looking for a quick lunch with an afternoon cocktail, order the Mini Loco Moco for a quick perk-up before heading back to your office. The combination of top-quality beverages paired with gourmet food forges an unbeatable experience that will define how happy hour should be like in the city!
Wolfgang's steakhouse Happy Hour starts from 3PM to 6PM.
Wolfgang's Steakhouse Singapore is located at 1 Nanson Road, #02-01, Intercontinental Singapore Robertson Quay.
Wolfgang's Steakhouse Singapore is open daily from 11:30am to 11:30pm.
For more information or reservations, please visit: www.wolfgangsteakhouse.sg or call: +65 68875885