Go on a Joyful & Innovative Culinary Journey Around the World with Lè Fusion
CONTENT: Seraphina Tang
It's time to go around the world from the comfort of your table, with chic new restaurant-bar Lè Fusion! As its name suggests, Lè Fusion offers a menu replete with innovative fusion dishes inspired by the travels and favourite dishes of the owners, a cosy yet elegant space where joy (樂,'le', or 'joy' in Mandarin) is found in the marrying of exquisite ingredients and beloved recipes.
Every meal at Lè Fusion begins with the fragrant house-made Focaccia Rose Mantou. Made from a blend of pumpkin and original flour with oregano and rosemary, this gorgeous rose-shaped amuse-bouche comes picture-perfect in a mini bamboo steamer with vinaigrette dressing on the side.
Start off your meal right with the Crispy Pork Belly Mantou ($12), from the tapas menu. Inspired by Philippines's famed lechon (crispy roasted suckling pig), thick slabs of slow-roasted pork belly, marinated salted vegetables, mayonnaise and crushed peanuts are sandwiched between fluffy mantou buns. Get some napkins ready because this is one messy yet satisfying dish – you'll be left wanting more after sinking your teeth into the soft bun and juicy pork, and crunching down on that wonderfully crisp crackling!
Or if you're more of a soup person, go for the Imperial Double Boiled Soup ($28), a luxurious spin on the traditional 'Buddha Jumps Over the Wall' that comes served in a beautiful Chinese soup tureen. The soup is full of flavour from being double-boiled overnight with nutritious, premium ingredients such as abalone, scallop, dried oyster, and Chinese herbs like wolfberries, leaving a lovely natural sweetness. Don't forget to pour in a dash of the accompanying nu er hong rice wine for an added fragrance and kick!
Main courses get deliciously creative here at Lè Fusion. For an indulgent spin on the classic lo mai kai, we recommend the Rougie Foie Gras ($25), where pan-seared foie gras lays atop a bed of Chinese glutinous rice. Served on a platter beneath a dome of aromatic smoke with gorgeous spring-inspired presentation, the foie gras and glutinous rice meld together wonderfully with the accompanying tangy ginger sauce that cuts through the buttery richness of the foie gras.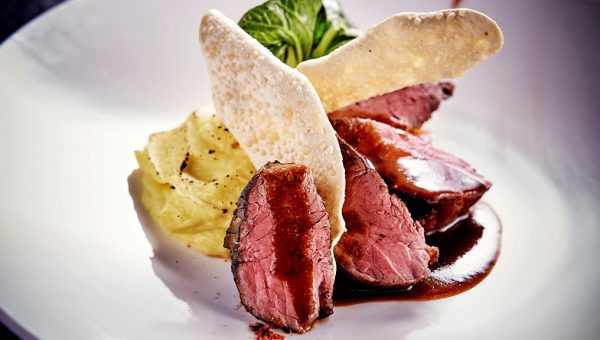 If you can't stay away from a carnivorous diet, Lè Fusion offers up meat dishes that are both creative and a delight to the stomach. Dig into the tender Tsingtao Beef Fillet ($42), where 180g of Australian Augustus tenderloin is infused with Tsingtao beer for 12 hours before being grilled. Savour it with the side of cauliflower mash topped with a crisp papadum, the tenderness of the beef and its malty aftertaste pairing well with the savoury mash.
Lamb is also done well here with the Asian Crusted Provencal Lamb Rack ($46). Australian lamb rack is coated with breadcrumbs and Provencal herbs – along with bits of mandarin orange skin and Szechuan pepper that add a hint of citrusy flavour and bite! Juicy and flavourful, yet delightfully lacking in gaminess, we would order this one lamb rack again.
Carb up and savour some good pasta with the Trio Pasta ($34), where you can taste not just one, but three flavours of pasta. Perfect for indecisive diners! This colourful plate features loops of pasta tossed in fragrant green pesto, piquant chilli crab sauce, and flavourful black sesame and squid ink sauce.
No meal is complete without dessert, and Lè Fusion's desserts are just as innovative. Savour the three-layered Lè Fusion Chendol ($14), where pandan chendol, kidney beans, jelly and crushed ice are drizzled with a lush mixture of Baileys cream and coconut milk. Or, dig your dessert spoons into the delicate Panna Cotta with Sweet Glutinous Rice ($14), a twist on the classic Italian panna cotta and beloved pulut hitam (black glutinous rice porridge with coconut milk), topped with a crispy ouse-made lotus seed tuille for an extra crunch.
Lè Fusion is located at: The Pier @ Robertson Quay, 80 Mohamed Sultan Rd, #01-7 8/9, Singapore 239013
Opening Hours: Monday to Saturday: 5pm-1am, Sunday: 4pm-10pm