Golden Prosperity awaits at Kam's Roast!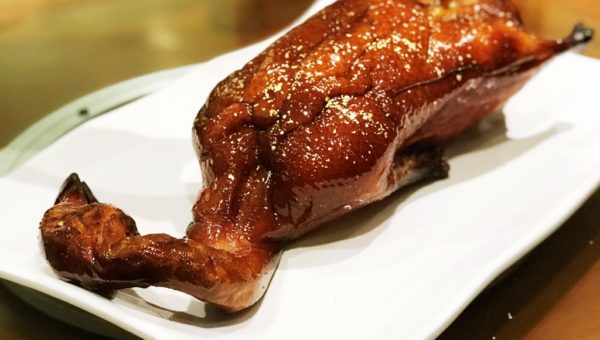 Feast on Kam's Roast First-ever Golden Duck dish, with 22-carat French Gold Flakes, alongside familiar signature tastes.
CONTENT: Yiew Kai Jie
IMAGES: Luxe Multimedia
With the Chinese New Year craze reaching fever pitch in the weeks leading up to the festival, every restaurant and eatery in town is coming up with their own unique spin on traditional dishes to help them stay unique in the highly competitive industry. Not wanting to lose out in said industry is Kam's Roast, who has introduced its brand-new dish: Kam's Roast Golden Duck (贺年金鸭), the first-of-its-kind dish in Singapore! Originating from Hong Kong, the roast meat specialist has come up with this creative dish just in time for Chinese New Year. This auspicious dish is a symbol of abundance, wealth and luck and works as an amazing centrepiece at the dinner table.
The Kam's Roast Golden Duck (S$88) follows the time-honoured recipe that Kam's Roast uses for its signature roast duck. The duck is prepared with Kam's Roast's secret marinade, and then roasted to perfection. The skin is ethereally thin and golden brown, strong in flavour and crispy. The thin layer of fat between the skin and the meat is just sufficient enough that it makes the flesh extremely succulent. It is then flecked with the golden flakes for an aesthetically pleasing sparkle. While the gold flakes solely provides a nice aesthetic view, but it adds no additional flavour to the duck. The duck is completely good enough on its own without any additional sauces, the fat is the sauce itself!
This February, should bringing your family out to a Chinese restaurant be too time consuming or your relatives want to usher in the Year of the Dog in the comfort of their own home, consider ordering the new special takeaway set of Kam's Roast Prosperity Trio! (For sharing between four to six persons; Special Takeaway Package Price: S$108+ / Usual Chinese New Year Ala Carte Price: S$123.60).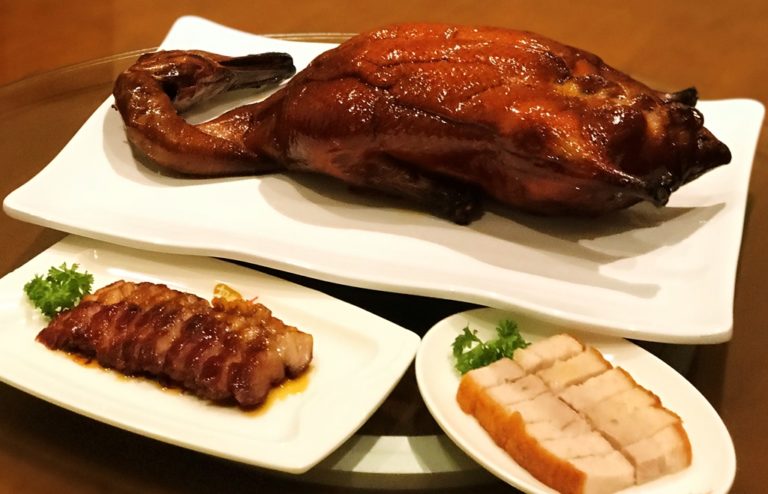 The set showcases Kam's Roast's a whole signature roast duck; and premium portions of exquisite iberico char siew and super crispy roast pork. These hearty proteins will certainly sweeten and enhance your Chinese New Year celebration! The Iberico char siew tastes more richer in terms of the fat and flavour then the regular char siew we all know and love- it has a smoky flavour to it and has additional layers of fat that makes it all the more tastier rather than the regular lean char siew. Dip it in their homemade mustard sauce for an extra boost of spice and flavour.
The crispy roast pork's skin was extremely crispy, almost akin to a rice cracker and the meat was extremely tender. However the roast pork had a rather regular taste, do combine it with the mustard sauce to add more flavour and spice to the pork.
Apart from the plentiful protein offerings, Kam's Roast are also offering traditional chinese sausages or "lap chongs" for customers to bring them home to cook and consume over the Lunar New Year period. Although they might look like any mundane chinese sausages, when they are cooked, the aroma of these sausages reaches your nose really rapidly when they are brought to your table. Visually, the sear on the sausages are perfect and the marbling on the sausages are exceptional, the texture is not too hard and its nicely and evenly cooked too.
While the pork sausages taste rather normal, the liver sausages are rather chewy and more flavourful than the conventional sausages that we'll usually get at home. Should you like to eat goose liver or the black chinese sausages then the red ones, you'll take a liking to this.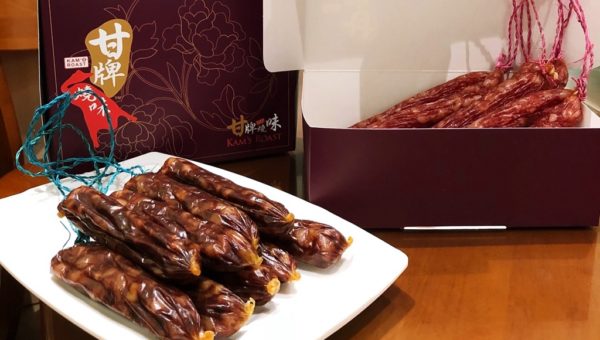 Kam's Roast Golden Duck, Chinese New Year Takeaway Menu and Ala carte item prices:
Available on 15 February 2018 and from 17 February 2018 to 02 March 2018 (Chinese New Year eve to 15th day of Lunar New Year, Closed on 16 February 2018, 1st Day of Lunar New Year)
Whole Duck: S$88
Half Duck: S$48.80 (not available for pre-order on CNY eve)
¼ Upper Portion: S$28.80 (not available for pre-order on CNY eve)
¼ Lower Portion: S$32.80 (not available for pre-order on CNY eve)
Roast Suckling Pig (Whole): S$288
Signature Roast Duck (Whole): S$68.00
Soya Sauce Chicken (Whole) : S$36.80
Iberico Char Siu (Regular): S$30.80
Toro Char Siu (Regular): S$24.80
Crispy Roast Pork (Regular): S$18.80
Cured Lean Pork Sausages: S$28
Cured Liver Sausages: S$28
Chinese New Year Takeaway Menu:
Kam's Roast Prosperity Trio Set (Whole Roast Duck, Iberico Char Siu, Crispy Roast Pork): S$108
CNY Pre-order starts now (while stocks last). Pre-orders can be made online at Chope: https://cho.pe/kamstakeaway or in person at the restaurant.
Kam's Roast is Open on Eve of Chinese New Year, 15 Feb 2018: 11am – 3pm (Last Order at 2pm), First Day of Chinese New Year, 16 Feb 2018: Closed
Operation Hours will resume as usual from 17 Feb 2018 onwards: Mon – Fri: 11am – 10pm Sat, Sun and Public Holidays: 10:30am – 10pm
Kam's Roast is located at: Pacific Plaza, 9 Scotts Road #01-04/05/06/07, Singapore 228210
For more information please call +65 6837788 or visit: www.kamsroast.com.sg