Interview with Zerlina Zhuang: Founder of homegrown whisky distribution company, Spirits Castle
CONTENT: Yiew Kai Jie
As the demand for whiskies in Singapore has only grown exponentially over the past decade, some whisky connoisseurs are going off the beaten track to look for whiskies that have been relatively unheard of to tap on their hidden potential to be the next biggest hit in the ever diverse whisky industry. But as with every single whisky company in Singapore, not a single brand can expect to make an impression without having a local distributor spread the word (or glasses) of their impending entry into the local whisky market.
We recently sat down with Miss Zerlina Zhuang, owner of Spirits Castle (a domestic whisky distribution company) as she shared her experience on the tribulations of running her own company and how far it has grown since then to celebrate its first-year anniversary!
Luxe Society Asia: Could you give us a short introduction about yourself?
Zerlina Zhuang: I am Zerlina Zhuang, the founder of Spirits Castle Pte Ltd as well as the co-founder of WhiskyGeeks, a local whisky blog. I am one of the few ladies who prefer to wet their whistles in the spirits distribution industry and some people do see me as a tad fanatical when it comes to whisky. I love to try different types of whiskies but also have a soft spot for cognacs and gins. Basically, I am a closet drinker, (not that I think that way) but there are way too many people telling me that I don't look like I drink anything beyond water or fruit juices!
Luxe Society Asia: How did you get involved in the whisky industry?
Zerlina Zhuang: It all began when I first started working in a shipping company in 2006 and that got me started on my whisky journey. Back in those days, I needed to entertain my clients with the sales team, and we would visit bars to drink. Naturally, the drinks we had weren't fantastic but fast forward a few years later, I joined the operations team, and finally, got the chance to start drinking quality single malts and blended malts. I was stuck at that phase for a long time because of many changes in my personal life, but in 2014, my husband and I began a serious journey where we delved into exploring new whiskies, and other independent labels.
It was only in 2017 that we were lucky enough to meet an industry player (he has now exited the Singapore scene) and he introduced us to some of his friends in the local whisky scene. I also started WhiskyGeeks around the same time, writing about whiskies as well as the histories of the various distilleries. As I visited more bars in Singapore, I also began to write about them, to introduce my readers to the various places where they can get quality glasses of malts.
Luxe Society Asia: What made you want to start your own whisky distribution company?
Zerlina Zhuang: I left my day job in 2016 to focus on my first company – Literacy Beacons – which was a content writing company. By 2017, I was also running WhiskyGeeks as a blog and life was rather demanding for me. At the end of 2017, we had a chance meeting with a supplier in Taiwan, who suggested that we should work together. We deliberated for a long time, and decided to turn it down as I wasn't sure if I could handle it at that time. In March 2018, a chance meeting with the team from Penderyn Distillery during Prowein (an international trade fair for spirits) and it changed everything for us. We decided to go ahead with our own whisky distribution company with Penderyn for our first major project. It has been a long journey for me to get to this point even though it has only been a short year for Spirits Castle.
Luxe Society Asia: What makes Spirits Castle unique from the other distribution companies in Singapore?
Zerlina Zhuang: For starters, we are a small company- Spirits Castle is literally a one-woman show. What sets us apart is our passion for the spirits that we carry in our portfolio. We believe in each brand that we represent and we hold them to be responsible and consistent when it comes to their products. While we do not carry many popular brands like most of the other distribution companies in Singapore, we work hard to ensure that the brands we carry have an equal share of my attention, as well as our marketing budget. I have also personally acted as the brands' ambassador to ensure that each brand is well-represented.
Luxe Society Asia: Congratulations on your company's 1st year anniversary! What has your company achieved over the past year?
Zerlina Zhuang: Thank you! I think we achieved quite a feat. We started out with almost nothing – just a few contacts in the industry that we treat more like our friends than just clients. I think the greatest achievement that we have is with Penderyn Distillery. We managed to place the brand in high-end hotels, restaurants as well as local bars too! With our Taiwanese partner, we managed to introduce the brand to the local market to help our customers enjoy quality malts at reasonable prices. As a company, I think we have grown in our expertise and our experience will come in handy as we move on in our journey to be the best that we can be.
Recently, we also started doing a joint bottling of independent labels with our suppliers in Taiwan. Our first series has a familiar theme locals are familiar with – Mahjong. It is one of Spirit Castle's proudest moments when our first four bottles were released earlier this year.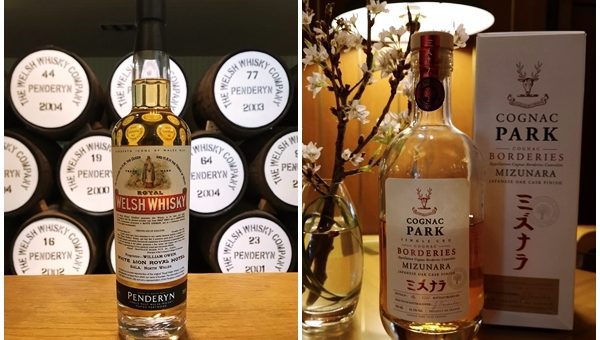 Luxe Society Asia: What brands are you currently working with?
Zerlina Zhuang: We are currently working with three brands. Our main portfolio lies with Penderyn's single malt whiskies. We have their core range present in Singapore as well as a couple of special limited edition bottles of whiskies. At the moment, we have the Dragon Series, the Gold Range, a limited 50% Rich Oak expression and the latest release from the distillery – The Royal Welsh Whisky.
We also work with a fine cognac-maker in France where we import only one expression of their extensive range of products. The Cognac Park Borderies Mizunara-Finish is an excellent product made from Borderies, the finest cognac region, and finished in Japanese Mizunara oak casks. As the company's sole distributor, we are extremely proud to carry this product. There will be another new product in this range some time later in the year. A ten-year-old cognac finished in Mizunara oak is newly released and we aim to have the product available in Singapore in Q4 of this year.
Finally, we work with Home Needs Wine & Spirits (HNWS) from Taiwan. As an independent bottler, HNWS is a consistent and well-known brand that has proven its mettle from the start. We work closely with HNWS to bring in all their bottling as well as host events with them in Singapore. In fact, there are two upcoming events for HNWS in end June 2019. Spirits Castle also do joint-bottling with HNWS and a company in Hong Kong named Whisky Lovers HK.
Luxe Society Asia: What are your plans for Spirits Castle in the near future?
Zerlina Zhuang: We plan to continue with our current whisky portfolios to bring them to greater heights. Due to manpower constraints, we are not likely to bring in yet another brand unless we see potential with the new brand. Despite this, we will continue to do joint bottlings with our suppliers to offer unique whiskies to the Singapore community.
Luxe Society Asia: What is the biggest challenge that your company is facing at the moment?
Zerlina Zhuang: Our company faces similar challenges that most other startups do. Besides the usual caution for a smooth cash flow, we also face discrimination for our brands as they are unusual or unheard of. The biggest challenge that we are currently facing is the unwillingness of some drinkers to try new whiskies and cognacs. Penderyn, as well as some of our independent bottles, are not as famous as some of the other popular brands in Singapore. Therefore, we do get people who refuse to try them just because they are not familiar with the name of our whiskies.
Luxe Society Asia: Can we expect special or limited editions of whiskies to be released?
Zerlina Zhuang: Definitely. As I mentioned, we are bringing in some limited edition of whiskies from Penderyn. There are two expressions to look out for. One of them is the Royal Welsh whisky, which is a limited edition bottle branded under Penderyn's Icons of Wales collection. It is a replicate of the old-style whisky from more than a century ago in Wales. The second is Penderyn's small batch Rich Oak 50%- an intense, flavourful whisky that people should not miss.
Of course, we also have our independent Mahjong bottles. The limited series consists of 34 expressions with a laser-engraved mahjong tile design on the bottles. So far, the first four bottles have already been released and the next four will be coming in end-June.
Luxe Society Asia: Lastly, on a personal note, what is your favourite bottle of whisky?
Zerlina Zhuang: I have many favourite bottles, although there isn't one bottle that can make me feel like I can't live without it thankfully! I have a special penchant for Littlemill, a closed distillery that was burned down in 2004. Aside from that, I also enjoy Clynelish and Ben Nevis which are on the sweet side, as well as Talisker, Springbank and Caol Ila, which are more on the peaty and smoky side of things.
As part of their first year anniversary celebrations, Spirits Castle will be holding a few events in conjunction with their whisky partners to celebrate their landmark achievements and growth over the past year!
A Penderyn masterclass will take place on 21st June at Providore from 7pm to 9pm where guests will have the opportunity to try out Penderyn's Gold range of whiskies alongside their limited edition Royal Welsh series. ($35 nett)
A Penderyn tasting session will take place 26th June at Copper on from 7pm to 9pm where guests will be educated on how cask maturation plays a major part and how they work with Penderyn spirits. Participants will also have a chance to win a bottle of Penderyn's limited edition Royal Welsh Whisky! ($40++)
Opt for a six-course chinese-whisky pairing dinner and be pampered with whiskies from five different bottles of HNWS Taiwanese whisky at Si Chuan Dou Hua on 28th June from 7.30pm to 10.30pm. ($148 nett)
Penderyn will be holding a second tasting session at 13% Gastro Bar that includes a tasting of four Penderyn whiskies and four corresponding wines on 14th July from 3pm to 5pm. Light bites will be provided. ($78 nett)
For more information on the above-mentioned events, please visit https://spiritscastle.sg/events/.