Kazu Sushi Grill Sake: Hidden Food Gem Discovered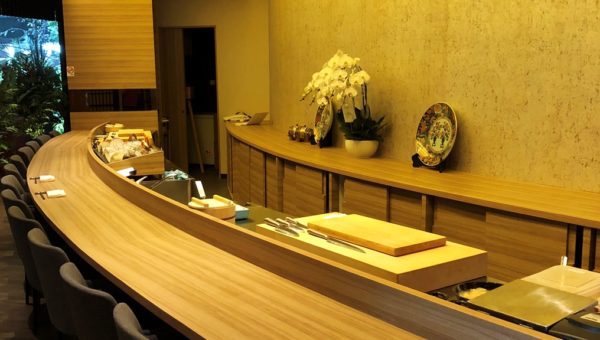 Step into the newly opened Kazu Sushi Grill Sake and you will immediately be transported to Japan, thanks to the magnificent interior of the restaurant.
CONTENT: Andrew Kho
Kazu Sushi Grill Sake located at the newly opened Marina One is helmed by two head chefs, Chef Ichimaya who is in-charge of the Sushi Bar located at the left side of the restaurant, he has served at Sushi Kyubei for 10 years, and Sushi Kaishin for 3 and a half years and has served for many years in top Japanese restaurants, while Chef Imai has cooked at the Embassy of Japan, serving many presidents, kings and queens, dignitaries and politicians from all over the world, he handles the Robatayaki and Pastries which is located at the right side of the restaurant. Having combined chefs having different strengths, the restaurant showcases the best of Japanese cuisine with their skilled specialties in sushi, robata grill, omakase, and donburi.
The restaurant features an extensive range of premium sushi and sashimi with seafood and vegetables air flown directly from Hokkaido three times a week, ensuring diners the freshest ingredients everyday.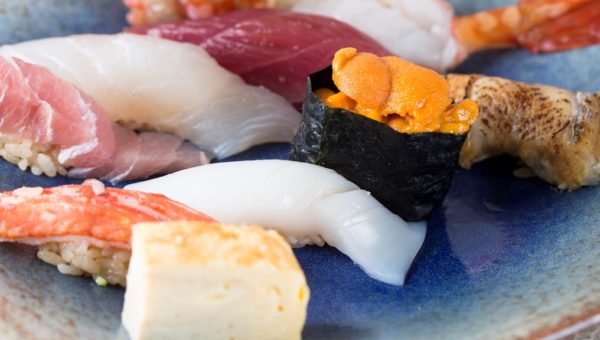 I arrived on a weekday for an invited lunch and was surprised the place was already quite packed considering the Marina One complex is quite relatively new. I was served a few items from their bento lunch selections.
The Pork Bento (s$30.00) which comes with a selection of appetizers, salmon sashimi garden salad, chawanmushi was very perfectly presented and the pork was very tender and flavourful that is techincally melt in your mouth feel. The Gindara Teriyaki Bento (s$40.00) also comes with a selection of appetizers, salmon sashimi garden salad, chawanmushi, but the main highlight is the Gindara, which is perfectly cooked, not too tough and not too soft, drizzled with the not too sweet teriyaki sauce just enough to sizzle your palette. If you are not into seafood or meat, you can opt for the Sushi Bento (s$40.00) which comes with a selection of appetizers, salmon sashimi, garden salad, and eight pcs of premium cut sashimi, having Chef Ichimaya helming the sushi bar, i would say Kazu is one of the very few Japanese restaurants that serves the freshest sashimi in Singapore.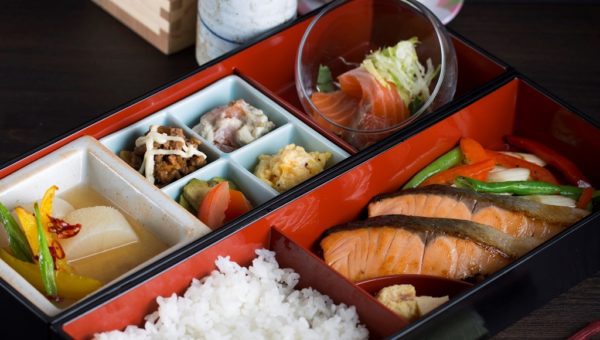 Other bento options are available such as the Chicken Teriyaki Bento (s$30.00), Assorted Tempura Bento (s$30.00), USA Beef Steak Bento (s$40.00), Kajiki (blue marlin) Bento (s$40.00, Fish Garlic Mayo Bento (s$40.00). A must try is also their Kazu Special Unagi Bento (s$58.00) which is served with Sashimi & Tempura.
All bento comes with a rice selection of either Niigata koshihikari or 16 grained healthy rice.
If the Bento is not enough for you and you still got space in your stomach to fill, the Obi Beef Tataki with Ponzu Jelly (s$40.00) which uses Tender Grade A4 Omi Wagyu beef from Shiga Prefecture is a must try. This melt in your mouth beef is complemented with a zest from the Ponzu Jelly with trio of sauces to choose from.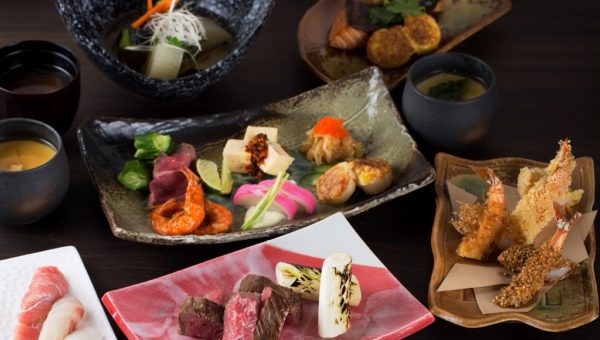 In the evening, diners can opt for an omakase dinner and enjoy the chef's specially curated menu. Here, put your trust in the chef to pay close attention to your dietary preferences and budget, in the creation of an exquisite customised dinner menu. This personalised culinary adventure starts from an affordable $80++.
I will definitely be back to Kazu Sushi Grill either for lunch or dinner, as once is not enough to fully experience the wide variety of quality dishes they serve here.
Kazu Sushi Grill Sake is located at: 5 Straits View, Marina One The Heart ,#01-14 Singapore 018935. Opens from 11.30am – 2pm, 5 – 10pm daily.
For reservations please call: +65 6282 8141