Kumoya Welcomes Rilakkuma As Its First Guest At Its Second Outlet In Orchard Central
CONTENT: Michelle Ng
IMAGE: Luxe Multimedia

Rilakkuma has set up shop at popular theme café pop up Kumoya, but this time in Orchard. The second new café is a whole different space, with the addition of private seating booths, an exclusive photo corner, and even a private room for small celebrations!

The private room can seat up to 10 people (after circuit breaker rules are lifted of course), and has whole army of Rilakkuma and Kaoru plushies, as well as a photo gallery of some of their favourite moments.

Inspired by the kawaii brown bear Rilakkuma, Littlemissbento created a whole new themed menu with some new dishes and old favorites. The dishes are a delightful mix of both Japanese and Western fusion dishes.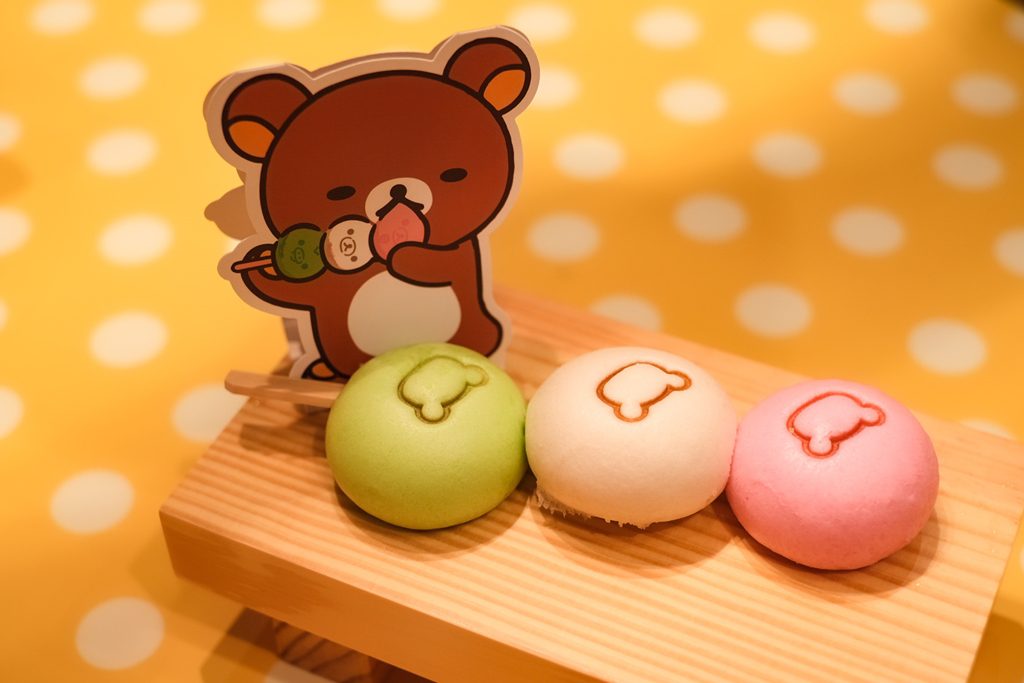 Snack boxes come with a choice of a snack like Takoyaki Octopus Balls, Popcorn Chicken, or Chicken Meatballs With Tomato Sauce, and a super cute snack bucket to bring home. There are also other equally kawaii snacks that are great for sharing, like the Karaage Chicken With Shoyu Glaze and Teriyaki Chicken Sliders. The Rilakkuma Dango Baos With Sweet Matcha is on the sweeter side, and make for an Insta-grammable moment too.


The mains include a range of brunch dishes and dinner items, which are sure to satisfy any craving you have when you stop by. The Relaxy Rilakkuma Chicken Cordon Bleu is a side of fried chicken stuffed with cheese and ham, paired with a thick Japanese curry sauce and fluffy rice. On rainy days, indulge in the Rest & Relax Rilakkuma Chicken Stew Rice where a sleepy bear is covered in a blanket of scrambled eggs, creamy chicken stew, and crunchy vegetables. If you're craving something a bit more 'breakfast-y', the Morning Mega Rilakkuma Breakfast comes with toasted bread, bacon,screambled eggs, and mushroom goulash.


Just like the kawaii décor, desserts are a plenty at The Relax Café with five sweet treats to choose from. The Rilakkuma Honey Forest Chocolate Cake is a spongy cake with chocolate crumble, sweet strawberries, and vanilla ice cream – good for a special occasion or as a midday perk-me-up. The Pretty In Pink Sakura Parfait is a delicious take on a deconstructed parfait in a huge pink explosion, with sakura pudding, butter cookies and fluffy cotton candy.


For those who are a fan of Kumoya's soft serve Hokkaido ice cream, you'll still have to make a trip back to their original Telok Ayer outlet if you're craving that milky dessert.

The drinks are pretty fun and interactive too – with the cold drinks topped with cookies, cotton candy, chocolate, or even dango balls (actual dango, not baos this time). The Korilakkuma Fizzy Strawberry Soda is popular with kids and adults alike, as you get a huge cloud of candy floss floating on top your drink, which then dissolves as you pour soda over it. The Yuzu Iced Tea With Chocolate is on the refreshing side as a citrusy cooler with bit of crunchy pulp that cools you right down when it's too hot out or after an intense shopping session.

And before you leave, don't forget to say hi to the huge plushie at the photo corner and pick up some limited edition merchandise.

Kumoya/ Rilakkuma The Relax Café
181 Orchard Rd, Singapore 238896, #04-09
Open daily from 11am to 9.30pm.