Michelin Guide Singapore 2019: Odette and Les Amis Ascends to Clinch Three MICHELIN Star Award
The MICHELIN Guide Singapore has returned for its fourth year to showcase the 2019 edition of the One, Two-Star awards and for the first time in Singapore's history, two restaurants have ascended to the Three-Star throne since it was left vacant last year.
CONTENT: Yiew Kai Jie
For this year's awards night, seven new restaurants have received a star, bringing the total number of one-star restaurants to 37 this year, while Shisen Hanten, Shoukouwa and Wakughin have retained their two-star awards followed by new awardee Zen and newly promoted Saint Pierre!
This year's edition had everyone anxiously waiting to see who would attain the highly coveted spot of the elusive Three-Star award as it was left unfilled since the departure of Joel Robuchon's restaurant in 2018. The audience was not disappointed as MICHELIN awarded homegrown restaurants, Les Amis and Odette, their most prestigious Three-Star award- that not only showcases their culinary skills and prowess but also enhances Singapore's reputation as a gastronomic destination for many foodies around the world.
Chef Sebastian from Les Amis jokingly said: "This is the biggest achievement that a chef can get, if you can get the Three MICHELIN Star award in Singapore, you are on the same culinary level as the same awardees in other countries in London or New York! From now on, I'll just tell my team that the easiest day was yesterday and we'll strive for the Four MICHELIN Star Award next year!"
Despite the highly competitive environment in Singapore's F&B scene, many of the chefs who have earned their stars are simply exhilarated that they have passed the biggest test in their career- or their lives.
One of the new winners of the awards this year, Chef Vianney Massot of Vianney Massot restaurant said: "When I started and rebranded this restaurant five months ago, I didn't expect to win this award in such a short time! Getting this One MICHELIN Star award just means that I'm starting a new journey with the Michelin family that will open more doors for me in the future! We will still continue with what we are doing, working with quality ingredients, putting passion into our work and strive to make our customers happy!"
Unfortunately, there were a few significant restaurants that failed to retain their stars this year. Previous awardees such as Crystal Jade Golden Palace and Whitegrass have sadly failed to make the cut of the Michelin inspectors. However, not all is lost as new entrants such as Cheek Bistro and Table65 have made the cut of a One Michelin Star Award! Even Terra, who lost its star back in 2017, has managed to regain its prestige amongst the one-star awardees this year.
Chef Seita Nakahara, the founder of Terra said: "I feel happy! Much happier when we won the star back in 2016! I have to thank my staff for their hard work and it's thanks to their work ethic that we've won back our star. After today, we'll focus more on our food quality and service to maintain our high standards in order to ensure that we'll keep our prestigious one-star award!"
With the conclusion of this year's MICHELIN awards, the chefs have not only proven that they are deserving of their individual star awards, but that there is hope for one or two starred chefs to ascend the ladder of success to eventually be able to wear the Three-Star crown on their heads. However, heavy is the head that wears the crown as the Three-Star awardees have to work even harder to prove that they are worthy of that award.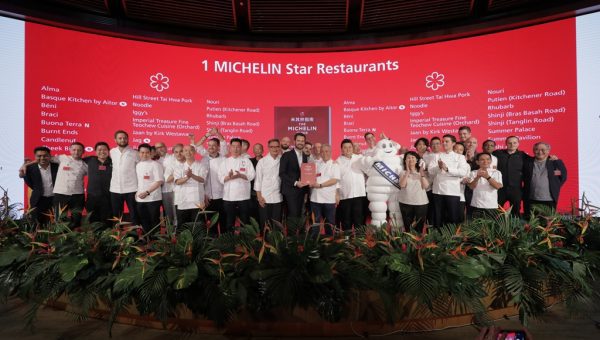 Here are the awardees for The MICHELIN Guide Singapore 2019:
One Michelin Star: High-Quality cooking, worth a stop!
Alma
Beni
Braci
Burnt Ends
Candlenut
Chef Kang's
Corner House
Cut
Garibaldi
Hawker Chan
Hill Street Tai Hwa Pork Noodle
Iggy's
Imperial Treasure Fine Teochew Cuisine (Orchard)
Jaan
Jiang-Nan Chun
Labyrinth
Lei Garden
Ma Cuisine
Meta
Nouri
Putien (Kitchener Road)
Rhubarb
Shinji (Bras Basah Road)
Shinji (Tanglin Road)
Summer Palace
Summer Pavilion
Sushi Ichi
Sushi Kimura
The Song Of India
Basque Kitchen by Aitor (2019 New Entry!)
Buona Terra (2019 New Entry!)
Cheek Bistro (2019 New Entry!)
Jag (2019 New Entry!)
Lerouy (2019 New Entry!)
Table65 (2019 New Entry!)
Terra (Regained Star)
Vianney Massot (2019 New Entry!)
Two Michelin Stars: Excellent Cooking, worth a detour!
Shisen Hanten
Shoukouwa
Waku Ghin
Saint Pierre (2019 New Entry! Promoted from One star to Two star)
Zen (2019 New Entry)
Three Michelin Stars: Exceptional Cuisine, Worth A Special Journey!
Les Amis (2019 New Entry!)
Odette (2019 New Entry!)