Open Farm Community Celebrates Local Food with New Culinary Team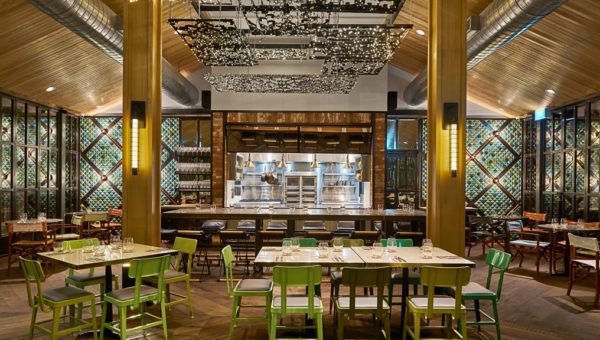 CONTENT: Yiew Kai Jie
Singapore's revolutionary community food project restaurant – Open Farm Community (OFC), welcomed its new Head Chef Oliver Truesdale-Jutras and Sous chef Phoebe Oviedo, who will be leading the culinary team at OFC; with sommelier Philippe Chin appointed as the Wine & Operations Manager.
The latest addition to the culinary team at OFC came after the dynamic founder behind Spa Esprit Group, Cynthia Chua, encountered the chef couple during one of her many trips around the world. She recognised their passion in support of the "local food" movement, which perfectly aligns with the OFC's vision and commitment to offer transformational opportunities for locals to learn about food and the role it plays in a modern eco-system.
"In our ongoing pursuit to bridge the gap between farm and plate, as well as to inspire locals in deepening their relationship with food; we continue to build Open Farm Community into a space that facilitates the education and discovery of food, specifically the way we eat – what we eat, and how we eat," says Cynthia Chua, Founder & CEO of Spa Esprit Group. "We are honoured to partner with relevant and like-minded chefs like Oliver and Phoebe, as well as Phillippe, who share the same passion to educate and reconnect urban communities with nature, establishing a deeper and more meaningful connection with food and farming."
The New Duo At The Helm
Before their move to helm the kitchen at OFC in Singapore, Chefs Oliver and Phoebe were running a roving pop-up restaurant, Stovetrotter. The couple travelled to various places in the world, including France, Denmark, Morocco, Sri Lanka, and Japan, taking over restaurants to showcase their culinary expertise with ingredients sourced only from the country they were in; committing to a regimen of supporting the local scene and discovering little known local native ingredients and traditions.
"The new menu we have created at OFC is an embodiment of our passion in celebrating local producers and rediscovering ingredients readily available locally. We want to encourage urban diners to explore their local biome and produce that can be found in the region. Throughout the three-and-a-half-year global culinary journey that took us to far-flung places around the world, we committed ourselves to using only local ingredients in our cooking wherever we were at; and in the process honed our skills to creatively interpret indigenous produce that locals are familiar with and bring in a different approach," says Oliver Truesdale-Jutras, Head Chef, Open Farm Community.
To better demonstrate the values of OFC, Chefs Oliver and Phoebe have curated a list of new dishes using primarily ingredients sourced locally, including harvests from OFC's very own urban garden, and reinterpreting them into their contemporary casual dining style. The menu will continue to evolve as they discover more about what Southeast Asia and Singapore have to offer.
Going Loco for Global
Kick off this enriching locavore experience at OFC with a selection of appetizers that features a creative and refreshing take on local ingredients. Begin the culinary journey with Citrus Cured Hamachi (S$18) that contains sushi-grade Kingfish that is cured for 30 mintutes garnished with pickled rojak ginger blossoms and shredded green papaya from OFC's garden. The Hamachi is then paired with nitro-frozen pomelo for that added zesty freshness to balance the strong flavour of the fish.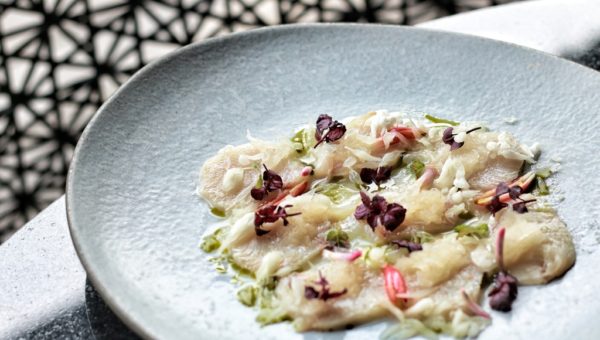 Move on to Geal Tao's Toad(S$12), a dish that incorporates a favourite protein that the locals in Singapore absolutely love- frog legs! The frog legs come from a farm in Jurong, and tend to be bigger than the usual frog legs one might see in the local frog porridge stores along Geylang! Once the legs are fried to perfection, they are drizzled with a homemade kung pao caramel sauce and sesame seeds for a sweet finish to the protein.
Cleanse the palate with a local Watermelon Wild Honey Salad (S$16) before diving into the main courses. The dish involves bite-sized chunks of watermelon compressed in a mint and lime dressing with pickled watermelon rind and organic Malaysian cherry tomatoes, drizzled in Pilihan Terbaik, a raw jungle honey harvested from Malaysia.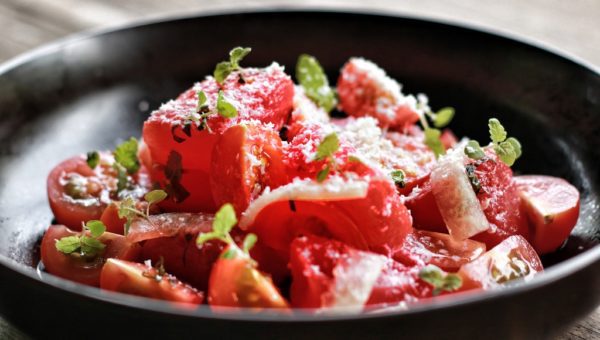 The wild honey adds a balanced flavour to the dish with its slightly sweet acidity as a result of the abundant flora present where it was harvested from. The dish is topped with shaved frozen goat's milk from Hay Dairies, Singapore's only goat farm, as well as micro coriander from Edible Garden City.
Only The Freshest Protein
The new locavore menu at OFC features exciting new mains including a Japanese inspired Steamed Tiberias Barramundi Fillet (S$28). The fish is procured from Tiberias Harvest, a marine fish farm located off the North-eastern coast of Pulau Ubin, Singapore. The close proximity of the farm to the city ensures that the fish is delivered within six hours of harvest from the sea, guaranteeing its freshness. To make it even more palatable, the barramundi is steamed in dashi butter, then seasoned with a Furikake made from local seaweed and Pulut Hitam, and complemented with pea shoots and blue pea flowers harvested from OFC's garden.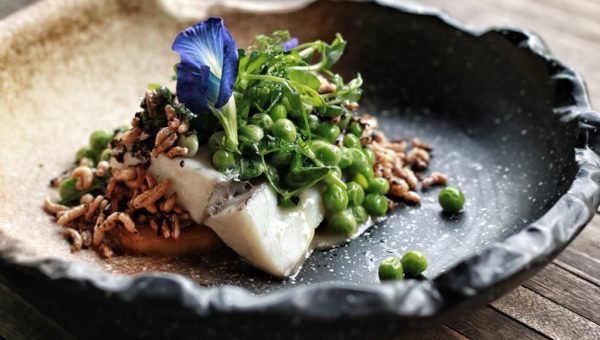 The fish tasted extremely fresh and was nicely grilled and doused with the right amount of seasoning to ensure that the protein isn't overly salty.The texture of the grilled pineapple is unique as it might remind one of rice instead of a pineapple, making it a great dish for customers who are cutting out carbs from their diet.
Rediscover a local favourite executed with a contemporary twist, the traditional Laksa is creatively reinterpreted in the Crab & Prawn Laksa Pappardelle (S$28). A familiar flavour profile with the quintessential spices, belachan chilli, dried shrimps, and coconut milk found in most Laksa dishes; the homemade pasta dish is filled up with prawns, kaffir lime, and curry leaves from OFC's garden and topped off with a crispy piece of soft-shell crab tempura, offering diners a new yet nostalgic experience with every bite. The pasta was absolutely fantastic- cooked al dente and it was fully marinated with the flavourful sauce that will definitely make any customer cry out for another bowl! The only thing this dish was lacking was the seasoning on the soft shell crab, it lacked flavour and could have used more seasoning before it was deep fried with the batter.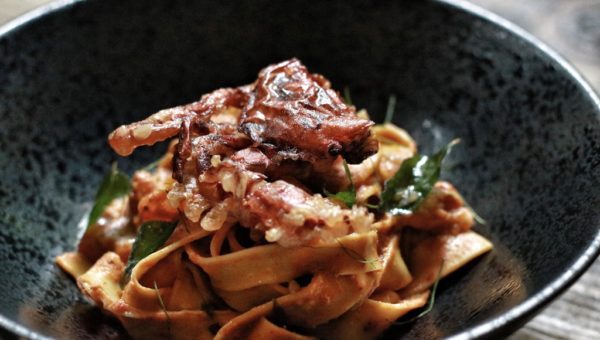 Well known for their pastas, OFC wanted to did not want vegans and vegetarians to be left out and worked on creating a dish that reflected their expertise in pastas. Now, they can look forward to a hearty and healthy pasta with OFC's Black Bean Strozzapreti (S$26)! Fermented black beans from Zenxin Organics in Malaysia are worked into the dough that lends a unique fermented flavour and colour to the final product. The pasta dish incorporates multiple local ingredients such as mushrooms from Kin Yan (A Singaporean supplier), organic smoked tofu from Unicurd, and sorrel from Edible Garden City. Overall the dish is well seasoned and full of earthy and smoky aftertastes due to the various ingredients being smoked. The pasta itself is cooked and has a very waxy texture due to the sesame oil, but the dish could be a bit salty for some customers who are not used to the flavour.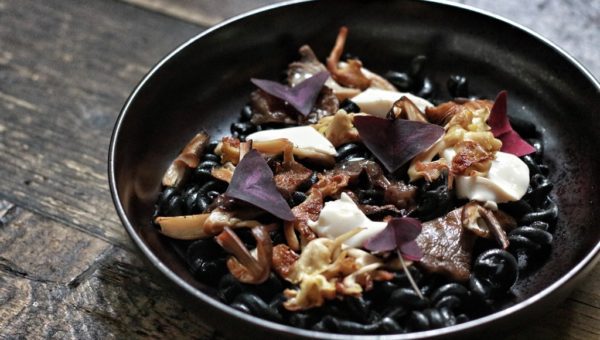 Complete your meal on a sweet note with OFC's Thai Milk Tea Tart (S$12). This decadent French-style classic dessert tart features the ubiquitous Southeast Asian favourite Thai milk tea in a custard set in a homemade tart shell. The subtle Thai milk tea flavour compliments the sweet aroma of cinnamon ice cream, making it an indulgent dessert experience and a fitting end to a tasty meal.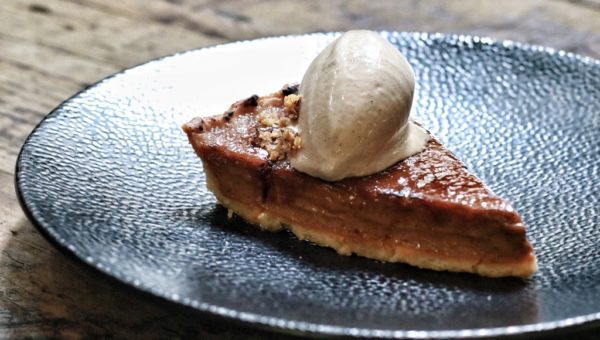 A Brave New World in Wine
As Open Farm Community pushes forward with its renewed commitment to reconnect urbanites with nature and deepening their relationship with food and its origins, Phillippe Chin, the newly appointed Wine & Operations Manager whose expertise and passion lie in natural wine has reintroduced a full refreshed list of natural wine.
Natural wine is one of the most exciting styles in the wine world, created with minimal chemical and technological intervention. More than just a trend, natural wine is a rejuvenation of style that dives back into the way wine was made before the industrialised and commercialised era of agriculture. This unadulterated form of wine is widely regarded as healthier than conventional wine without the use of additives, preservative, and stabilisers; and is friendlier on the environment as it pushes for biodiversity and sustainability.
"Natural wine puts forward creativity and originality, without the use of herbicides and chemicals both in the vineyard and in the winemaking process. We bring soul back into wine; promoting forgotten grapes and regions, from smaller domains who favour authenticity and responsible ethics," says Philippe Chin, Wine & Operations Manager, Open Farm Community.
*Note: The natural wine list at Open Farm Community will be refreshed from time to time.
Open Farm Community is located at 130E Minden Road, Singapore 248819 and is open daily from 11am to 11pm.
For reservations, please email enquiries@ofcsingapore.com.sg or call +65 6471 0306.