Osaka's Michelin Starred Kushikatsu Opens in Singapore
CONTENT: Andrew Kho
Located at the ground level of Odeon Towers is Singapore's newest Michelin starred restaurant – Rokukakutei. Originally from Osaka, Japan, Rokukakutei is a well-known name among Japanese gourmands since 1980 and was awarded one Michelin star in 2009 and since then has kept their star. After the flagship store's success came a second outlet in Ginza, Tokyo and finally, one of Japan's most talked about restaurant is finally the restaurant's first overseas venture has opened in Singapore.
The 40-seat establishment is designed in a modern initmate Japanese interior while focusing on the open theme counter for diners to catch the chefs in action.
Helmed by Chef Hideyuki Tanaka who has 15 years of experience along with the same operations team from behind the Ginza outlet, Rokukatutei specializes in kushikatsu, or Japanese deep-fried skewers of meat, seafood and vegetables, all using only the freshest and premium ingredients, the only difference is here, they serve it Omakase style.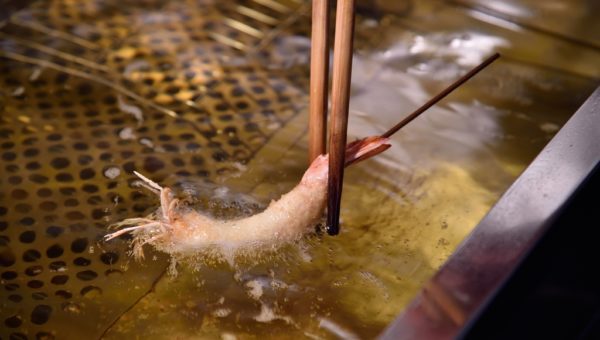 Currently there are two Omakase set menu options to choose from:
Omakase Skewers and Kushiage + Selected Wines Marriage ( S$134++ per pax)
Features 20 skewers, which showcase a medley of meats, seafood and vegetables; a veggie bowl of fresh, steamed and boiled greens; homemade pickles; fruit agar gelatin; and bread.
Kushiage + Selected Wines Marriage (S$288++ per pax)
Start off with a glass of champagne, then a serving of the veggie bowl. The set comes with 15 skewers that are paired impeccably with 2 glasses each of white and red wines. Homemade pickles, fruit agar gelatin, bread, dessert and espresso.
*Diners are given the option to stop at anytime and the bill will be based on the number of skewers consumed, applicable to both set menus.
Should you opt to go ala-carte there are three options of Kushiage Sampler Plates to choose from here: three; five; or eight kinds of skewers, and each option is served with an appetiser bowl. Small bites, from cheese platter to finger foods and bread, are available at the bar to pair with the wide selection of available wines specially selected by Chef Tanaka.
If you are up for a slow, intimate dinner with your special someone or want to experience a unique dining experience coupled with good quality food, then this you must check out this establishment. Due to the limited seating capacity and the expected long queue, reservation is highly recommended.
Rokukakutei is located at 331 North Bridge Road #01-04, Odeon Towers, Singapore 188720 and is open from 4:00pm till 11:00pm
For more details or reservations please call: +65 6266 1077 or visit: https://www.facebook.com/GinzaRokukakuteiSingapore/ for more updates