Porta presents a 5-course plant-based nosh paired with Organic Wines.
This October for one-night only, Porta presents an extraordinary 5-Course plant-based nosh with a focus on root vegetables. If this is not rare enough, pair it with organic wines from Paul Jaboulet Aine's collection. These wines are produced by one of France's most distinguished winemakers, the Frey family, who has carved a name in being certified with sustainable farming practices. They're now progressively adopting biodynamic farming where each plot of land is manually ploughed by horses, in a dedicated quest to commit to a spiritual-ethical-ecological approach in producing wines.
Porta is proud to introduce gourmands such a unique wine collection that undergoes stringent and meticulous production techniques. Each of Paul Jaboulet Aine's label possesses relish and precision with a caressing texture that is at its most compelling and alluring.
Start with the Lotus Root crisps and kombu-braised daikon followed by the baked and seared Baby Beetroot with citrus-infused rose apple, this dish is dressed in an uncommon savoury finish of soy caramel, olive oil and lemon, alongside slices of fresh green apple, lime gel and crunchy cacao nibs. To enhance the intense depth and character of this dish, recommended pairing for this dish is the Cotes du Rhone Parallele 45 Rouge 2016 that blends 55% Grenache, 35% Syrah and 10% Mourvedre grape varietals. Red fruits and spice aromas, with fresh, balanced and silky tannins. Palate is delicate with hints of raspberries, redcurrants and licorice.
Third course is the The Purple Potato Soup followed by sliced Celeriac prepared in roasted onion sauce over medium heat, while the highly prized Maitake or Hen of the Woods mushroom is sautéed with garlic, banana shallots and a touch of lemon jus. A sprinkling of shio kombu produces an intense umami flavour profile to the entire experience. Crozes-Hermitage Les Jalets 2016 is recommended for this creation. Nose opens up to notes of small red fruits, redcurrant and floral scents of violet and a touch of licorice. It is generous on the palate, with a finish of full finesse.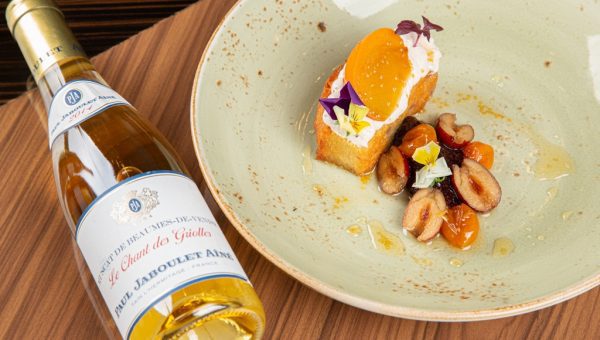 End your meal with a refreshing fruit-based dessert experience follows. Sapodilla or chiku butter cake is served with tenderly-stewed persimmon, roselle jam, poached jujubes and gooseberries paired with the Muscat de Beaumes de Venise Le Chant des Griolles 2014. Orange, marmalade, apricot liqueur explode on the nose, where the palate is dense and rich – enhanced for a beautiful finish.
The Porta 5-course Back to Roots Pairing will be held on 5 October 2019 from 6:30pm till 10:30pm.
Seats are priced at $52++ per adult (without wine pairing)/ $69++ per adult (wine pairing with 4 labels)
For more details please visit: www.parkhotelgroup.com/en/clarkequay/promotions/wine-dinner