Ramen Champion Bugis Introduces Newest Addition:Teppan No Hoshi
Ramen Champion is proud to announce that its Bugis+ outlet has a new addition: Teppan No Hoshi. The brand offers a variety of Osaka classics such as okonomiyaki, modern yaki and yakisoba. Now, Japanese-food lovers can savour the best of what Japan has to offer under one roof, including various styles of ramen and popular Japanese snacks!
Influenced by the Robatayaki style of izakayas where diners sit around inside while a Teppan chef prepares their order, Teppan No Hoshi features an open-kitchen concept where customers can see how their food is freshly prepared. Throughout the interior, spot Japanese-inspired design elements including the red Noren (traditional Japanese fabric dividers) and suspended bamboo sheets. The black counter top and trendy patterned concrete walls give the bar an overall industrial chic outlook.
Teppan No Hoshi offers okonomiyaki, yakisoba, fried rice and a varieties of side dishes starting from S$9.80 on its menu. For its okonomiyaki (starting from S$12.80), Teppan No Hoshi uses sliced cabbage instead of chopped cabbage for a crunchier texture. The batter is mixed well, and hence its okonomiyaki has a fluffy and light texture. Teppan No Hoshi also doles out modern yaki (starting from S$14.80), a type of savoury Japanese pancake that includes noodles. Making a great staple for those on a low-carb diet, both the okonomiyaki and tonpei-yaki come in pork, beef, seafood and special options.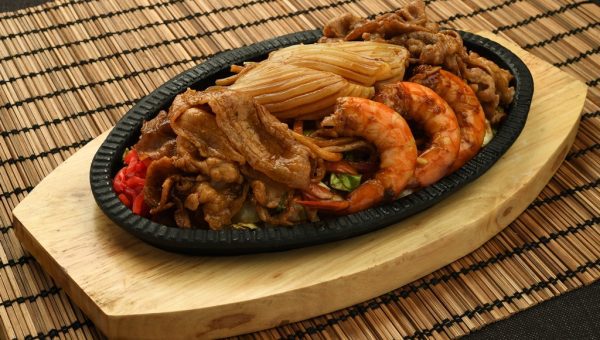 The brand also offers yakisoba (starting from S$12.80) topped with your favourite ingredients: pork; beef; seafood; or omelette. Go with the special flavour, which includes beef, pork and seafood. There are also fried rice and side dishes like mentaiko tonpei yaki; ikayaki; buta kimchi and more.
Teppan No Hoshi is located at Ramen Champion Bugis+, 201 Victoria Street, Bugis+ #04-10 Singapore 188607.
For more details please visit: www.ramenchampion.com.sg