Ramen Champion by Day, Shabu Champion by Night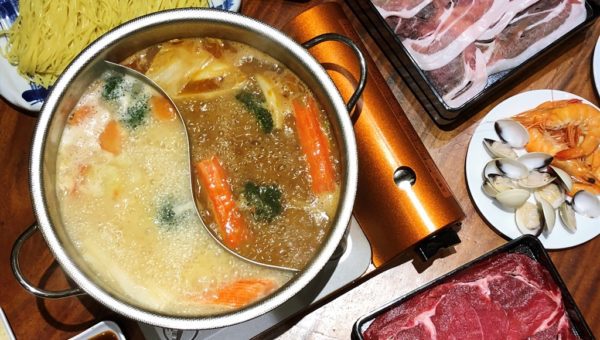 CONTENT: Yiew Kai Jie
IMAGES: Luxe Multimedia
Ramen Champion has announced its brand new 90-minute shabu shabu buffet, Shabu Champion Buffet! To create its signature soup bases, Ramen Champion has adapted its signature and artisanal ramen broths, which have collagen-boosting properties! The four soup bases are all inspired by the various different prefectures and capitals in Japan. They are Hakata Tonkotsu, Sapporo Miso, Tokyo Shoyu and Yokohama Spicy Tan Tan. Now you can't come up with a reason as why to avoid a shabu shabu buffet with your friends can you?
During those precious 90 mins of feasting, you will get to enjoy free-flow servings of chicken leg, brazilian pork belly and US beef short ribs. There are special meatballs and crabsticks to enjoy as well alongside a wide diversity of fresh vegetables from baby lettuce, enoki mushrooms, baby corn, black fungus and white radishes to help sooth your bowels and provide a balance to the heavy meats that you will consume.
The restaurant also offers you the chance to come up with your own concoction of sauces, including the Buta God Spicy Sauce and Ikkyu Spicy Sauce. These two sauces follow the secret recipes of chefs in Buta God and ikkyu, which are brands under Ramen Champion. There are also additional condiments such as mentaiko, spring onion, coriander, lime, garlic and grated ginger for you to create your very own signature dipping sauce!
Finally, you will be able to cook different types of ramen to your preferred doneness! Only yellow Tokyo-style straight noodles are used as they are the most suitable for the four different soup bases. They have been pre-cooked prior to being served, so you will only need to to boil them for a few minutes for them to become al dente. I highly recommend leaving the noodles to eat at the end, as the soup base tends to thicken with flavour over time with all the various delicious ingredients adding their own distinct taste to the broth. Once the meal is almost over, then place the noodles into the pot to cook so that the ribbons of noodles will absorb up all the goodness and nutrition from the broth!
Ramen Champion will still serve out delicious bowls of ramen during the day. From 5pm to 10pm, it will transform into the shabu shabu buffet that we all know and love! Apart from the buffet, a reduced menu showcasing a few select ramen offerings will also be available.
Ramen Champion's All-You-Can-Eat Shabu Champion Buffet is limited to 90 minutes and is available from 5pm to 10pm Monday till Sunday.
Mondays to Thursdays
Adult: $22.90++; Senior: S$20.90++; Child: S$9.90++
Friday-Sundays, Public Eve and Public Holidays:
Adult: S$24.90++; Senior: S$22.90++; Child: S$9.90++
Ramen Champion  All-You-Can-Eat Shabu Champion Buffet is available only at:
Clarke Quay Central
6 Eu Tong Sen Street #09-89 The Central
Singapore 059817
Mon-Fri: 11am-3pm, 5pm-10pm
Sat, Sun, PH Eve, PH: 11am-10pm
Contact: +65 62212156
For more details please visit: www.ramenchampion.com.sg