Rediscover Chinese Favourites at Blue Lotus Chinese Grill House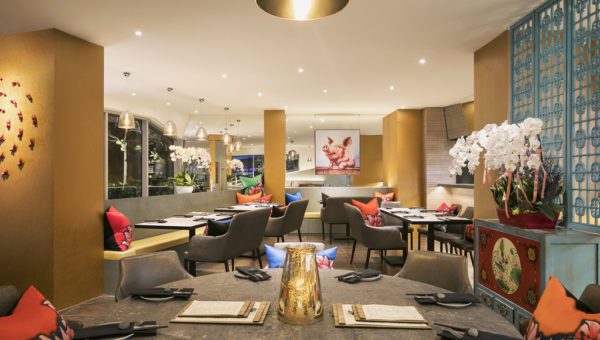 CONTENT: Andrew Kho
Step into the newly opened Blue Lotus Chinese Grill House in the heart of Singapore's CBD and be awed by the beautiful modern Chinese inspired interiors and the open kitchen concept which would immediately whet your appetite.
A brainchild of entrepreneur and highly acclaimed restaurateur Ricky Ng, whose Blue Lotus Chinese Eating House was awarded Asian Restaurant of the Year at the 2017 World Gourmet Summit Awards of Excellence, this new concept reinvents traditional Chinese cuisine and married with western culinary techniques prepared by the restaurant's talented chefs Pam Weng Chien and Daniel Grobnik.
Putting into consideration of the restaurant's location at the newest Tanjong Pagar Centre which is surrounded by numerous office buildings, the menu here is catered to the working crowd who are looking for a quick yet good and modest quality lunch as well as catering to the after work dinner crowd who just wants to chill over good Chinese food and bubbly spirits.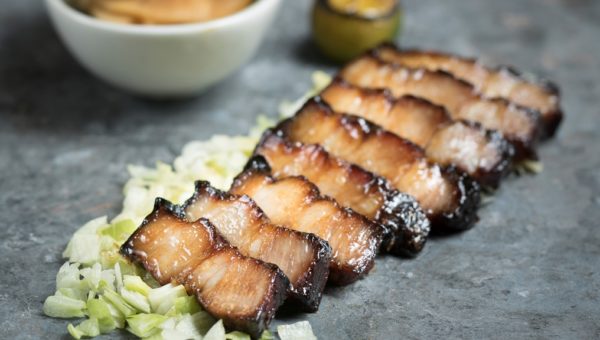 Here are some of our favourites:
Start off your meal with their Hickory Smoked Honey-glazed Kurobuta Pork Belly which simply melts in your mouth and the Crab Balls with Chilli Pomelo Sauce, stuffed with real crab meat and served with the same sauce of their popular Chilli Pomelo Crab which is only available at their Sentosa outlet.
We were quite overwhelmed with their mains as most of the items in the menu are really very good but what stood out amongst the rest is their, Fermented Tofu Barley Risotto served with Pan Seared Barramundi with a touch of pickled Chilli Sauce, this dish is simply unique and worth a try! it is simply oozing with goodness and perfect for those who are health conscious. Meat lovers can try their 140g Australian Wagyu Beef Ribeye thinly sliced beef served on a bed of caramelized onions, grilled ladies fingers and drizzled with Red Pepper Chilli Puree on the side.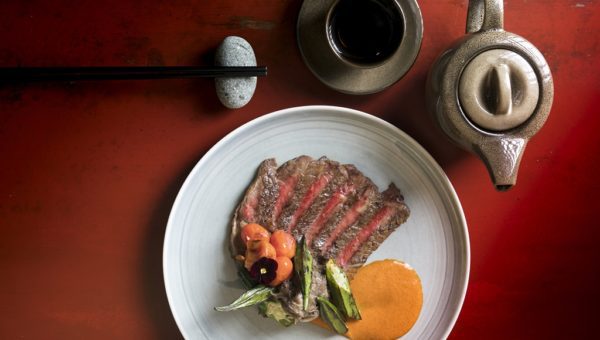 Finally, cap your meal with the very unique Durian Creme Brulee made with D24 Durian and fresh fruits or the freshly baked Cinnamon Apple Pie with Yuzu Sorbet.
Must Try Dishes ( only available during Lunch):
Currently only available during lunch and hopefully they would consider including into their dinner menu is the Hot Stone Pork Lard Truffle Flavoured Fried Rice which is served on a Hot Stone Bowl similar to the Korean Hot Stone Bibimbap, the main highlight of this dish is the Pork Lard Butter andTruffle Oil which is stir-fried infront of you, mixed with Fried Rice, vegetables and soya sauce. Another must try during lunch is their Chilli Pomelo La Mian Soup, with fresh Crab Meat which contains fresh herbs, in-house prepared la mian noodles and Chilli Pomelo soup base, this dish is perfect for you if you love spicy noodles.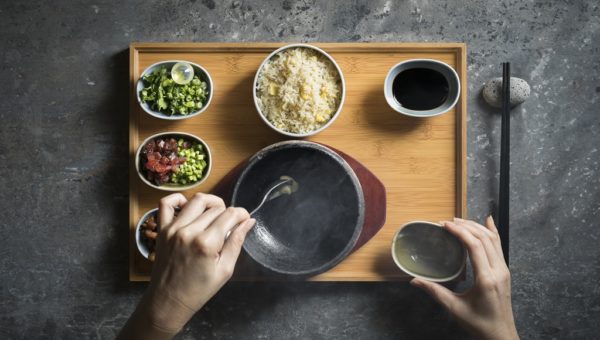 Diners will never get tired of coming back to Blue Lotus as there are wide variety of options to choose from in their menu and the restaurant always introduces new and exciting innovative dishes which makes your dining experience more special. You don't get your traditional Chinese dishes like Blue Lotus.
Blue Lotus Chinese Grill House is located at 5 Wallich Street, #01-13 Tanjong Pagar Centre, Singapore 078883 and is open from Mondays thru Saturdays from 11.30AM till 10:30PM
For reservations please call: +65 6996 0880 or visit: www.bluelotus.com.sg