Spanish Restaurant Pura Brasa Launches New Set Menus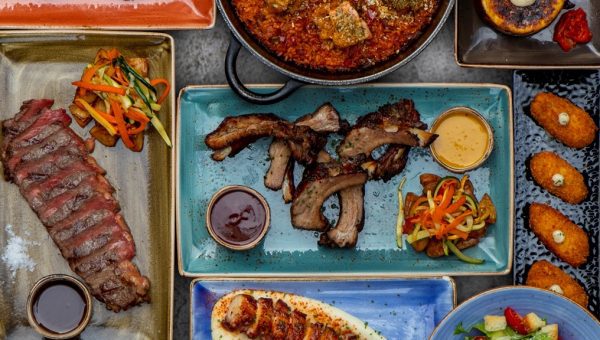 Spanish restaurant chain Pura Brasa has launched its new set menus available for delivery, takeaway and dine-in.

Featuring the restaurant's signature dishes, the family delivery set menus start from S$99+ while the dine-in set lunch is affordably priced at S$19.90++.

Pura Brasa new three-course set lunch menu for dine-in and takeaway includes starter, main course and dessert. Choices for main courses include the Signature Beef Stew with Steamed Rice, featuring Beef Brisket cooked with onions, carrots, thyme, rosemary and bay leaf for four hours; Josper Grilled Poussin (half portion), featuring antibiotic and hormone free GG French poulet served with homemade mushroom sauce; and the Homemade Spanish Traditional Canelon, a stew dish originating from Catalunya. Diners can also opt to upgrade the main course to enjoy dishes such as Grilled Sea Bass Fillet Served in Donostiarra Style or the Gourmet Iberico Burger with Jamon.


Catering up to four persons, each delivery set menu comprises the restaurant's beloved starters, main courses and desserts. Highlights include the fork tender Josper Grilled Half Portion of Spanish Pork Ribs, which are cooked in two stages for 20 hours at a low temperature of 70°C and finished at 400°C in the Josper charcoal oven. The Josper Grilled Poussin with Patatas and Mixed Grilled Vegetables showcases GG French poulet, a breed of chicken from Sabres, France. Incredibly succulent and juicy, the chicken is free of antibiotics and hormones. Bound to be a showstopper on the dining table is the Josper Grilled Ribeye Beef with Special Sauce and Gratin. The well-marbled slab of meat boasts an incredible depth of flavour, enlivened by the piquant herb sauce.

Pura Brasa's delivery sets are available for island-wide delivery at S$5 via website 

Pura Brasa
5 Wallich Street #01-16, Guoco Tower
Website